Global repercussion from Zidane's open letter in AS
There has been major interest globally to the letter penned by the French coach which was published this morning as an AS exclusive.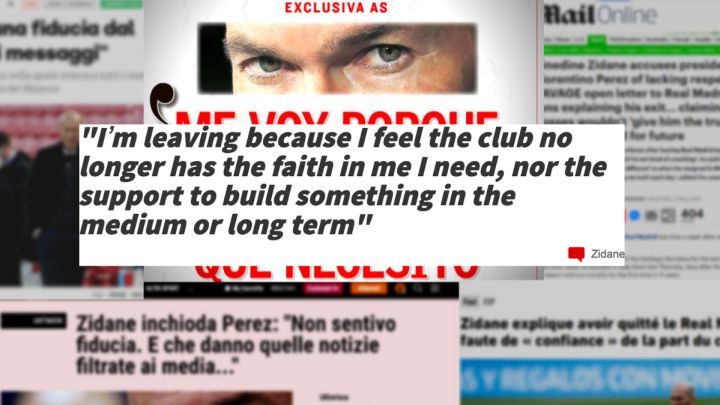 There was no farewell press conference this time from Zinedine Zidane as he called time on the Real Madrid bench with his last press conference coming upon the conclusion of the LaLiga clash at home to Villarreal. The Frenchman has, however, penned an open letter to Madrid fans which was published this morning as an exclusive with AS.
The letter and its context have had enormous impact globally being picked up on by sports outlets across the planet with each offering their own take on the letter from Zizou.
France: Zidane, "hurting"
Both L'Equipe and RMC Sport cite the hurt and pain experienced by their compatriot as he stands down at Real Madrid. Both outlets focus on the lack of confidence the former player felt from the institution which was at the heart of the decision making process.
England: the letter "paints a telling portrait"
The Guardian claim that Zidane felt undermined by Real Madrid and Spanish football expert and columnist Sid Lowe observing that Zidane "paints a telling portrait of a culture at a club where coaches are not backed by the hierarchy and are subjected to distrust and strategic leaks that weaken their position".
'I feel that the club no longer gives me the trust I need': Zidane reveals he quit Real Madrid because he felt undermined by club. Story by @sidlowe https://t.co/KLzzSiNurz

— Guardian sport (@guardian_sport) May 31, 2021
The Daily Mail deem the letter to be 'savage' as once again a lack of faith on the side of the club being the fundamental reasoning for his resignation.
Italy and a lack of confidence
"Non sentivo fiducia" or a lack of confidence is the focus from leading Italian sports dailies: Gazzetta dello Sport and Corriere dello Sport. Zidane's name was linked in Italy with the Juventus position in recent weeks when it became apparent that Andrea Pirlo would not continue with the Turin based side.
Global impact
The Zidane exclusive was also heavily focused on by South America's TyCSports and Ole (Argentina), Globo Esporte (Brazil) and by US based The Athletic with the common theme being the lack of faith the French coach felt Real Madrid held for him in the position.