REAL MADRID
How Zidane told Florentino Pérez of his open letter complaint
Last Wednesday, Zinedine Zidane had lunch with his wife near the Santiago Bernabéu and then went to see the club president to inform him of his decision to leave.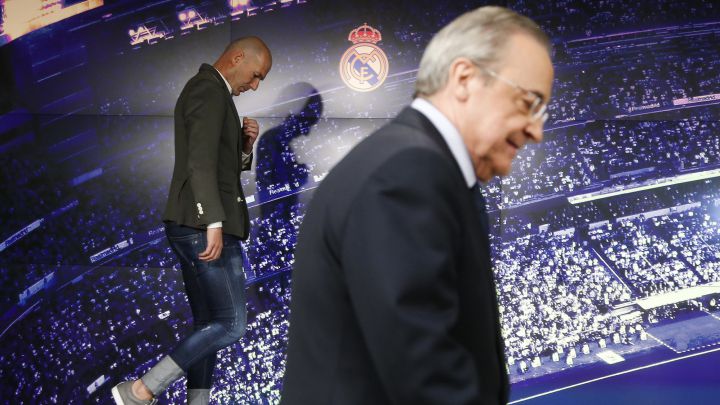 Last Wednesday, 26 May, Real Madrid manager Zinedine Zidane left his new country house in San Juan accompanied by his inseparable wife, Veronique, whom he met at the age of 17 and with whom he will celebrate his silver wedding anniversary this summer. She was the only person Zinedine had confided in over his best-kept secret: his determination to leave Real Madrid.
Zidane meets with Pérez over decision to leave Real Madrid
The Frenchman had decided to leave for two main reasons: because he did not feel fully supported by the club and because he felt unfairly treated by the press covering Real Madrid, especially in the difficult days through January (read his open letter here). The beginning of the year saw Los Blancos knocked out of the Copa del Rey by Alcoyano, drift 12 points behind leaders Atlético in LaLiga, and had one foot out of the Champions League.
Zinedine and Veronique had a reservation at a restaurant near the Santiago Bernabéu stadium, La Maruca, just a few metres from a madridismo temple, De María, and it was there they finished off outlining the conversation he would have just a few hours later with the Real Madrid president. Zidane arrived at that meeting ready to tell the president personally what he himself, only a few hours later, on Thursday morning, wrote down in the first draft of the letter that was published exclusively in AS on Monday.
Florentino listened to Zidane's complaints and even tried to encourage him to change his mind and fulfil the remaining one-year in his contract with Real Madrid. It was mission impossible. Zidane had his mind firmly made up before arriving at the meeting and two hours with his president was not going to change it. The president cannot have been particularly surprised as his first team coach had been giving off signals since the beginning of the year, precisely those that he explains in the letter.
Madrid will not refute Zidane's words
The club has decided that it will not come out publicly to refute the words of its former coach, a man seen as a key part of its history. That said, the president is deeply disappointed, because despite Zidane making his points clear to him in person that he had not felt supported by the club, he never thought he would go publicly with them. Pérez always wanted Zidane to be a hero.
The priority now is to quickly find a new coach who will make the letter and the Frenchman a page already turned. But everyone at the club is on their guard for what could come next.
It's possible that the next to go could be the legendary captain, Sergio Ramos. Like Zidane just a week ago, Sergio is awaiting a final conversation with Florentino, who will not budge from his position: a year's contract, like all over-35s.