Laporta confirms Koeman will continue as Barcelona manager
Barcelona president Joan Laporta officially announced Ronald Koeman will remain in charge at Barcelona for the 2021-22 season after talks with the Dutchman.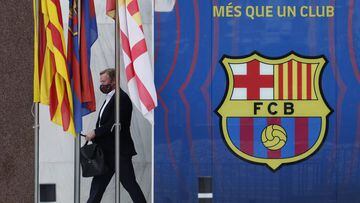 Barcelona president Joan Laporta has officially announced that Ronald Koeman will remain as manager at Camp Nou for the 2021-22 season. "I confirm that, after a period of reflection between ourselves and the coach, a period in which we analyzed the end of the last campaign, we will continue with Koeman's contract, which remains in force, and we are satisfied that these conversations have been fruitful in establishing a unification of criteria, because they have been frank and direct. Finding solutions to differences that we may encounter we have decided to continue. Koeman is motivated, excited and prepared to give everything so that we have a good season," Laporta said on Thursday.

"In terms of the football side of things, beyond the conversations we held with [vice-president] Rafa Yuste and [sporting director] Mateu Alemany, that is not our business. We talked about philosophical matters and mentality. We wanted to pick up on the mentality of our fellow board members. Koeman is full of hope and conviction. I needed to open up a personal relationship with Koeman, like I had with Rijkaard and Guardiola," Laporta added.
Laporta: "If we had wanted to terminate his contract, we would have done so"
The Barcelona president also stated that the club would not at this time be extending the Ducthman's contract, which expires at the end of the season. "He has already exerted himself. He knows the circumstances that we find ourselves in and he has helped. What we will concentrate on now is reinforcing the squad that we have."
Laporta also denied that Barça had retained Koeman as coach due to financial limitations. "That is not the case. If we had wanted to terminate his contract, we would have done so. If Barça want to pay off a contract early, we can do so. Koeman is motivated and he has a year of experience and will come back stronger. Anybody can look at it as they wish. I see the glass full and a Koeman who is in a strong position, because he has been ratified by the board of directors."