This is really huge for Tennesse – Brown & Tannehill relish Julio Jones trade
Julio Jones will join the Tennessee Titans, delighting some of the AFC South team's most prominent stars.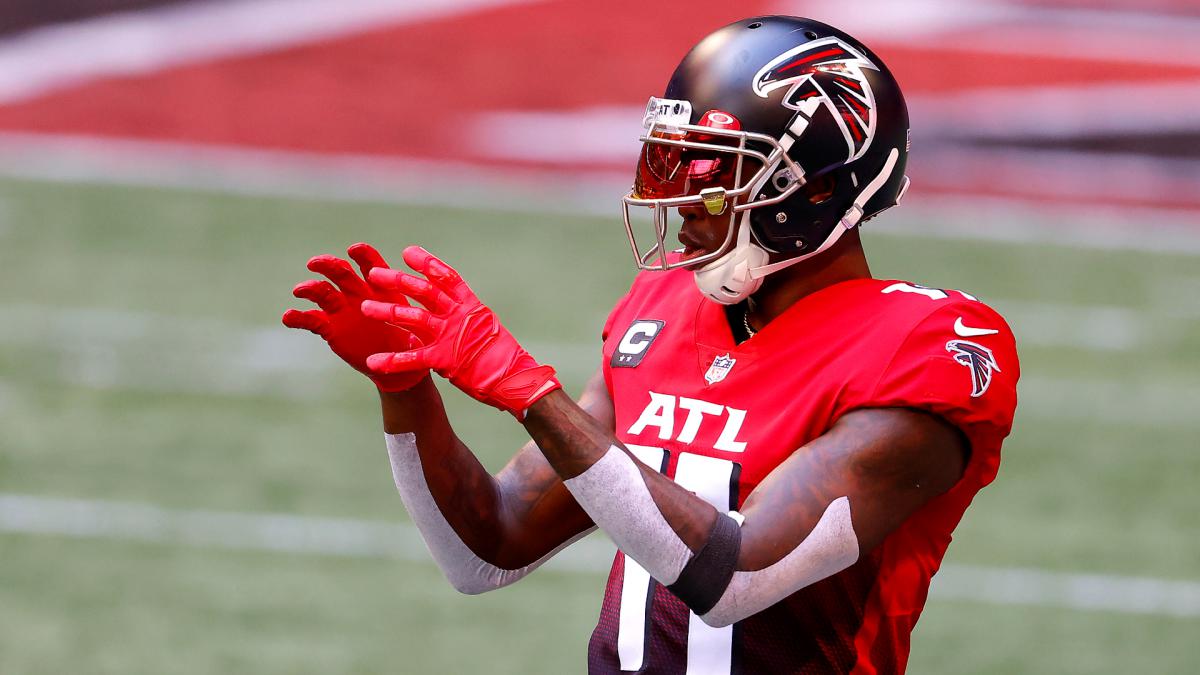 A. J. Brown and Ryan Tannehill are relishing the arrival of Julio Jones after the Tennessee Titans sealed a trade for the star wide receiver.
The Titans sent a 2022 second-round draft pick as well as a 2023 fourth-round selection to the Atlanta Falcons to get Jones and a 2023 sixth-round pick in return.
Jones had been connected with a number of NFL franchises after expressing his desire to leave the Falcons – who struggled to a 4-12 record in 2020 – after 10 successful seasons.
He will now team up with Pro Bowler Brown to catch passes from quarterback Tannehill on a Titans team that also contains Offensive Player of the Year running back Derrick Henry.
Brown on Titan's Jones acquisition

"I looked at my phone, and my daughter was laying next to me and I jumped out of bed, and said, 'Is this really real?' I kind of woke my daughter up," Brown – who has said Jones has inspired his journey to the NFL – said about the moment he found out a deal had been done.
"I had to calm down for a little bit. When I got the news, it was kind of crazy. My phone started blowing up.
"I think this is really huge for Tennessee, not just for me, but this is huge for the city, our team. We are glad to have him.
"The city right now is electric, [fans] are pumped to get a guy like Julio Jones on the team. I think the team loves it, guys are reaching out. I think everyone is really pleased with it."
Jones has topped the NFL for receiving yards twice in his career (2015 and 2018), making the Pro Bowl on seven occasions.
While injuries limited him to nine games and 771 yards in 2020 and he turned 32 this year, the Titans hope Jones can still produce elite play that will help them launch a Super Bowl run.
"It is wild," said Tannehill. "I am excited, I am fired up. I didn't know if it was going to happen or not, and was kind of along for the ride like everybody else. My agent called me and said it was going to happen.
"I am excited. How could you not be excited to play for a guy with the calibre of talent Julio is and has been for his whole career?
"I am excited to get to know him as a person and welcome him to the team."
Titans general manager Jon Robinson insists Jones will play the team game in pursuit of success despite his illustrious individual achievements.
"In my discussion with Julio, what's his number one goal, it wasn't about [receiving] targets, it wasn't about that, his goal is to win," he said.
"That's the mindset we're looking for, whether that's nine targets, whether that's two targets or no targets. Contribute to winning the football game – that's the mindset he has and that's the mindset we have as a football team.
"He's big, he's fast, he's tough, he's great with the ball in his hands, willing blocker.
"A lot of the things we ask of our receivers, it's get open, catch and block. He certainly checks those boxes and has done it at a high level for a lot of years in the National Football League."
The Titans have had five straight winning seasons, reaching the AFC Championship game in 2019 before going 11-5 to win the AFC South last year, only to lose to the Baltimore Ravens in the Wildcard round.
With Jones joining Tannehill, Brown and Henry, hopes are high for a deep postseason run.
"We don't set expectations," added Robinson. "Everybody has a chance to go the distance and win the thing.
"Ultimately, it's our job to try to put a team out there that's going to be competitive, that's going to play stylistically the way that we want to play and I'm excited about this team."