Haaland wants Chelsea and will wait one year if necessary
According to the Daily Telegraph, Haaland is sold on the idea of joining Chelsea, who are currently seeking a way to finance the operation. If they can't, the Dortmund star is willing to wait a year.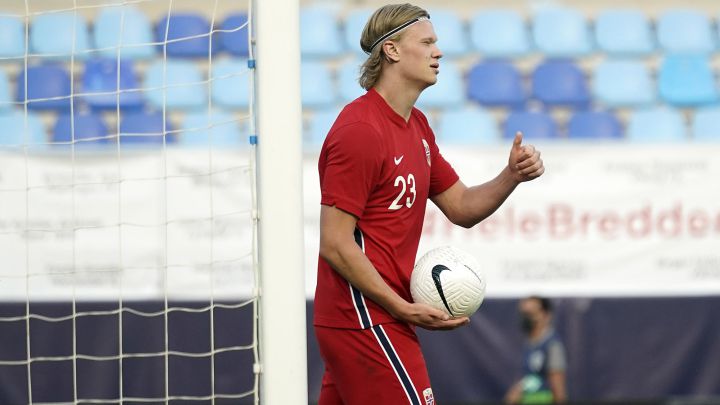 The race is on among Europe's top clubs to sign Erling Haaland and Champions League winners Chelsea are determined to win it. Blues owner Roman Abrahimovic is ready to go all out to add the Ballon d'Or contender to coach Thomas Tuchel's squad.
According to press reports in England, the London club has already made contact with the player's representative, super agent Mina Raiola, while the player himself is said to be in favour of a move to Stamford Bridge.
Haaland: Dortmund keen to stop Chelsea advances
Standing in the way, however, is his current club Borussia Dortmund, who have tried to put a halt to the operation by reportedly demanding an astronomical fee for the 20-year-old forward.
The German outfit has set his price at €180 million, a figure aimed at putting him beyond the reach of all interested parties so as to retain his services for one more season. English press reports claim that Chelsea are seeking ways to finance the operation, as Abramovich does not want to risk waiting until next summer when competition could heat up among the likes of Real Madrid, Barcelona, Manchester City or Manchester United.
Haaland sold on Chelsea move
Abramovich wants to sign Haaland at all costs and the Daily Telegraph reports that the Norwegian is sold on the idea of joining Chelsea. If Chelsea can't find a way to finance the transfer this summer, they will be ready to do so next year, according to the British newspaper, which claims that the Norwegian star is, in turn, ready to wait a year to join the Blues if necessary.
Dortmund has officially stated that it is not willing to consider selling Haaland in this summer's transfer window, while the player himself has also explained that he would respect his contract with the German club this year.
But despite the intentions of both Haaland and Dortmund, Chelsea are confident they can still make the move happen this summer. Abramovich wants to take advantage of the attraction and prestige the club now holds as the current European champions, which he believes puts the Stamford Bridge outfit at an advantage over the competition in the race to sign Haaland.