Dembélé: Laporta ready to sell for €50m if France winger stalls on deal
According to L'Esportiu, Barcelona president Joan Laporta wants to keep Ousmane Dembélé but will sell if needs be, or consign the France winger to the reserves.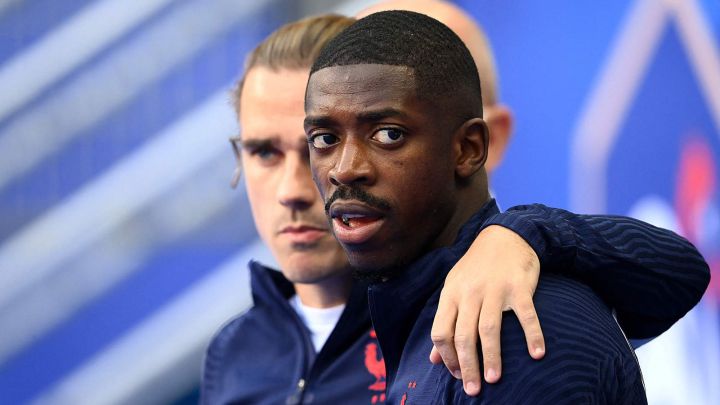 Joan Laporta is ready to get tough with Ousmane Dembélé over the France winger's contractual status at Camp Nou. According to Catalan media outlet L'Esportiu, the Barça president wants to keep Dembélé and has initiated talks with the player's representatives but will not tolerate any reluctance on Dembélé's part to commit to the club after four seasons during which the France international has been available in limited doses due to a string of injuries. Dembélé's current deal expires in 2022 and there has been interest from Serie A and the Premier League in the 24-year-old former Dortmund player, who cost Barça €105 million plus add-ons in 2017.
Dembélé has made 118 appearances for Barcelona in total and scored 30 goals, but missed almost the entirety of the 2019-20 season. The France winger has also made as many headlines off the pitch as on it during his Camp Nou career and Laporta is keen to ensure that Barça reap the benefits of a player who remains on his day one of the most exciting attackers in European football.
As such, Laporta and Barça sporting director Mateu Alemany have decided to take a hard line with Dembélé, according to L'Esportiu.
Dembélé will be sold or frozen out if he refuses new deal
If Dembélé is not willing to sign a new deal this summer, with a salary adjustment in line with the financial situation at the club, then Barça will listen to offers for a fee in the region of €50m. If Dembélé fails to find a suitor, and there will be few clubs prepared to shell out that amount on a player with his injury history, then Laporta is ready to send him to the stands for the final year of his contract, with a World Cup on the horizon.
However, Barça remain confident that Dembélé will show gratitude for the treatment he has received at the club during his lengthy lay-offs and agree to a reduced salary along with other members of the senior squad.