Euro 2020: new Spain captain Jordi Alba talks exclusively to AS
In an exclusive interview with AS, Jordi Alba discussed the coronavirus outbreak that has hit the Spain camp as La Roja prepare for Euro 2020.
Jordi Alba, who has inherited the captain's armband in Spain's Euro 2020 squad following Sergio Busquets' positive covid-19 test, sat down for an exclusive video chat with AS on Wednesday afternoon.
How are you dealing with the coronavirus outbreak in the Spain camp?
When the test results come in we look at each other and you can tell there's uncertainty, but we just have to deal with it. We've been in this unusual situation for the whole season, and in a way we're… I don't want to say used to it, but at least ready for any situation.
How did it feel when Busquets and Diego Llorente's positive tests were confirmed?
Well, just imagine… It's a really unpleasant situation, a difficult one, but we're going to get through it. Hopefully both 'Busi' and Llorente can rejoin us. That's out of my hands, of course; that's down to [Spain head coach] Luis Enrique. But I'd be delighted to give the armband back to 'Busi', because I want him to get better and come back. He's not only the best player in the world in his position, but he's also a great team-mate and a great lad. A leader who everyone in the Spain squad loves and respects. It must be so tough to be here looking forward to playing a European Championship, and suddenly to be told you've tested positive and you're being sent home.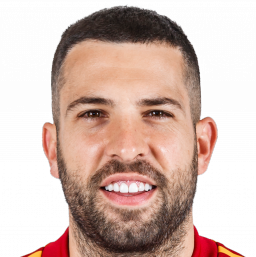 It's certainly a strange situation in which to be named captain for the first time…
That's just the way it is. It would obviously be better if the circumstances were different, but that's not something I can choose. It's nothing new, though. It's very unpleasant, but we've been living with the virus for a while. We've all had someone close to us test positive, be it a friend, a colleague or a relative. It's a situation we're familiar with by now. But despite everything, we're feeling strong. It's a situation we've had to deal with at our clubs all season, and we just have to take it in our stride.
So you're all keeping your spirits up?
We're doing well, all things considered. You just have to take things in your stride, train hard and prepare as well as possible within the limits that we have. We have no option but to keep on working hard and stay positive.
Are you in favour of the squad being vaccinated?
It's not really something for us players to give our opinion on. If we're told we're getting vaccinated, we'll get vaccinated. If that happens, great.
As you know, the vaccine doesn't reach total efficacy until 30 days after you get your shot. That would be more or less the dates on which the semi-finals have been scheduled. Will we get that far?
Well, I certainly hope so. We go out there to win every game we play and in the Euros that'll be no different, but we'll have to see. We're optimistic, despite everything that's happening.
In October, it'll be 10 years since you made your Spain debut in a Euro 2012 qualifier against Scotland on a very hot and humid evening in Alicante. Time flies, doesn't it?
It was really hot that day, it's true. The past decade has flown by for me, in the blink of an eye. I'm just as buzzing as ever to be playing for Spain, though.
There was controversy when Luis Enrique didn't initially pick you for Spain after taking over. Now you've gone from forgotten man to captain. What's changed?
I've done well, so I've come back into the fold. I kept faith in my game and in my abilities, I stuck at it and I've got my reward: unless anything changes between now and then, I'm going to play in another European Championship, and that makes me really happy. I wanted to get back into the Spain squad and I vowed to do everything I could to make that happen. I'm grateful to Luis Enrique for recognising the effort I put in and for showing faith in me. I'm going to try to repay that faith by giving my all in the Euros.
There are now 40 players who are a part of Spain's Euro 2020 preparations, but just two who've won a trophy with La Roja: Raúl Albiol, who is in the parallel bubble and could be called into the squad if Llorente doesn't recover, and Jordi Alba. How are the rest of the lads, many very young, looking to you?
They're young, but they're hungry. They want to win. We have a good team, with lads who are young but have been playing in major competitions with their clubs, and with a coach who knows what he wants and gets that across to the players. I really like what I see, I must say. I'm optimistic, and if we perform well I think we can challenge for the trophy. But we have to be careful, too, because we also went to World Cup 2014 and Euro 2016 among the favourites, and things didn't turn out well.