NBA PLAYOFFS 2021
Eyes already on Brooklyn Nets' main challengers ahead
The race for the Larry O'Brien Trophy is one that the Brooklyn Nets are favourites to win, but it is far from a given at this stage.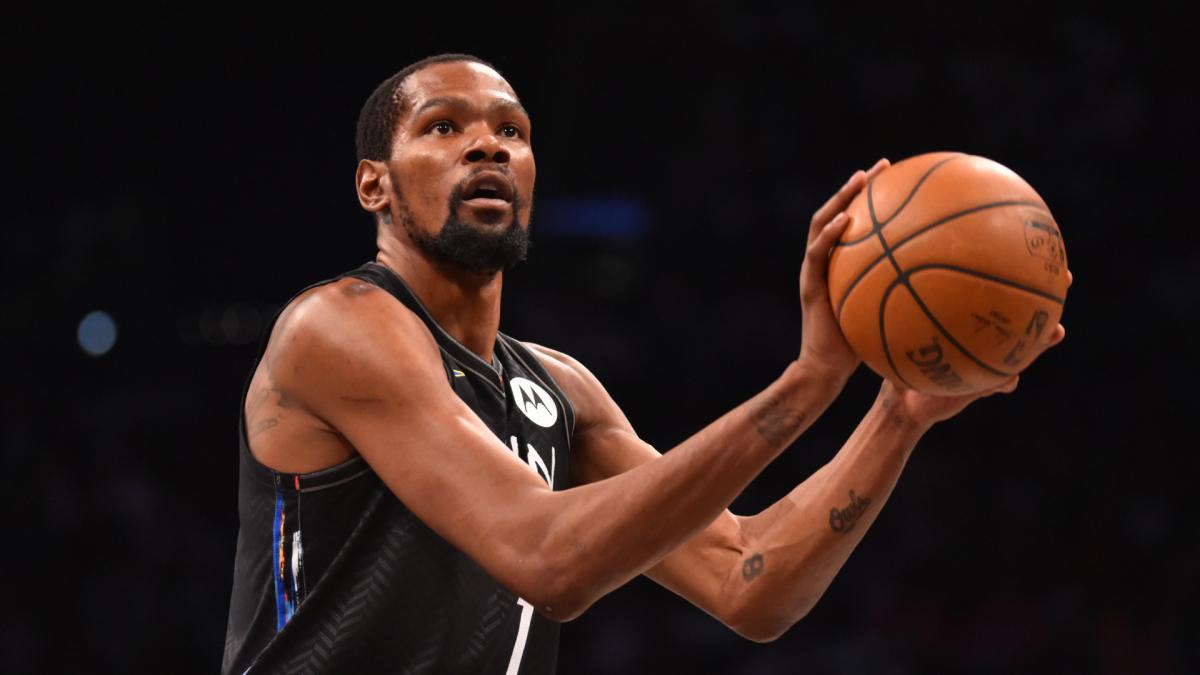 In theory, the Milwaukee Bucks appeared to be the biggest obstacle on the Brooklyn Nets' path to an NBA championship.
Nets already looking past the Bucks
To stand a chance of winning a seven-game series against the NBA's premier trio of team-mates – Kevin Durant, James Harden and Kyrie Irving – you've got to be able to score points, and a whole lot of them.
Despite a recurring run of injuries that often rendered their Big Three to a Big Two – or many times a lonely One – the Nets were a remarkable 27-2 when allowing 112 or fewer points in a game during a regular season which they finished as a de facto 1A to the top-seeded Philadelphia 76ers in the Eastern Conference.
The true magic number when it comes to facing Brooklyn, however, is 120, as the Nets were a pedestrian 8-13 when opponents scored above that mark. So, how many teams averaged 120 points per game this season?
Just one, as a matter of fact. That would be the Bucks.
And what team had the most games this season totalling 120 or more points? Again, the answer is Milwaukee, whose 39 games hitting the mark was six more than the next closest competitor – which, you guessed it, would be the Nets.
Well, after two games of the most anticipated series of this year's conference semifinals, Brooklyn's perceived greatest threat had offered no challenge whatsoever.
After comfortably winning Game 1, even with Harden playing a mere 43 seconds after aggravating a previous hamstring injury, the Nets unequivocally justified their status as the favourites to claim the Larry O'Brien Trophy with a 125-86 Game 2 thrashing that came with Harden cheering on his fellow well-paid team-mates in street clothes.
In hindsight, those results were ones we maybe could have seen coming. Sure, the Bucks effortlessly disposed of the reigning East champion Miami Heat with a first-round sweep, but it came without their offense performing at its usually potent level.
Milwaukee shot just 32.7 per cent from three-point range for the series, well below their 38.9 per cent success rate for the season, and they had at least 15 turnovers in three of the wins. The Bucks advanced mostly on good defense, coupled with an unquestionably abysmal shooting performance from the Heat over the four games.
In the Brooklyn series, the Bucks haven't been able to hit water from a boat, going into Game 3, having shot a paltry 24.6 per cent from beyond the arc over the first two clashes.
The early stages of the series also exposed Milwaukee's greatest weakness during what was otherwise another splendid regular season under Mike Budenholzer – an inability to adequately defend the three. The Bucks permitted opponents to make 38.4 per cent of their trey attempts over the 72-game schedule, with only the lowly Minnesota Timberwolves yielding a higher percentage.
Against a locked-in team like the Nets, that can be – and has been – a recipe for disaster. The first team in league history to make 15 or more three-pointers in six straight games during a single postseason, Brooklyn have connected at an incredible 43 per cent rate from long distance so far in these playoffs, going into Thursday evening's third clash with the Bucks.
If the Nets could even come close to keeping that pace the rest of the way, that likely spells doom for the rest of the NBA. The three-point shot has been a strong indicator of success in this postseason, as teams have won at a 70 per cent clip (35-15) when recording a higher three-point percentage than their opponents and are 25-7 when hitting 15 or more triples in a game.
Moreover, teams that have shot better than 40 per cent from three-point range are 24-5 this postseason, and the five teams that lost each faced an opponent that also eclipsed the 40 per cent mark in that game.
So, assuming the Nets don't do the unthinkable and somehow lose this series, is it a fait accompli they'll represent the East in the Finals?
Counting on the 76ers
They did lose two of their three match-ups with the 76ers during the regular season, though it's hard to put much stock in those outcomes considering Brooklyn were without at least two of Durant, Harden and Irving in all of those games.
Philadelphia getting past the upstart Atlanta Hawks cannot be considered an absolute given either, but the Sixers will provide an interesting test provided they do get past their pesky second-round foes.
They have the lowest ratio of three-point attempts to total field-goal attempts of any of the eight remaining teams, not too surprising for an offense centred around MVP runner-up Joel Embiid and the perimeter-averse Ben Simmons. But while the Sixers generally aren't bombing away with the same frequency as those still left standing, it could be argued that outside shooting may be the single biggest factor in determining how far they ultimately go this summer.
Next to Embiid's ever-present fitness concerns, Seth Curry might just be the X-factor when it comes to determining whether the 76ers can end a 20-year Finals absence. When Curry is going well and Embiid is healthy, Philadelphia are awfully difficult to beat. And Steph's little brother is certainly doing just that right now, having averaged 24 points while shooting 61.9 per cent (13 of 19) from three-point range over his last three games.
The 76ers went 20-3 during the regular season when Curry made three or more three-pointers in a game, and they've hit the all-important 120-point mark in five of their seven playoff games thus far. If it comes to fruition, a Philly-Brooklyn match-up in the East Finals would surely be a treat.
Can Clippers block the way?
As for the West, the Clippers could represent the most imposing roadblock to the Nets' first NBA title in franchise history – on paper, at least. No team shot above the coveted 40 per cent standard from three-point range more times during the regular season than Tyronn Lue's group, whose 42 such games were seven more than the team second on that list (again, the Nets). The Clippers also led the league in three-point percentage at 41.1 per cent.
There's no questioning the Clippers' talent and depth. Trust, however, is another matter. This is largely the same cast that famously blew a 3-1 series lead to the Denver Nuggets in last year's West semifinals, and they couldn't hold on to a 13-point half-time advantage in losing Tuesday's series opener to a Utah team playing without starting point guard Mike Conley.
History isn't on the Clippers' side either, as they've never advanced past the conference semis in eight previous tries.
The winning Jazz formula
And what about the Jazz, for that matter? Utah may not possess the Nets' overall star power and haven't displayed the same level of recent dominance as their potential Finals foes, but they did lead the league in wins this season, are capable of shooting their way out of any deficit and haven't lost a game when Donovan Mitchell has taken the court since April.
That is only a seven-game winning streak since Mitchell missed over a month with a sprained ankle, but has there been a better postseason performer than Utah's All-Star guard over the last two years?
In 12 playoff games over that period, Mitchell has averaged 34.4 points on 50.6 per cent shooting, and a 45-point masterpiece against the Clippers on Tuesday was his fourth outing with at least 44 points during that stretch.
Of course, superlative individual efforts don't always coincide with championship glory. Just ask Luka Doncic and the Dallas Mavericks.