Lewandowski lands on Real Madrid's radar
AS understands that the Polish striker is open to exploring life at a new club despite Bayern Munich claiming that the player is not for sale.
Robert Lewandowski is a potential candidate for a summer move to Real Madrid with AS understanding that the striker is disposed to a change of club. The 32-year-old has spent six seasons with Bayern Munich and feels that the time has come to explore a new league and culture. His current deal with the Bundesliga runs through to 2023 and despite his desires, the German side have little interest in seeing him depart.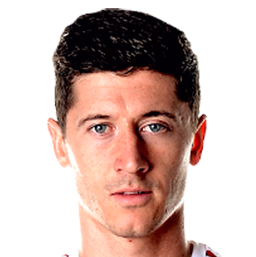 Speaking recently to Canal +, the Polish striker's comments, once again triggered speculation that a move could be on the cards this summer: "I still have an open mind and I feel good at Bayern, Munich is a wonderful city and it's a massive club. I have, however always had curiosity to pick up a new language and experience a new culture but I don't know if that is something that will happen during my playing career or later in life".
Lewandowski: goals per season
| | | | | |
| --- | --- | --- | --- | --- |
| | Season | Team | Games played | Goals |
| | 20/21 | Bayern Múnich | 40 | 48 |
| | 19/20 | Bayern Múnich | 47 | 55 |
| | 18/19 | Bayern Múnich | 47 | 40 |
| | 17/18 | Bayern Múnich | 48 | 41 |
| | 16/17 | Bayern Múnich | 47 | 43 |
| | 15/16 | Bayern Múnich | 51 | 42 |
| | 14/15 | Bayern Múnich | 49 | 25 |
| | 13/14 | Borussia D. | 48 | 28 |
| | 12/13 | Borussia D. | 49 | 26 |
| | 11/12 | Borussia D. | 47 | 30 |
| | 10/11 | Borussia D. | 43 | 9 |
| | 09/10 | Lech Poznan | 34 | 21 |
| | 08/09 | Lech Poznan | 48 | 20 |
| | 07/08 | Znicz Pruszków | 34 | 21 |
| | 06/07 | Znicz Pruszków | 29 | 16 |