Hazard: "I want to show that I'm made to play for Real Madrid"
The Belgium forward gave an interview to 'Het Nieuwsblad' in which he looked back over his first two seasons at Real Madrid.
Euro 2020 begins on Saturday for Belgium and Eden Hazard, who face Russia in their opening game The 30-year-old starts the tournament with muscular problems and far from full fitness. Injuries have been a constant concern for Hazard during the past two season, since he signed for Real Madrid. He spoke about his fitness problems, his first two seasons in Madrid and Euro 2020 in an exclusive interview with Het Nieuwsblad.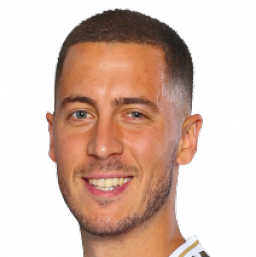 Physical shape going into Euro 2020: "I don't want to start the tournament just for the sake of it. The good sensations I had in my legs will return and the injections I had in both hips worked but I won;t be at 100% and this is the first game. Even if I come on as a sub late in the game, I don't think I'll make much of a difference against Russia. I will improve after I've played one, two or three games in a row. That's when I'll start feeling comfortable on the ball and get my rhythm back but it's nothing something which you can force. If I have to be more patient, then that's all there is to it. Fortunately, I am not the only player in the Belgium side that can decide a game".
Belgium's chances at the Euros: "The ranking speaks for itself. When you are talking about players who can pass the ball, Kevin De Bruyne is the best, no one is more effective in front of goal than Lukaku, Courtois is the best with his hands. Every player has his specialty and that is what makes us a good team. Where do I fit in? I do my best. I am good at everything, but I'm not the best in any area. I'm a good mix" (laughs).
You say you don't want to force yourself to start the game against Russia. Is that something you have done at Real Madrid? For example, you played against Borussia Mönchengladbach after just two full training sessions: "Yes, I forced myself in all of those injuries. I'd been out twice and started to fee pains during training. I just thought it couldn't be possible that'd I'f fallen injured again. I thought if I feel pain now, I'll have to stop for two weeks. So I kept quiet and continued. At Chelsea, I quite often played feeling uncomfortable. My muscles might be tight, for a kick I'd received... Once I was warmed up I was usually fine and in seven years in England I didn't have any serious injuries. Unfortunately, it's been the opposite in Madrid. The next day, bam, more pain".
You have suffered a series of injuries since Meunier kicked you during the Real Madrid-PSG game in November 2019: "It's just very difficult to understand. I do everything possible not to get injured, I work hard in the gym, which is really boring and then every once in while I am out injured again. It's bad luck. Hopefully that period is behind me now and is just something I have been through".
You have a happy-go-lucky character, but you seem a little down: "I'm still the same person I've always been. I still enjoy myself, but I can't say I'm happy. I am only myself when I am able to enjoy myself out on the pitch. That hasn't happened in my last two seasons with Madrid. If you have one or two injuries, you can get over it easily. You can make sure you recover well and come back stronger. But if it's five, six, seven injuries, mentally it's much harder to handle. But I keep going. It's not as though I am 36 and might think that enough is enough. I also received a lot of support during the times I've been sidelined. The Whatsapp group with my parents and brothers Thorgan, Kylian and Ethan never stops. My wife and kids have been there for me too. Although it's been quite tough on my kids because I wasn't able to play football with them in the garden as much".
Some suggest that your injuries could be down to stress: "Real Madrid is the biggest club there is and of course there is pressure. When you play for Madrid, people expect you to be the best in the world. But why should I be stressed out? I have dreamed of playing for Madrid since I was a kid. I looked up to players like Zidane with admiration..."
The task of emulating Cristiano: "That's something else. I'm not Cristiano Ronaldo. He scored 60 or 70 goals per season, and I have scored 60 or 70 goals in seven or eight years. We're different. For example, I could never jump so high above a defender to head the ball. Imagine that. But I didn't join Madrid with the idea that I had to be the new Ronaldo. I just have to be Eden Hazard".
René Vandereycken [Belgium coach between 2006 and 2009] said that they should give you the ball if you have two players on your back... "It would make sense for them not to do that because I haven't shown anything yet at Real Madrid. If we play a game tomorrow and I dribble past three players, they will start playing that way with me more. That's what builds self-confidence. That's how it was with Chelsea, and with Belgium. The Euros could help to show Real Madrid what I can do".
Are you 100% sure that you will stay at Real Madrid? "Yes, the thought of leaving hasn't occurred to me for one second. I am not going to leave as a failure. I only want to show that I was made to play for Real Madrid. The last two seasons have been difficult. I was in Madrid without really being in Madrid, if you know what I mean? When I did play, it was difficult for the whole Covid-19 pandemic. We were playing in stadiums without fans, while I had signed to play at a full Bernabéu. I hope the work on our stadium is finished soon and that the stands are full with our fans. I need that."
Criticism from the press and relationship with the fans: "It's all part of being at Madrid, and dealing with the fans. Luckily, I live in a closed residential area which can only be accessed by car. If the fans wanted to ring my door bell, they wouldn't be able to (laughs). But I don't mind signing autographs in other places. I try to live a normal life".
Laughing and joking with Mendy and Zouma after Madrid were knocked out of the Champions League by Chelsea and your team mates reaction: "That was a bad thing to do, I know that. What Mendy and Zouma said wasn't even funny. It's always nice to see old friends. Although I understand that it damaged Real Madrid's image. A lot of epople thought that I wasn't bother that we had been eliminated but that couldn't have been further from the truth. Underneath I was really upset. If there was one game that I wanted to win, it was that one, against my old club at Stamford Bridge. I was surprised when I saw the images. I received several phone calls but to be honest, my team mates are really nice people. And that's another reason why I want to stay - for the good atmosphere. When I entered the Madrid dressing room for the first time, I was amazed. This was the club where all of my favourite childhood stars played, but players like Sergio Ramos and Karim Benzema are just normal guys. The Spanish players sometimes invite the whole squad to quiet restaurants".
Have you spoken to Mertens about what it's like to work under Carlo Ancelotti? "Ancelotti sent me a text message. He said that he was very happy to be back coaching Real Madrid, and that we'd have time to chat more in depth later on. He wished me luck at Euro 2020. I don't have to ask Mertens about Carlo Ancelotti, because a lot of Madrid players (Benzema, Modric, Kroos...) remember him from his first spell as coach. They all say that Ancelotti is fantastic. A good person who knows how to play and be the leader of the squad. Last season, Real Madrid didn't win anything, we want to put that right next season".
Zidane's departure: "I called him. It hurt me to see him leave. We had two years in which we could have achived some nice things. That's a disappointment for him and for me. Everyone knows the relationship I had with Zidane. He was my idol. It was because of him that my intrest in football grew. That goal he scored in the Champions League final against Bayer Leverkusen... Everyone has seen that volley. I would love to score a goal as beautiful as that one day. I should try to score one - maybe in the Euros! (laughs)".