Bucks vs Nets Game 5: how and where to watch - online, TV
The Brooklyn Nets head home after giving up a 2-0 series lead to the Milwaukee Bucks in the Eastern Conference semis. Game 5 tip off is set for 8:30pm ET.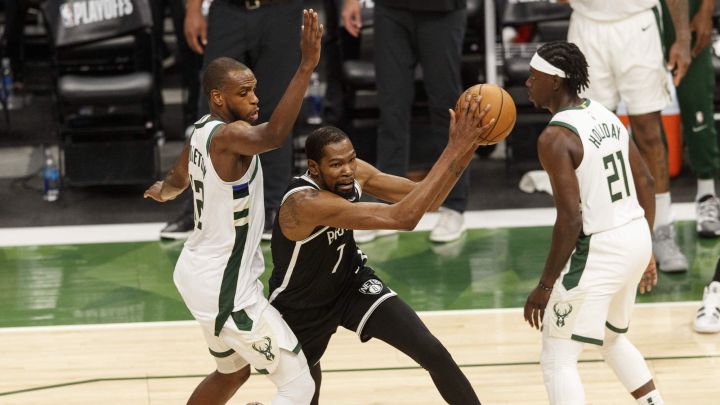 The Brooklyn Nets will be without Kyrie Irving for Game 5 after suffering an ankle injury in Sunday's loss to the Milwaukee Bucks.
Giannis and Bucks did it with defense in Milwaukee
The Bucks tied the series in Milwaukee with a big second half. Giannis Antetokounmpo set the tone with 32 points and 12 rebounds. Khris Middleton had 19, but it was PJ Tucker who provided the defensive spark, frustrating Kevin Durant all afternoon.
The Bucks were the top offensive team in during the regular season, but they have won the last two games with their defense. In their two wins in Wisconsin they have allowed just 89.5 points per game.
No Harden, No Irving for Brooklyn in Game 5

Brooklyn have been without James Harden for all but 43 seconds in this series due to the hamstring injury he suffered in the opener. They will head into Tuesday night's game with two of their Big Three sidelined with injury. Kyrie had a bright first half before making a lay up under the basket and landing on Antetokounmpo's foot and twisting his ankle.
It will be all on Kevin Durant's shoulders without Irving and Harden. Fortunately and unfortunately for Brooklyn this is a situation that is all too familiar. Injuries have plagued the Nets season all year long, and they will be without two of their Big Three in the biggest game of the season.
Another clash of the titans awaits on Tuesday night

Durant has been unstoppable in the post season averaging over 31 points per game, but he's going to need a big game from role players like Joey Harris and Blake Griffin.
Giannis is averaging 26 points and 13 rebounds a game. Khris Middleton has come to life for the Bucks after a rough first two games in Brooklyn.
When does Game 5 start?
The fifth game of the Eastern Conference Semis between the Milwaukee Bucks and the Brooklyn Nets will take place on Tuesday 15 June at the Barclays Center. The game gets underway at 8:30pm ET / 5:30pm PT.
How to watch Bucks vs Nets on Tuesday
TNT will broadcast the game nationally. If you can't be by the TV, you can also watch the game on the Watch TNT app. If you don't have a cable login to access TNT for a live stream, you can get a free trial from YouTube TV, Hulu with Live TV, AT&T TV Now, FuboTV, or Sling TV to stream the game