Hungary 0-3 Portugal summary: score, goals, highlights, Euro 2020
Hungary 0-3 Portugal: Euro 2020 as it happened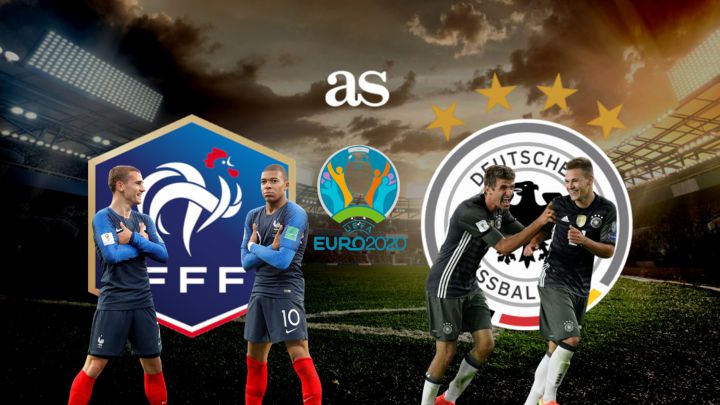 Peeep peep peeep! In the blink of an eye, Portugal have gone from frustration - and even a mild flirtation with defeat - to a handsome win.
Moments after Hungary had a breakaway goal disallowed for offside, Raphaël Guerreiro finally got the opener for Portugal, who had utterly dominated but were starting to slightly lose their way.
The two Ronaldo goals that followed were the icing on the cake for the defending champions, and saw the forward become the Euros' highest ever scorer.
That's the first time Portugal have won their opening match of a tournament since Euro 2008 (in addition to being their first group-stage win at the Euros since 2012.)
It's a bitterly disappointing end to the game for Hungary, but it's a defeat they deserve. Only the heroics of their goalkeeper, Péter Gulácsi, had prevented the Portuguese from scoring earlier.
Given that third place may well be enough to go through, Portugal have taken a big step towards the last 16 in advance of their two toughest games, against Germany and France, who play at 3pm EDT in Munich.
Thanks for reading!
It's 3-0! And it's a lovely goal! It's wonderful link-up play by Cristiano Ronaldo and Rafa Silva, who bamboozle the Hungary defence with a neat exhange of passes before Ronaldo rounds Gulácsi and taps in!
11 European Championship goals for Ronaldo now, then. What a final few minutes for Portugal!
Five minutes of time added on.
Portugal make another substitution, bringing on João Moutinho for Fernandes.
Hungary also make a change, Varga replacing Fiola.
Orban was booked for his foul on Rafa Silva, incidentally.
Ronaldo sends Gulácsi the wrong way, and the points are Portugal's!
That's a record-breaking goal. The Juventus forward is now the European Championship's all-time highest scorer, with 10.
And now Portugal have a chance to make it two! Rafa Silva is brought down by Orban, Cakir points to the spot, and Ronaldo will take...
Portugal have the breakthrough! Just as it looked like the Portuguese were running out of ideas, Guerreiro finds the net! Rafa Silva turns the ball across the box, and when his poked effort takes a deflection off Orban, it wrongfoots Gulácsi and the defending champions lead!
Portugal bring on Renato Sanches and André Silva for William Carvalho and Jota.
And with his first involvement, Schön has the ball in the net - but the wild celebrations inside the Puskás Arena are cut short when the flag goes up. Collecting a pass from Nego, the substitute cuts inside Pepe, drives into the box and beats Rui Patricio at the near post, but he was well offside when he received the ball.
Portugal survive, but Hungary are looking more and more confident and haven't really been tested in defence for about 15 minutes now.
Hungary bring in more fresh legs, withdrawing Sallai and Kleinheisler for Schön and Siger.
Ronaldo wants a spot-kick when it hits Fiola's hands and the video assistant has a good luck at it... but in the end no penalty is given.
Adam Szalai has another pot shot from deep, but it's well wide.
And if they're not careful, Portugal could get caught by a Hungarian sucker punch. Substitute Rafa Silva gives it away, prompting a quick Hungary break accompanied by rising decibels in the Puskás Arena. Lovrencsics crosses to the far post from the right and Sallai rises highest - but he can't direct his header towards goal.
Hungary come right back at the Portuguese, however, Kleinheisler turning the ball across goal from the left. Attila Szalai is in space at the near post, but doesn't seem to be expecting the pass and it runs safely through to Rui Patrício.
Portugal make their first change, replacing Bernardo Silva with Rafa Silva.
Moments before making that substitution, Portugal boss Fernando Santos could be seen in intense discussions with his assistants. The defending champions have just 20 minutes left to break Hungary's resistance.
There's a chance for Sallai, but he can't get a good connection on Lovrencsics' right-wing cross and sends it tamely wide from the edge of the area.
Another fine stop from Gulácsi! Jota lays the ball off to Fernandes, who takes a touch before pinging a shot low towards the corner from 25 yards out, but the Hungary keeper again keeps Portugal out! That was heading just inside the post. Fernandes curses in frustration (or at least, it looked like a curse; I can't speak Portuguese, let alone lip-read it).
Just before that Fernandes corner was taken, Hungary made their first substitution, replacing Schäfer with Nego.
William Carvalho feeds the ball into Fernandes at the top of the box, before advancing into the area in search of a return. Fernandes can't get it back to the Real Betis midfielder, but Portugal recycle it wide to the right to Semedo, whose cross is cleared for a corner.
Fernandes delivers, but Orban heads away.
Portugal have got the ball back under control in the Hungary half, and spend a good couple of minutes popping it about in front of the two banks of red shirts in front of the Hungarian box. Finally, Dias lofts a high ball from the left towards Fernandes' run to the back post, but he's crowded out. The ball drops harmlessly into Gulácsi's arms.
Hungary are having a good couple of minutes. First, they get it to Szalai, who controls on the right-hand side of the box but can't get his cut-back past Danilo. Moments later, Fiola is released into crossing space on the left wing, but is also unable to find a fellow red shirt.
Sallai shoots, but it's straight at Rui Patrício! It's probably Hungary's best chance so far. The ball slips loose to the forward 20 yards out, and he gets plenty of welly behind it... but he can't direct it into one of the corners, and the Portugal keeper grabs hold with relative ease.
Carvalho lofts a ball over to the back of the box towards Silva, but Hungary deal with it. At the other end, Kleinheisler pings a high ball forward to the edge of the Portugal area, where Sallai flops to the turf after tangling with Dias, but isn't getting a free-kick.
Adam Szalai gets the ball out of his feet and shoots from way out - 35 yards or so - but it's not very powerfully hit, and trundles into Rui Patrício's arms.
Portugal continue where they left off at the end of the first 45, and immediately Gulácsi is forced into another good save. Semedo wins a corner on the right, which Fernandes trots over to take. His whipped delivery is right onto the forehead of Pepe, who nods it towards the far corner, only to see the Hungary keeper scramble across his line to parry! Pepe holds his head in frustration.
Peeeep! The teams are back out and we're up and running once more in the Hungarian capital.
No half-time substitutions for either team.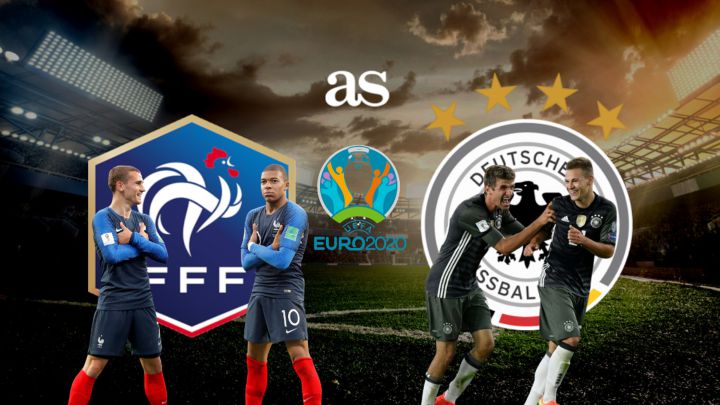 France vs Germany: times, TV & how to watch online
Hungary vs Portugal is followed at 3pm EDT by the not unenticing prospect of France vs Germany, in the first heavyweight clash of this summer's European Championship. Can the Germans gain a measure of revenge for their semi-final defeat to Les Bleus five years ago?
You can find out how to watch the game in Munich here.
Peep peep peeeep! Cuneyt Cakir brings the first half to a close at the Puskás Arena. Portugal have utterly dominated and have created a few good chances - most notably for Ronaldo a couple of minutes ago - but the deadlock remains very much unbroken.
One minute of time added on in Budapest.
What a chance for Ronaldo! Fernandes pings a low cross from the left into the six-yard box, where Jota tries a backheeled finish, but fails to make contact. The ball runs through to Ronaldo, who is perhaps put off by Jota's swing and miss, and he prods over from point-blank range.
Jota is denied by Gulácsi again! Semedo gets to the byline on the right and touches it back to the forward, who turns and shoots left-footed. Once more, though, Gulácsi makes himself big and parries! Silva isn't happy with Jota for not passing to him, but that seems more than a little unfair.
Adam Szalai chests it down inside the box, with his back to goal, before trying to turn Pepe. The defender is having absolutely none of it and brings the ball clear.
Rúben Dias gets the first yellow card of the game when Cakir deems him to have gone in studs-up on Kleinheisler. Dias isn't happy about it, and replays do suggest he got the ball.
Szalai draws huge roars of approval when he gets his head down and sets off on a weaving run into the Portugal half, before buying a free-kick off Silva out on the left. It's a great chance for the Hungarians to swing it into the mixer.
Sallai's delivery is whipped menacingly towards the penalty spot, where Szalai nods it on towards goal - but directs his header straight at Rui Patrício.
For the first time I can remember, Hungary keep the ball in the Portugal half for more than a minute. It's finally played long to Lovrencsics on the right wing, and he thinks he's won a corner when Jota deflects it behind, but Portugal get the goal-kick.
Header from Cristiano Ronaldo! Silva drifts an inswinging ball from the right into the danger area, where Ronaldo hangs in the air and tries to glance it on into the far corner, but can't get the right direction or oomph on it. To be fair to him, Silva's cross didn't have much pace on it. Ronaldo had to generate all the power himself.
Ronaldo does a stepover before laying the ball across the top of the box to... no-one. Crossed wires. Portugal immediately regain possession, though, and get Silva haring into the penalty area. He falls to the turf under the challenge of Orban, but it was a great tackle from the RB Leipzig defender. He took a chance, no doubt; but he timed it just right.
Carvalho wins a corner off Nagy, which Bernardo Silva will take. Bruno Fernandes delivers, but Hungary clear and Schäfer is brought down by Fernandes as he looks to carry the ball towards the Portugal half. Schäfer wants a yellow for Fernandes, but the Manchester United man gets away with a stern telling-off.
Portugal win the ball right back, though. They've had just under 75% possession so far.
Botka wants a free-kick when he tumbles under Guerreiro's challenge on the right flank, but he isn't getting one. Hungary are spending very, very little time in the Portugal half.
Great save from Gulácsi! Pepe lifts a high ball over the top of the Hungarian defence for Ronaldo to run on to and, as the ball drops over his shoulder, volley at goal. He gets a decent enough contact on it, but the Hungary keeper makes himself big - ah, and the flag was up anyway. The replay suggests Ronaldo was offside.
Semedo and Fiola are both sent flying when they collide in an aerial challenge. It looked to me like Fiola was a little late into the clash, but the referee gives a drop ball after the pair are both back on their feet.
William Carvalho lofts a high ball towards Fernandes at the back of the box, but Fiola is there to head safely into Gulácsi's hands.
Portugal plop it about for a good while as Hungary sit and wait, before Bruno Fernandes looks to slip a through ball into Guerreiro's penetrating run into the box from the left wing. However, the full-back can't quite bring the pass under control and it trundles out for a goal-kick.
Hungary want a free-kick when Sallai tumbles under Dias' challenge as the pair chase down a high through ball, but Cakir says nothing doing.
At the other end, Semedo is brought down on the right flank by another robust Hungarian challenge, and when the free-kick is delivered into the box, Jota volleys over! He was in acres of space, but wafted the outside of his right boot at it in a slightly unorthodox fashion, and was well off target.
There's the first chance for Portugal! Bernardo Silva slips a neat angled ball from the right into Jota's run towards the box. He spins and fires at goal from the edge of the area, but Gulácsi beats it out! Ronaldo isn't happy he didn't get a pass.
It's been all Portugal ball so far. They play it out to Diogo Jota on the left for the Liverpool forward to take on Botka, and there are huge cheers from the home fans when Botka gets a tackle in. Adam Szalai then goes in very heavily on Danilo, eliciting further load approval from the Hungarians in the stands, who are making a lot of noise.
Peeep! Turkish referee Cuneyt Cakir gets us underway in Budapest! Another 3-3 please, lads.
Teams out - anthems time!
Out come the teams at the Puskás Arena, where it's Portugal's anthem first. Either the locals have been so courteous as to learn the words to their visitors' anthem, or there are quite a decent number of Portuguese in the stands. Hungary's anthem is a bit plodding, to be honest, but the sound of a full ground singing along is nonetheless a rather nice one to hear, given the events of the last year and a half.
Ronnie's records
Cristiano Ronaldo will set a couple of records when he takes to the field in Budapest, and will add another if he gets on the scoresheet.
The Portugal captain will become the first player to appear in five different European Championships, and will make his 39th appearance at the finals of either the Euros or the World Cup, surpassing Bastian Schweinsteiger's European-record 38 tournament games for Germany.
If he finds the net today, meanwhile, Ronaldo will become the Euros' highest ever scorer. He's currently tied with France's Michel Platini on nine.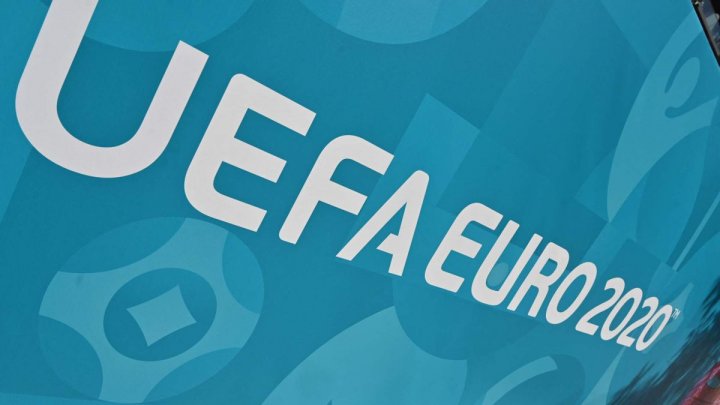 Hungary fans get the atmosphere going on their way to the stadium
As I mentioned earlier, there are set to be around 60,000 fans in the Puskás Arena this evening - and we can expect quite an atmosphere in what is the first game Hungary have ever hosted at the finals of a major tournament.
"It will almost certainly be the best atmosphere at the Euros," Hungarian football expert Tomasz Mortimer told the Totally Football Show. "Having Hungary play in front of a full house any time is an incredible sight, to be honest. The fans are just unbelievable. They're vociferous but not aggressive […]. That will be spectacular for everyone watching."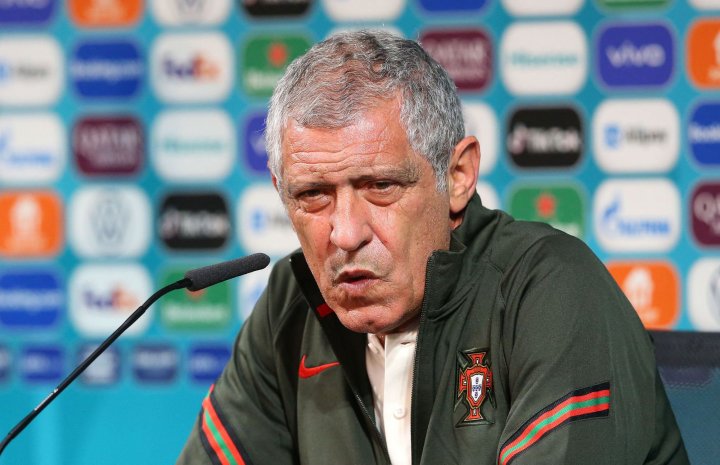 What the coaches said
Marco Rossi, Hungary:
"We will do everything to push ourselves to the limit. We know who we're up against. We will keep our feet on the ground, but of course we want to achieve our dreams. Dreaming is free, so we dream. Our dream remains between us, of course. We talk about it and want to live that dream. Let's hope it continues during the Euros. "
Fernando Santos, Portugal:
"Obviously, as contenders to win, if we don't get through the group phase it will be a failure. But I don't believe that will happen to Portugal. I think people have the right and are correct to demand that we do everything in our power to win, using our quality, organisation, commitment, and I believe we are prepared for that. Portugal have the ability to go toe-to-toe with any team that also has ambitions to win the tournament."
(Quotes via UEFA; photo: Handout / UEFA / AFP)
Patrício, Semedo, Guerrero and Danilo in for Portugal, three Hungary changes
Hungary head coach Marco Rossi makes three changes to the side that drew 0-0 with the Republic of Ireland in the hosts' final Euro 2020 warm-up, as Endre Botka, Gergo Lovrencsics and Roland Sallai come in for Ákos Kecskés, Bendegúz Bolla and Kevin Varga.
Meanwhile, there are four changes to the Portugal team that walloped Israel 4-0 in their final friendly before the tournament, Nélson Semedo replacing the coronavirus-afflicted João Cancelo, and the trio of Rui Silva, Nuno Mendes and Rubén Neves making way for Rui Patrício, Raphaël Guerreiro and Danilo.
Portugal team news
Starting line-up: Rui Patrício, Semedo, Dias, Pepe, Guerreiro, Danilo, William, Fernandes, B. Silva, Ronaldo, Jota
Hungary team news
Starting line-up: Gulácsi, Botka, Orbán, Attila Szalai, Lovrencsics, Kleinheisler, Nagy, Schäfer, Fiola, Roland Sallai, Ádám Szalai
Hungary vs Portugal: Euro 2020 preamble
Hello! Portugal begin their defence of the European Championship title in an hour's time (12pm EDT) against Hungary, in a Group F clash in Budapest which is a repeat of the sides' encounter at this stage of the tournament five years ago.
That match in Lyon was a 3-3 barnstormer, and in general these two teams have provided goals when they have met at a major finals. A 3-1 win for Portugal in their other tournament meeting, in the first round of the 1966 World Cup, means they've so far averaged five a game.
It's also worth remembering that the teams' stalemate in France was one of three draws for Portugal in the 2016 group stage - so despite winning the competition in the interim, the Seleção are now two days shy of the eighth anniversary of their last group-stage victory in the Euros.
With Germany and France up next in this year's group of death, Fernando Santos' men could really do with ending that wait today, and ought to do so against a side considered by the bookmakers as Euro 2020's 23rd most likely winners. Portugal have lost João Cancelo, who has been sidelined with covid-19, but on paper boast a more talented squad than five years ago - after all, 2016 survivors such as Cristiano Ronaldo, William Carvalho, Pepe and Raphaël Guerreiro are now joined by the likes of Rúben Dias, Bernardo Silva, Diogo Jota and Bruno Fernandes.
Hungary, who qualified for their second straight Euros with a dramatic playoff victory over Iceland, will be without Dominik Szoboszlai, their most gifted player and their hero in that 2-1 win in November. He has been ruled out after failing to fully recover from a groin injury.
Marco Rossi's side will, however, be able to draw on the backing of the majority of a 60,000-strong crowd in their national stadium, the Puskás Arena. Some 17 months since grounds were forced to close their doors to supporters as the pandemic hit, it will be an unfamiliar experience to see, and hear, full stands at a football match.