Biden-Putin: what did they discuss at the Geneva summit?
The two leaders met to discuss cybersecurity, arms control and the ongoing strategic relationship between the nations and appeared optimisitic about the future.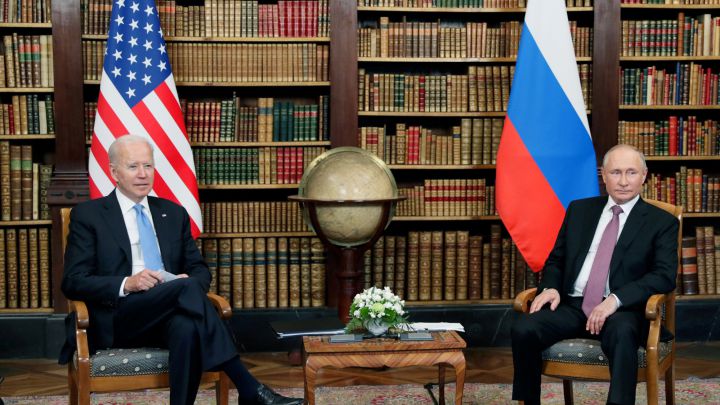 On Wednesday President Joe Biden held an in-person meeting with Russian President Vladimir Putin, the first time the two men had met since Biden took office earlier this year.
The summit was held at the lakeside Villa La Grange in Geneva, where the first Geneva Convention was signed in 1864. The meeting lasted for three hours and 21 minutes, shorter than the White House had projected but both leaders appeared content with the progress made.
Following the closed-doors meeting both men held separate press conferences to outline how they felt the summit went. Here's what was discussed…
Biden aims for strategic stability
Upon taking the stage in Geneva after the summit, Biden seemed cautiously optimistic about the day's work and said they had "covered so much" during the talks.
He added: "The reason it didn't go longer is when was the last time two heads of state spent two hours in direct conversation directly across the table going into excruciating detail? You may know of a time, but I don't."
It was very hard to hear, but President Biden referred to US and Russia as "two great powers" in the opening of his summit with Putin. He mentioned areas of mutual interest where they can cooperate — and noted being "predictable" and "rational" when they don't agree.

— Kaitlan Collins (@kaitlancollins) June 16, 2021
Biden spoke about his belief that the meeting may help pave the way for an improvement of relations between the two super-powers saying that they had agreed to launch a "bilateral strategy stability dialogue."
"[But] are we closer to a major strategic stability talks and progress?" Biden questioned, "That's going to be the test."
Mixed results on cyber security and arms control
In recent years the United States has suffered a number of 'cyber-attacks' on key infrastructure, with Russian-sponsored agents reportedly involved in the attacks. Earlier this year it was found that the Pentagon, intelligence agencies, nuclear labs and a number of Fortune 500 companies were using software that is thought to have been compromised by Russian hackers.
To avoid a repeat, Biden said he had issued Putin with a list of 16 sectors that must not be targeted in future, saying: "critical infrastructure should be off-limits." Putin refused to accept responsibility for the cyber-attacks on US-based organisations, which suggests that it will take more persuasion from Biden to win any real concessions on that issue.
"If you don't understand that," Biden tells a reporter pushing him to explain how it was a constructive meeting with Putin if he still denies human rights abuses and cyber attacks, "you're in the wrong business."
pic.twitter.com/M4QmK7hKYd

— Philip Melanchthon Wegmann (@PhilipWegmann) June 16, 2021
One area where progress does appear possible is in regards to arms control. In February the two nations extended their New START Treaty for an additional five years, limiting the number of strategic nuclear warheads and submarine-based missiles and bombers that each nation is permitted to possess. After the summit, both Putin and Biden said the two nations shared a responsibility for nuclear stability,
Biden raises the issue of interference in American democracy
One of the most inflammatory elements of the US-Russian diplomatic relationship in recent years was the interference in American elections. In a meeting with Putin in Helsinki in 2018 former President Trump dismissed his own intelligence agency's findings that Russia had sought to manipulate the result of the 2016 Presidential Election.
In Geneva Biden was much firmer on the subject, saying in the press conference: "I made it clear that we will not tolerate attempts to violate our democratic sovereignty or destabilize our democratic elections, and we would respond."
Biden added that he would "continue to raise issues of fundamental human rights," perhaps hinting at the continued imprisonment of Russian opposition leader and vocal Putin critic Aleksei Navalny. No concessions were secured on the subject of political prisoners at this stage but both leaders seemed content with the tone of the meeting.
"There has been no hostility," Putin told reporters after the summit in Geneva. "On the contrary, our meeting took place in a constructive spirit."