REAL MADRID
Sergio Ramos leaves Real Madrid: how many titles has he won?
Five LaLiga titles would be enough to satisfy most professional footballers, but for this insatiable defender a rather large trophy cabinet is required.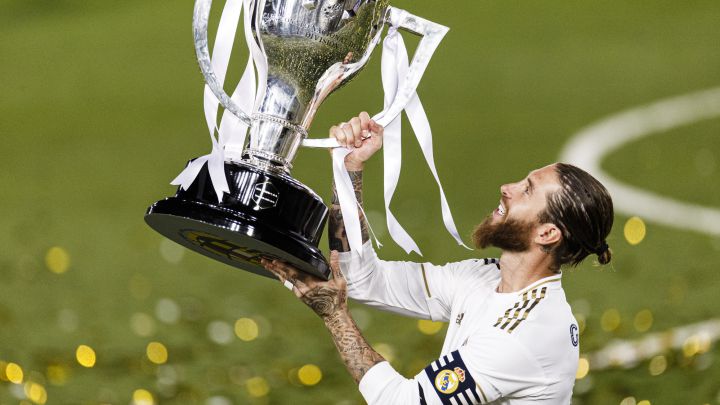 On a stormy Wednesday evening in Madrid, where hailstones were battering down on the warm city below, the football bombshell was dropped: Real Madrid's captain would leave the club he joined 16 years previous.
The announcement from the Spanish club included details that there would be a press conference with Ramos and president Florentino Pérez on Thursday where more information would be shared. As fans of Los Blancos came to terms with the idea of not seeing their imperious leaders at the heart of their defence, we considered the glory that has come before this point...
Sergio Ramos: titles and trophies won with Real Madrid
In 16 seasons with the capital side, Ramos has undoubtedly fulfilled the dreams he must have had as he left his home in Sevile. As a mainstay in the club that set so many records over those years, he watched big names come and go, and played a crucial role in taking the team to titles and trophies, even when they may have been second best for much of the time.
Sergio Ramos titles:
LaLiga - 5
Spanish Super Cup - 4
Copa del Rey - 2
Champions League - 4
Club World Cup - 4
UEFA Super Cup - 3
In his 671 appearances for the club, the defender scored an incredible 101 goals and provided assists for teammates on 40 occasions. His lists of honours is matched by few players around the world...