Mourinho on Hazard: "If he was a top professional..."
Mou says Hazard needs to train harder, "The truth is what you see from him: he is an amazing player with awful training; he doesn't work much".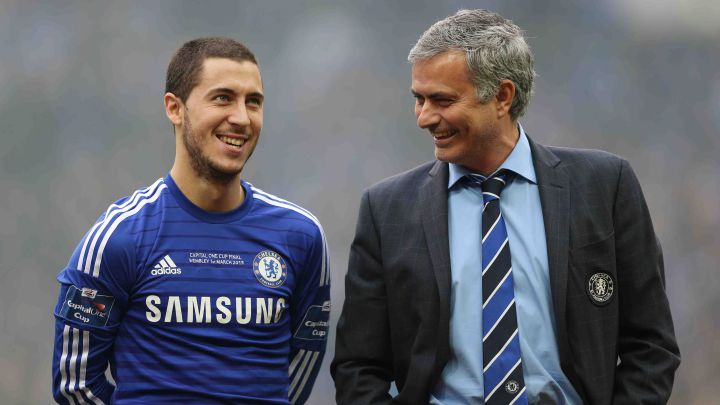 José Mourinho didn't hold back when asked about Eden Hazard's fitness struggles. The Roma coach gave his opinion as a sports analyst on talkSPORT. "The truth is what you see from him: he is an amazing player with awful training. You can only imagine what he could be with a super-professional attitude in training," the Portuguese coach explained. Mourinho got the best out of Hazard when he coached him at Chelsea - in 125 games, the forward scored 36 goals. Only under Rudi García did Hazard produce better figures.
"He is an amazing kid... But he gets onto the pitch every morning and he doesn't work much. When he gets on to the pitch you don't see the reflection of a week of work, you just see a reflection of his talent," Mourinho added. "He is this amazing player and you can imagine if he was a top professional. But in terms of his fitness, his speed, his condition, he would be a much better player if he trained as he should. What you see is just the talent that got Eden to where he is".
Hazard, who came on for the last half hour in Belgium's meeting with Denmark at Euro 2020, has scored just five goals in 43 games for Real Madrid. Mourinho revealed what he thought when Madrid signed Hazard from Chelsea: "When he went to Real Madrid I thought wow, this guy is going to the biggest club in the world and is going to feel this huge pressure to be always at the top, this guy is going to win the Ballon d'Or, because he is amazing. He's had more injuries at Real Madrid, at his time with me at Chelsea he didn't, he might have had one but it was nothing big. But in Madrid he got into this negative dynamic with his injuries and that's probably affected him".
Euro 2020, a chance for Hazard to redeem himself
Mourinho is sure that we will see the best Hazard at Euro 2020 with Belgium. "Now he's back with Belgium, on the big stage. you can feel he has a good relationship with Roberto Martinez, but he is on the bench at this moment. But he will be ready to jump to win watches, so I believe Belgium will end the Euros with Eden starting and probably at the top of his game".