Real Madrid ready to sell Jovic
Madrid want to sell the striker and were waiting for an offer from Eintracht, who would buy him back, but first they have to sell André Silva.
Luka Jovic has become a problem for Real Madrid. One of many, because the remodelling of the squad that the club is trying to reshape, in a context of global crisis in the world of football, presents enormous obstacles. One of them is to find an outlet for the Serbian striker and to do so at a good price. This will prove to be a complicated task, as Jovic has been well off the pace for two seasons in a row, although Madrid are confident that acceptable offers for him will come in.
Jovic moves to Madrid for €60 million
Jovic cost Real Madrid €60 million in the summer of 2019. The Serbian (born in Bosnia) was a big gamble given his age. He joined Madrid when he was just 21 after an excellent 2018/19 season at Eintracht Frankfurt, where he scored 27 goals that season alone. Jovic signed a six-year contract until 2025 with a net salary of €5 million per year.
Saving on that fee would undoubtedly help Madrid, at a time when they need to cut costs in order to generate revenue for the main priority: Kylian Mbappé. As for the sale price of the striker, Madrid would settle for €40 million, a figure that today seems high for Jovic. His current value on Transfermarkt is just €20 million.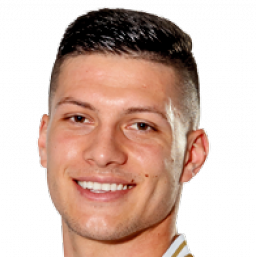 Jovic departed in the winter window, moving on loan to Eintracht, his former team, leaving only Benzema and Mariano in the No 9 position. With Los Blancos, he has scored just two goals and provided two assists in 1,014 minutes, a very meagre return. His return to Frankfurt was exciting, scoring three goals in the first three games, each coming from the bench. Then he started to play regularly and then got stuck again, scoring just one more goal before the end of the season.
Jovic sale depends on André Silva
Nevertheless, Eintracht Frankfurt have shown an interest in considering buying him back at a cheaper price, knowing that he was already at his best there and can do it again, being only 23 years old. But to do so, they first need to make room for him and raise funds. The potential sale of André Silva, who was outstanding last season with 29 goals and ten assists in 34 games would improve the club's cash flow. According to reports in Germany, there are still no offers for Silva.
During the last few weeks of the club season, it was reported that Eintracht valued Silva at around €40 million, a price that most of Europe's big clubs could afford. There is interest from several teams in England, including Manchester United and Chelsea, but this interest has not yet been translated into concrete offers and without the money from the sale of the Portuguese, Frankfurt cannot bring back Jovic.