NBA HEAT CHECK
NBA: George, Middleton make moves but half-fit Harden hinders Nets
Some oft-criticised stars played big roles in taking their teams to the Conference Finals, as the playoff shocks continued last week.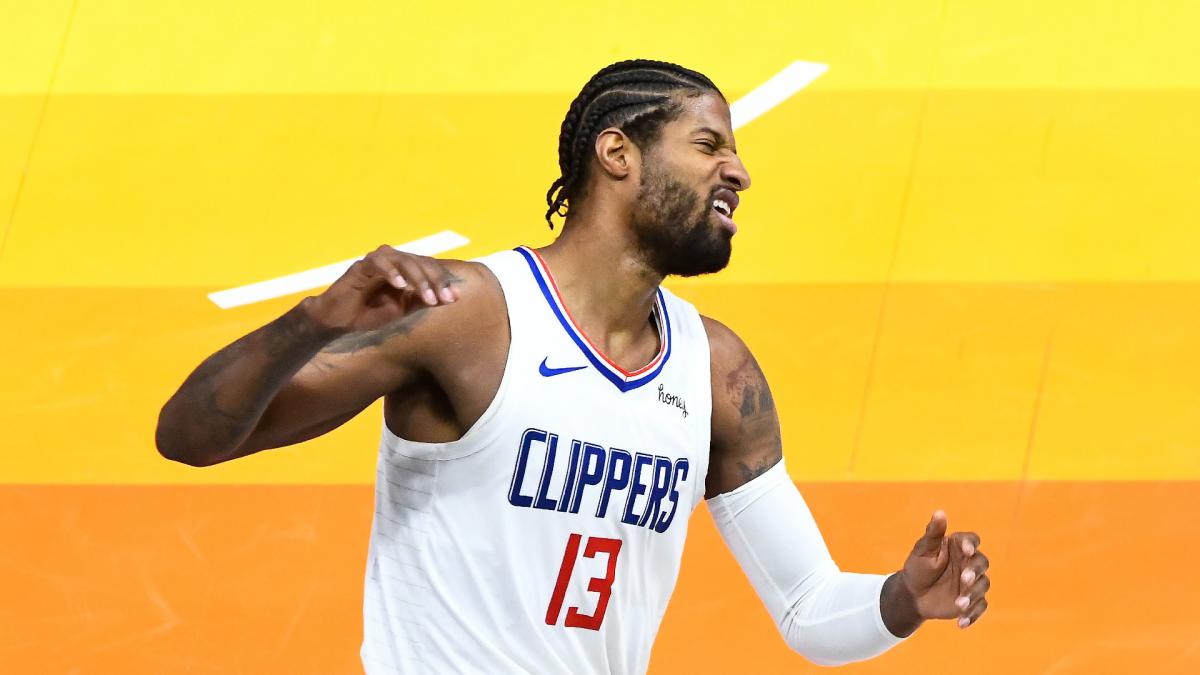 The matchups are set for the NBA's Conference Finals – and few would have predicted these four teams would still be in the running at the start of the year.
In the East, the Brooklyn Nets' superstars fell to the Milwaukee Bucks while the Atlanta Hawks stunned the Philadelphia 76ers.
Western Conference leaders the Utah Jazz became the latest team to give up a lead to the Los Angeles Clippers.
However, the Clippers on Sunday lost Game 1 of their series with the Phoenix Suns, who had been resting since sweeping the Denver Nuggets.
So, which big names were key to deciding these unpredictable battles? Stats Perform takes a look in the latest edition of NBA Heat Check...
RUNNING HOT...
Paul George
Clippers superstar George understandably took a lot of criticism for his playoff performances last season, when he shot 39.8 per cent from the field and scored 10 points or fewer as many times as he reached 30.
But just as Kawhi Leonard went down against the Jazz with a knee injury, for which he has no return date, George found his scoring touch again.
Across four straight wins over Utah – three were last week – George contributed 31, 31, 37 and 28 points. His 37, along with 16 rebounds, came on the road in Game 5, putting the Clippers up for the first time in the series while Leonard sat out.
Even as a surely tired LA team lost to Phoenix on Sunday, George kept them in contention with 34 points to end the week averaging 32.5 per outing, as well as 9.5 rebounds (up from 23.3 and 6.7 respectively in the regular season).
Khris Middleton
Middleton is another impressive regular season performer who has been scrutinised for his postseason displays – and far more recently than last season.
Across the first five games of the Nets series, the wildly inconsistent Bucks forward shot 38.1 per cent from the field. He had 35 points and 15 rebounds in Game 3 but had gone six-for-23 in Game 1, making none of his five three-point attempts.
Yet Middleton's 38 points won Game 6, as he and Giannis Antetokounmpo joined Kobe Bryant and Shaquille O'Neal as the only team-mates in NBA history to each have 30 points and 10 rebounds in the same game twice in the same playoff campaign.
With a key role again in the series decider, Middleton became the first player to record at least 20 points, 10 rebounds, five assists and five steals in consecutive postseason games since steals were first tracked in 1973-74.
Devin Booker
Booker played just once last week but put in a performance that cannot go unmentioned. Without veteran Chris Paul to help him, the sixth-year guard weighed in with a 40-point triple-double against the Clippers (also 13 rebounds and 11 assists).
Only Luka Doncic and Hall of Famer Oscar Robertson have achieved the feat at a younger age in the playoffs than the 24-year-old, while Steve Nash – another Hall of Famer – was the previous Suns player to score a postseason triple of any kind back in 2005.
Kevin Durant
Another player whose contributions must be highlighted, even with his team now out of the playoffs, is Durant. With 43.0 points per game last week, he showed the greatest improvement in the league from his regular season performances – up 16.1 on 26.9.
His 12.3 rebounds per game put the two-time Finals MVP second in improvement in that regard, too, but it was not quite enough.
A toe on the three-point line meant Durant's late leveller in Game 7 against the Bucks was not a game-winner, before the Nets lost in overtime despite his 48 points – one short of a heroic Game 5 tally and two shy of his career postseason best.
GOING COLD...
James Harden
That Durant was asked to do so much was due to injuries to both the other members of Brooklyn's 'Big Three'. Kyrie Irving did not play after Game 4 against the Bucks due to an ankle sprain, while Harden returned in Game 5 after missing the previous three.
To anyone watching, though, it was clear Harden was not healthy.
One of the league's great scorers, he made one of 10 field goals in his first game back, with five points in 45 minutes. Harden had never previously scored as few as five in half an hour of play or more.
His form did improve slightly with returns of 16 and 22 points, but Milwaukee won both, with Harden shooting 29.4 per cent from the field as he proved more of a hindrance than a help to Durant with their season on the line.
Ben Simmons
When Harden moved to Brooklyn, Philadelphia was seen as the potential alternative destination, although that would likely have meant the 76ers reluctantly giving up Simmons. After the defeat to Atlanta, Simmons may now leave regardless.
An outstanding defender, the guard's offense has long been a concern and so it proved again as he averaged 7.5 points last week, significantly down on his modest regular season (14.3).
Simmons made single figures in three straight games, twice shooting only four times from the field despite being on the floor for 38 and 35 minutes respectively.
His eight-point effort on Wednesday included going four-of-14 when shooting from the foul line.
Rudy Gobert
This is the first time since 1994 that both top seeds have failed to make the Conference Finals. The Jazz, just like the Sixers, needed more from their second star.
Gobert is the Defensive Player of the Year but looked a liability as the Clippers went small in Game 6, when his plus/minus was a dismal -24.
The Frenchman's output was down in all three defeats last week as he averaged 9.3 rebounds per game, having put up 13.5 in the regular season.