NYC mayoral primary: polling times and how to vote
The New York City primary elections take place on Tuesday with eight Democrats and two Republicans in the frame to win their parties' nominations in the ranked-choice vote.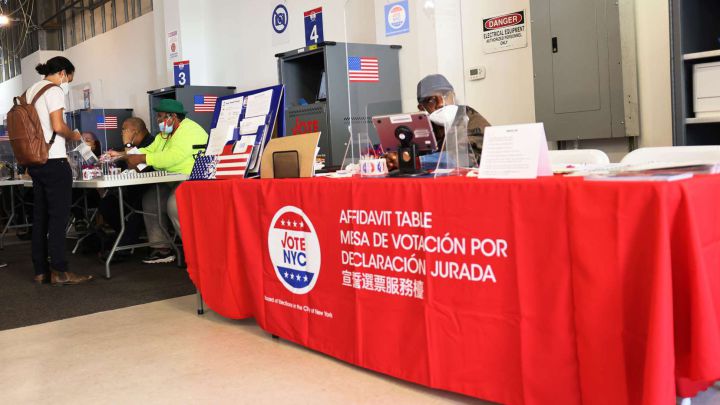 On Tuesday, 22 June, New York City residents will go to the polls for the long-awaited mayoral primary elections. Both major parties will host their primary elections on the same day, with only registered party members able to cast a vote.
There are eight major Democratic candidates and two Republicans hoping to succeed the incumbent Mayor Bill de Blasio, but given New York's left-leaning politics it is expected that the winner of the Democratic primary will be victorious in the November election.
Early voting finished on Sunday 19 June, having begun a week earlier, but only drew in a fairly underwhelming 191,000 voters. If you want to have a say in who your party puts forward as the next Mayor of New York, here's everything you need to know…
NEW NYC POLL:

Mayoral:
Eric Adams: 26%
Maya Wiley: 21%
Kathryn Garcia: 18%
Andrew Yang: 12%.

*With undecideds excluded*:
Adams: 28%
Wiley: 23%
Garcia: 20%
Yang: 13%https://t.co/hvcKM4BB4u

— Data for Progress (@DataProgress) June 21, 2021
Ranked-choice vote used for the first time
For the first time this year the New York mayoral primaries will employ a ranked-choice voting system which allows voters to list their top five favourite candidates in order. The system works by gradually eliminating the least popular candidate until one is left with 50% of the vote.
Once all votes are cast all of the first choice ballots will be counted. If no one secures more than half of the first choice vote then the candidate with the fewest votes will be eliminated and anyone who chose them will have their second choice counted instead. This process continues until a candidate reaches the 50% threshold and is named the victor.
The New York mayoral election is perhaps the highest-profile one yet to use ranked-choice voting, an electoral system much beloved by psephologists https://t.co/4dj0uuqX9O

— The Economist (@TheEconomist) June 21, 2021
Where and when can I vote in the New York City mayoral primary?
New York voters will have a specific polling place to cast their vote in the mayoral primaries, which can be found using the Find Your Pollsite tool on the state's Board of Elections website. Bear in mind, that this may be different to the site allocated to you for early voting purposes and where you typically go for presidential elections.
Across the city polls will be open on Tuesday, 22 June, from 6am to 9pm.
You will only be able to vote in the mayoral primary if you are already registered with a political party as the deadline to join up passed last month. If you are unsure whether or not you are currently registered, simply enter your details in the city's Registered Voter Search.
When will the winner be announced for the New York City mayoral primaries?
Given the more complex voting system implemented this year it could take some time for the results to be finalised. Once the polls close on Tuesday evening the Board of Elections will release a preliminary tally of the votes cast, both on Primary Day itself and during the early voting period.
There will not be a winner in NYC's mayoral (or city council) elections tomorrow night. There might be a frontrunner -- but frontrunner does not equal winner, & that's ok! That doesn't mean the election is stolen or rigged or fraudulent. It simply means votes are being counted.

— Amanda Litman (@amandalitman) June 21, 2021
However this figure will only reflect the number of first-choice picks that each candidate received and, given that there are so many candidates in the Democrats' race, it is extremely unlikely that anyone meets the 50% threshold from that first round of votes.
The Board of Elections has confirmed that the ranked-choice elimination will begin on 29 June and it will provide unofficial updates as the list is whittled down. There may also be a delay in bringing together the absentee ballots that are typically submitted by post, meaning that the final official result will not be confirmed until July.