Real Madrid interested in Alexander Isak
Madrid have asked the Swedish forward's agents about his situation after hearing that the player is ready to make the next step in his career.
Real Madrid are the latest in a long line of clubs queuing up to sign Alexander Isak. Los Blancos are behind some of the top clubs in the Premier League, who are jostling to land the Swedish forward - some of whom are prepared to pat the player's buy-out without needing to negotiate with Real Sociedad. That is the kind of competition which Real Madrid will face if they enter a bidding war for the 21-year-old international.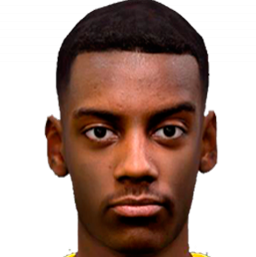 Isak, a cheaper alternative to Mbappé and Haaland
For now, Madrid have just made contact with Isak's representatives, from the Universal Sport Group agency, who also have Luka Modric on their books. Real Madrid have expressed an interest in the Sweden international, and have enquired about the chances of him leaving Real Sociedad this summer. The club have received excellent reports about Isak's progression, and have been advised to sign him on the recommendation of their scouting files. They feel that the player is ready to make the next step in his career. For Real Madrid, Isak would be a much cheaper and more economical option than Kylian Mbappé or Erling Haaland. Isak's buy-out clause is 70 million euros. If he does join Madrid, Isak would be reunited with Martin Ødegaard, with whom he struck up a great friendship during their time together in San Sebastián.
However, if Madrid are seriously considering making a push for Isak (who would compete with Benzema for a place in the side next season), Real Sociedad would not be willing to negotiate. The Basques have made it clear from the outset that the only way Isak will be sold this summer is if his buy-out fee is met. They are hopeful of being able to hang on to their star striker for at least one more season. La Real offered the player an improved contract just before Euro 2020, potentially hiking his buy-out to 90 million euros. They know that they will be dealing with clubs who can offer Isak lucrative contracts and it won't be easy to keep him.
Arsenal keen on Isak
Real Madrid also face stiff competition from outside of Spain for Isak. In England, it has been reported that Arsenal have spoken to the players agents to see if he would be interested in playing in London. The Gunners would be willing to pay Isak's retention fee, ruling out the need to open negotiations with La Real. The Donostiarras insist that they have not received any formal offers for Isak and nor are they aware of any clubs who intend to pay his buy-out.