5
Martin Dubravka 29' (pp),
Laporte 47',
Sarabia 55',
Ferrán Torres 66',
Kucka 70' (pp)
Completed
Slovakia 0-5 Spain: score, goals, highlights, Euro 2020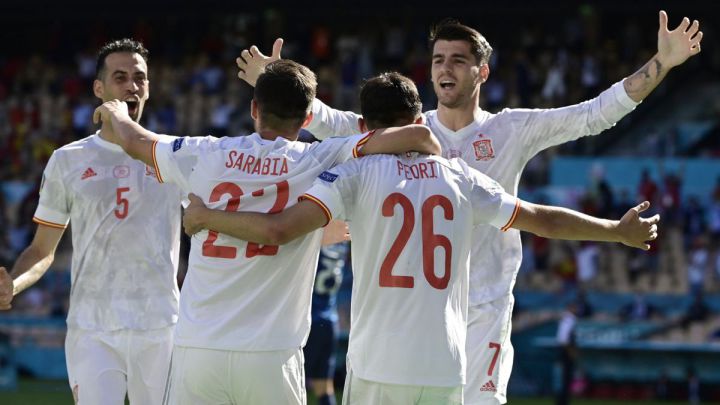 Slovakia vs Spain - live updates:
Here's how Group E ends...
After their 3-1 win against Poland, Sweden go through top, Spain finish second with 5 points. Slovakia finish third but with three points and a goal difference of -5, they will not be among the top-four third-placed teams that qualify for the last 16. A poor tournament for Lewandowski and Poland, as they bow with just one point after two defeats and one draw.
group E
Pts
MP
W
D
L

1

SUE

7
3
2
1
0

2

ESP

5
3
1
2
0

3

SLQ

3
3
1
0
2

4

POL

1
3
0
1
2
Game over, Spain are through to last 16!
The ref blows his whistle as Spain see out a very comfortable 5-0 win against a very poor Slovakia side.
Sweden have just scored to make it 3-2 against Poland, which knocks Spain back into second place. Sweden will go through as leaders of the group.
Slovakia have four more minutes of misery to endure.
Thiago uses the outside of his boot to chip a pass towards Pedri in the centre of the box, but it's just too far ahead of the Barca man as he sticks out a leg in an attempt to make contact.
Over in the other game, Lewandowski has scored Poland's second against Sweden and it's now 2-2! That goal puts Spain top of the group as things stand. The Spain fans in the crowd begin to cheer as news of that goal comes through.
Great play from Traore! The Wolves forward powers his way into to the box on the right side before placing a cross towards the center. A perfect delivery but alas there is no Spanish forwards in the right area to take advantage of it.
Spain make more changes: Traore, Thiago Alcantara and Pau Torres come on for Azpilicueta, Eric Garcia and Busquets.
GOAL SPAIN! 5-0
Very much like the first goal, Spain's fifth goal has come as a result of a comedy of errors committed by the Slovakian defense. I'm struggling to put it into words, but after the ball bounced around the box as a series of Slovak attempts to clear the ball failed, Torres knocks a header towards goal, which Kucka has managed to steer into his own goal right by the line. As is obvious from the scoreline, this has been by far the worst defensive performance in the competition so far, and Spain have capitalized on it.
GOAL SPAIN! 4-0
Some lovely tiki-taka-style play by Spain on the right from a short corner ends with Sarabia playing a quick ball across the box towards Ferran Torres close to the six-yard area, who manages to use his heel to slot the ball home. Spain are through to the last 16! Torres is only on the field 2 minutes.
First change for Spain: Plenty of applause for Morata, who missed a penalty in the first half, as he makes way for Ferran Torres.
Poland have clawed one back against Sweden in the other game. It's 2-1 there.
Sweden have also scored again against Poland and now lead 2-0. Almost safe to say that Sweden and Spain are going through.
SPAIN SCORE THEIR THIRD! 3-0
Jordi Alba collects the ball on the left edge of the box and with his second touch plays a low and fast ball towards the central area towards Sarabia, who connects with a light touch to direct the ball into the bottom right corner. Spain have finally found their Rojo Mojo.
Decent chance for Slovakia as Hubocan plays a ball over the top for Duris in space, but the shot is weak.
Quiet opening five minutes to the second half with no neither team having threatened the opposition's box.
Slovakia substitute Duris gets involved quickly as he tries a shot close to the Spanish box, but it's blocked down quickly.
Second half begins!
Peep! Spain get the second 45 underway in Seville.
Two half-time changes for Slovakia as Duda and Hromada make way for Duris and Lobotka.
The teams are making their way to the field for the second half.
Interesting to note that Emil Forsberg's goal for Sweden was the second fastest goal in the tournament's history.
Sweden and Spain through as things stand
Here's how Group E is looking with the results as they are at half time. Sweden, currently leading 1-0 against Poland, will go through as leaders with 7 points, with Spain in second on 5 points. Slovakia will finish third with 3 points and a goal difference of -2, which means they are definitely out as things stand.
group E
Pts
MP
W
D
L

1

SUE

7
3
2
1
0

2

ESP

5
3
1
2
0

3

SLQ

3
3
1
0
2

4

POL

1
3
0
1
2
Ref blows for half-time!
Peep, peep! The ref calls time on the first half as Spain head to the dressing room with a comfortable 2-0 lead.
GOAL SPAIN! 2-0
Defensive errors again have led to the goal but there was much more Spanish involvement this time as Slovakia failed to deal with a corner. Moreno wins a 50-50 ball against Dubravka close to edge of the six-yard area when the keeper really should have collected. Moreno pulls out his sand wedge to chip the perfect ball towards Laporte, who does well to jump high and knock the ball into the far corner with his head. 2-0 to the hosts!
Four minutes of added time to be played.
Koke lets fly! The Atletico midfielder launches a strike from down town and his shot goes wide of the far post. Ambitious from 35 yards out.
There four bodies on the floor after Pedri is tackled late and Busquets comes flying in to win the ball back immediately after, taking down two men at the same time. Play quickly resumes after they all get back on their feet.
Slovakia come close! One-on-one with the Simon, Duda has dragged his shot wide of the far right post. But it turns out he was offside as the ball came through so it wouldn't have counted. First real threat from Slovakia, albeit an invalid one.
GOAL SPAIN! 1-0
Two massive defensive blunders from Slovakia have given Spain the lead. First came an awful attempt at a clear out by Pekarik that landed at the feet of Sarabia, whose quick strike from outside the box hits the crossbar. The ball went straight up in the air and as it came down, goalkeeper Dubravka bizarely manages to hand the ball into his own net as he tries to clear it over the bar. That might be the only way Spain are going to score at the moment.
Spain have had 61% possession, 6 attempt at goal, including a penalty, but zero goals of yet.
Morata! Morata launches one from a central position just outside the box. It's on target and Dubravka does well to punch the ball out for a corner.
Another chance for Spain! This time Azpilicueta puts in a cross from the right, but Morata can't get his head to it, and as it flies past him Pedri sticks out a leg close to the six-yard area, but he too fails to make connection. Another collective "uhhh" rings around the Estadio de La Cartuja.
What a chance for Spain! Pedri plays beautifully weighted lob over the top towards Sarabia by the penalty spot but he can't get a foot to it. The delivery was perfect and he should have done better.
Sarabia tries a low cross from the right and wins a corner, which Slovakia deal with to give themselves a brief respite. But Spain quickly regain possession.
Morata misses the penalty!
Poor attempt as Morata's strike goes just left of center and mid-body height, allowing Dubravka to save comfortably! Spain have missed their second penalty of the competition after Moreno failed against Poland on Saturday.
Penalty for Spain!
With Spain pressing high in an attempt to win back possession, Koke was cut down in the box as he challenged for the ball inside the Slovakia box. The ref awards a penalty after a VAR check.
Spain have had all the possession in the first 5 minutes and already mustered two shots, through Morata and Moreno.
Morata! From a very acute angle, Morata does well to force a save out of Dubravka.
Sweden have taken an early lead in the other game through Emil Forsberg.
Spain have their first venture into the Slovakia boss within 40 seconds with a long ball played towards Morata, who loses possession by the byline and the visitors have a goal kick.
Match underway!
Slovakia kick things off in Seville.
Some fans on Twitter had been complaining about the Spanish players not singing their anthem before their last game against Poland. Bear in mind it has nothing to do with their lack of patriotism and more to do with the fact that the Spanish anthem has no lyrics.
The teams are on the field and lining out for the anthems.
Tarkovic: "I still believe we can be successful"
Slovakia coach Stefan Tarkovic is aware of the gravity of the task ahead but believes his team are in with a chance today:
"Sweden and Poland were the favourites in our matches against them, but Spain are top favourites and not only in our group but in the whole tournament. We must prepare well for the match. I still believe we can be successful."
Azpulicueta will play first game for Spain 2018
Cesar Azpulicueta will make his first appearence for Spain since a friendly match against Bosnia-Herzegovina in November 2018. The Chelsea man has had 25 caps fors Spain overall.
Spain need to end their run of draws
Spain have drawn each of their last four major tournament matches (World Cup and Euros); among European nations, only Italy (five from 1980 to 1982) have ever had a longer run of successive such draws.

La Roja will wear white
Another image coming in for our man on the ground. Spain warm up with 30 minutes until kick off (at 12 ET). Spain will wear their white away strip today, Slovakia will be in blue.

La Cartuja Panamoric
A beautiful panaromic of the Estadio de la Cartuja courtesy of our man on the ground. A typically warm and pleasant day in the South of Spain.
Luis Enrique rings in the changes
Things needed the change and they certainly have as Luis Enrique makes 4 changes to the side that faced Poland on Saturday.
Azpilicueta, Eric Garcia, Busquets and Sarabia come in to replace Llorente, Torres, Hernandez and Olmo.
Can Spain finally take advantage of home advantage?
Plenty of support for La Roja as they left their hotel earlier. Home advantage has done little for Spain so far in this tournament. Can they take advantage of it today?...
Slovakia teamsheet is in
Starting XI: Dubravka, Pekarik, Satka, Skriniar, Hubocan, Kucka, Hromada, Haraslin, Hamsik, Mak, Duda
Spain team confirmed
Starting XI: Unai Simon, Azpillicueta, Eric Garcia, Laporta, Jordi Alba, Busquets, Koke, Sarabia, Pedri, Gerard Moreno, Alvaro Morata

Busquets back for Spain
The return of Sergio Busquets will be a massive boost for La Roja. The Barcelona veteran's experience be priceless for the task ahead today. Busquets is the only 2010 World Cup winner left in the squad now.

A must-win game for Spain
Facing a must-win game in their final group game was certainly a position Luis Enrique and Spain wanted to avoid. But with two draws and just one goal to show from their first two game,, that's where they find themselves.
Following 2010 World Cup and 2012 Euro glory, Spain have fared poorly in every tournament since, where they have not gone further than the last 16. A renaissance is needed and they need that renaissance to start today in Seville or else face elimination at the group stage as they did at the 2014 World Cup.
Welcome!
Hello and welcome to our live coverage of the Euro 2020 Group E clash between Slovakia and Spain, which kicks off in Seville in one hour (12pm EDT). We'll be building up to game here for the next 60 minutes, before bringing you minute-by-minute updates on events at the Estadio de La Cartuja.
.