Euro 2020 last 16: qualified teams, bracket, schedule, games and when they are played
The knockout stages of the 2020 European Championship get underway on Saturday 26 June.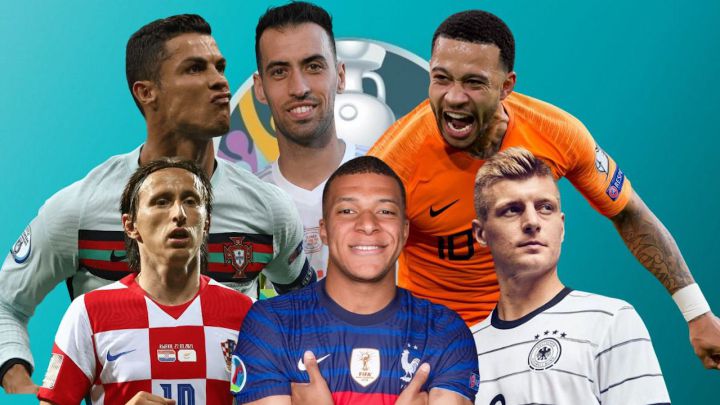 Following the final round of Euro 2020 group games, we now know who'll be playing who in the last 16 as we head into the business end of this summer's delayed tournament.
Teams through to the Euro 2020 last 16
Group A
Group B
Group C
Netherlands
Austria
Ukraine
Group D
England
Croatia
Czech Republic
Group E
Group F
Euro 2020 last-16 schedule
After a two-day rest period, the Euro 2020 last 16 gets going on Saturday 26 June and will run until Tuesday 29 June. There'll be two games a day: one at 12pm EDT, the other at 3pm EDT.
26 June
Wales vs Denmark (12pm EDT, Amsterdam)
Italy vs Austria (3pm EDT, London)
27 June
Netherlands vs Czech Republic (12pm EDT, Budapest)
Belgium vs Portugal (3pm EDT, Seville)
28 June
Croatia vs Spain (12pm EDT, Copenhagen)
France vs Switzerland (3pm EDT, Bucharest)
29 June
England vs Germany (12pm EDT, London)
Sweden vs Ukraine (3pm EDT, Glasgow)
Euro 2020 knockout-stage paths
Top half of the draw
Match 39: Belgium vs Portugal
Match 37: Italy vs Austria
Quarter-final: Winner match 39 vs winner match 37
Match 41: France vs Switzerland
Match 42: Croatia vs Spain
Quarter-final: Winner match 41 vs winner match 42
Bottom half of the draw
Match 43: Sweden vs Ukraine
Match 44: England vs Germany
Quarter-final: Winner match 43 vs winner match 44
Match 40: Netherlands vs Czech Republic
Match 38: Wales vs Denmark
Quarter-final: Winner match 40 vs winner match 38
Euro 2020 knockout-stage bracket: