Why did the building in Miami collapse? possible causes, victims, and response from officials
A Miami area condo collapsed on 24 June, leaving hundreds without a home, and many officials and experts frantically searching for the cause.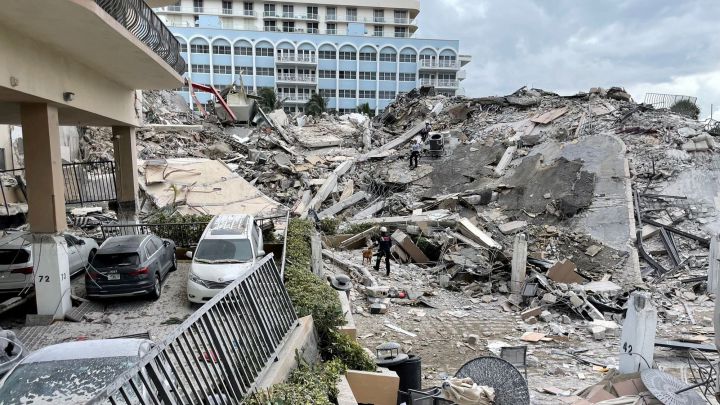 Residents of Florida, and many around the United States, were shocked to see a Miami apartment building suddenly collapse on Thursday, 24 June. So far, emergency personnel have accounted for 102 residents, but another 159 are still missing in the rubble, and sadly, four casualties have been reported.
The condominium was built in 1981, a factor that some say could mean that the building was not in compliance with modern construction codes. According to the Lieutenant Governor of Florida Jeanette Nuñez, of the 136 united that made up the condominium, 55 collapsed. In her comments with Fox Business, Ms. Nuñez said that there are "one hundred and thirty plus first responders units on the scene" who are working as quickly as they can to find and care for victims who were trapped under the rubble.
What could have caused this disaster?
The cause of the collapse is still being determined. However, some architects and building safety experts have chimed in with what they believe could have contributed to the incident.
Building Integrity
In an interview with Fox Business, the National Home Building & Remodeling Corp founder, Gary Slossberg, speculated that the disaster could have been provoked by "construction defects or engineering defects," in addition to many other factors.
A South Florida local, Slossberg, also said that climate could have impacted the steel used to support the building saying, "Miami's coastal air could potentially facilitate the erosion of steel," adding that "by the time you see it, it could be too late."
To combat these issues, Slossberg highlighted the value of periodic checks to prevent loss of life and ensure that the structural integrity of the building remains strong.
One Florida lawmaker, Senator Annette Taddeo, took to Twitter after seeing the news arguing that "Buildings need to be inspected much sooner than 40 years," which is currently the law in Florida. Sen. Taddeo also added that these inspections are increasingly important in an area like Miami, where "sea-level rise can affect a foundation." She continued saying that she is "heartbroken for all the families affected" and that the state should "prioritize infrastructure to keep our community safe."
Buildings need to be inspected much sooner than 40 years, especially in a county where sea level rise can affect a foundation.

I'm heart broken for all the families affected. We must prioritize infrastructure to keep our community safe. https://t.co/EJZ7kJRMYF

— Annette Taddeo (She/Her/Ella) (@Annette_Taddeo) June 24, 2021
Climate Change
The Miami area is one part of the country that has already begun to feel the impacts of climate change and the subsequent rise in sea levels.
A recent report from Yahoo News outlines how some experts believe the changing climate may have impacted the building's structural integrity. David Knowles described how "the base of South Florida's barrier islands is porous limestone," and that as the ocean begins to "encroach" on the land, the ground can become unstable.
The instability is driven by how the tide mixes with groundwater. This "brackish" mixture can be "pushed up through the limestone, causing flooding." Over time, these sorts of flooding events can weaken the foundation of a building, which some speculate could have occurred in this case.
According to a 2019 report published by the Southeast Florida Regional Climate Change Compact, between 2000 and 2017, sea levels in Key West, a short drive from the condo, rose almost four inches. While these changes in water levels may not have been the cause of the collapse here, Knowles mentioned that this increase "threatens thousands of similar structures along Florida's coastline."
For more information on the crisis, feel free to follow our live coverage here.
🔴 LIVE

With 159 people still missing, the race to find survivors continues as rescue teams scour the rubble of a collapsed apartment block in the Miami suburbs. https://t.co/92sX6k175a

— AS English (@English_AS) June 25, 2021