'Chicharito' Hernández brace silences Earthquakes fans in Cali Clásico
The Los Angeles Galaxy defeated the San Jose Earthquakes 3-1 thanks to two goals from the Mexican international, who has now scored 10 this season.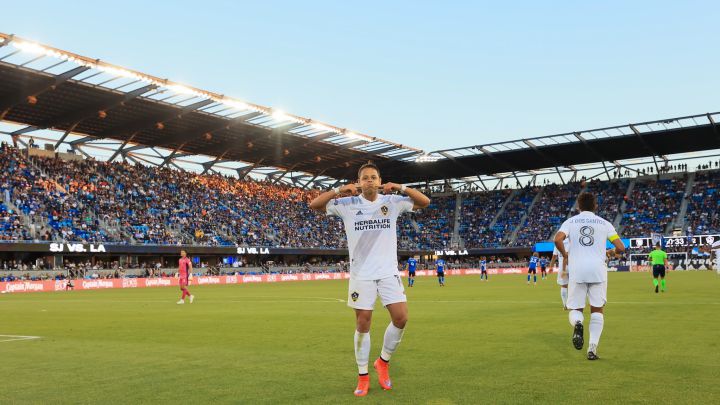 Javier 'Chicharito' Hernández has reached double digits in the first 10 games of the 2021 Major League Soccer regular season. The Mexican international scored his second brace of the year in the Los Angeles Galaxy's 3-1 victory against the San Jose Earthquakes in the full return of fans to PayPal Park.
Galaxy added six points in two road wins this week
The Galaxy had the momentum in their favor and 'Chicharito' scored the game's opener in the 11th minute of the match after a great cross from the right from Samuel Grandsir. The 33-year-old made a great run inside the six-yard box to beat the Earthquake's defenders and score his ninth of the campaign.
'Chicharito' would make it 2-0 in the 50th minute after tapping in Kevin Cabral's cross from the left side and scoring his 10th goal of the campaign. 20 minutes later the Earthquakes' Florian Jungwirth scored an own goal to make it 3-0 and rookie sensation Cade Cowell scored for the home team in the 82nd minute to make it 3-1.
14

"Today [Saturday] you can see the good relationship I have with Cabral and Grandsir, because they both gave me an assist and they could've scored as well. They are still adapting to the culture in the United States and to the level in MLS. They are doing pretty well, they had a very good game, but not only them the whole team on the road. We are going to enjoy this victory, but now we have to rest and think about the next game on Sunday against Sporting KC," Hernández said during the post-game press conference.
"This group has shown resilience after playing three games in one week. In this game we showed emotional intelligence, especially me, because I scored twice and then we maintained our position in the pitch and we showed emotional balance and possession with the early lead we got in the beginning of each half."
The Los Angeles Galaxy have won nine points on the road this season and currently they are in third place in the Western Conference with 21 points. The team with the most titles in the league (five) will return home to face Sporting Kansas City on 4 July at Dignity Health Sports Park.