FOOTBALL
When was the last time the USA won the Gold Cup? How many times have they won?
Mexico is the Concacaf Gold Cup defending champion. The USA soccer team has not won the Gold Cup since 2017, but are strong favourites for this years title.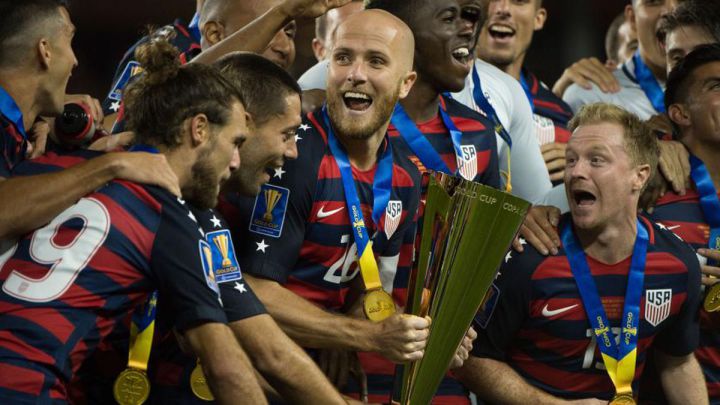 This year is the Gold Cup's 60th anniversary, and it will be held and hosted in 10 cities and at 11 stadiums throughout the United States.
Mexico has won the Gold Cup more than any other country, having won eight Gold Cup championships. Unsurprisingly Mexico has qualified for the tournament this year, and due to their strong team and continued success, they have a great shot at taking home the trophy.
The United States Men's soccer team is also a top contender for this year's tournament and certainly has the chance to be the 2021 Gold Cup Champions. With potential MLS players to join the roster such as Goalkeeper Matt Turner (New England Revolution), defender Miles Robinson (Atlanta United) and winger Paul Arriola (D.C. United), the US will have a strong team.
When was the last time the USA won the Gold cup?
Mexico is the reigning Gold Cup Champion after winning the tournament in 2019, but the United States isn't far behind. The USA won the Gold Cup for the last time in 2019.
What years has the USA won the Concacaf gold cup?
The US has won 6 Gold Cups in 1991, 2002, 2005, 2007, 2013, and 2017
Here is the full list of winners in the past 10 years:
2019 - Mexico
2017 - USA
2015 - Mexico
2013 - USA
2011 - Mexico
2009 - Mexico
2007 - USA
2005 - USA
2003 - Mexico
2002 - USA
2000 - Canada
As can be seen above, Canada has been the only other country in the mix for the past 10 years. The one and only time Canada has won the Gold Cup was in 2000.
The 2021 Concacaf Gold Cup final will be played at the Allegiant Stadium in Las Vegas on August 1st.