NY Yankees withstand 'generational talent' Ohtani
Los Angeles Angels two-way star Shohei Ohtani was at it again as German Marquez went eight hitless innings until the ninth.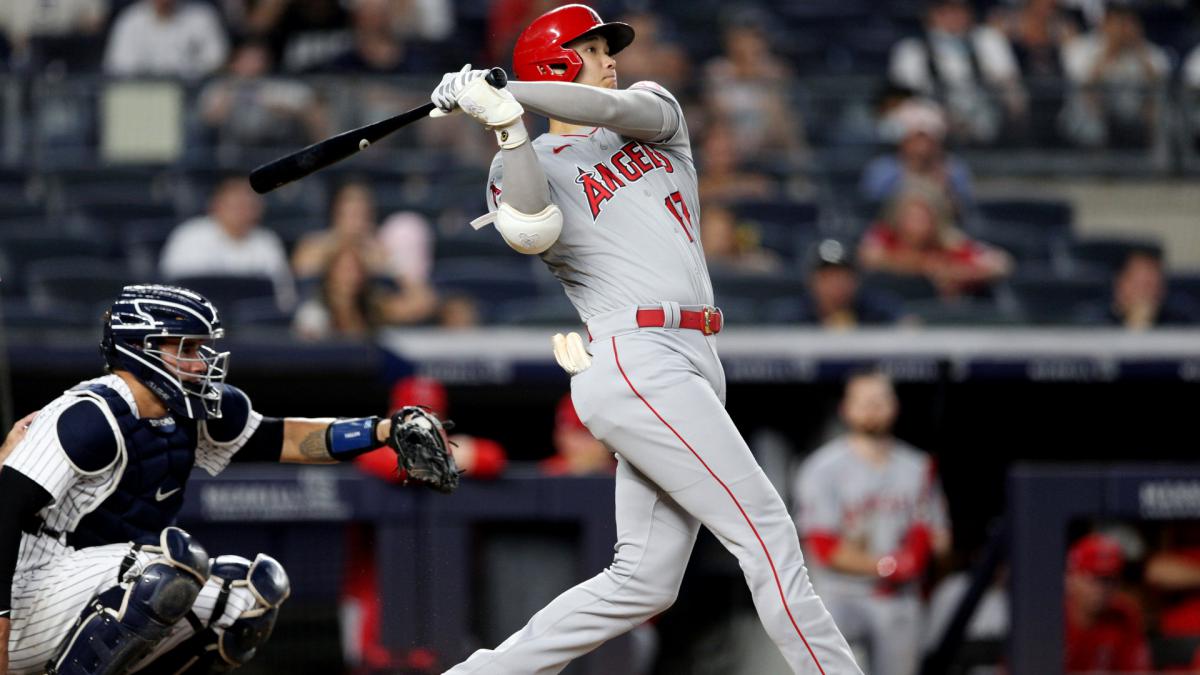 Shohei Ohtani hit two home runs to seize the MLB lead, but the Los Angeles Angels still lost 11-5 to the New York Yankees.
After drilling the hardest-hit home run by an Angels player record by Statcast on Monday, two-way star Ohtani was at it again with a two-homer display at Yankee Stadium 24 hours later.
Ohtani homered in the third and fifth innings as he improved his season tally to 28 home runs, ahead of Toronto Blue Jays sensation Vladimir Guerrero Jr.
The Japanese star's performance on Tuesday drew praise from Yankees counterpart and slugger Aaron Judge, who said: "He's a generational talent.
"To see what he's doing this year is pretty impressive. It feels like any pitch that's over the plate is going to get hit. And it's going to get hit hard."
Ohtani (2021 and 2018) is only the third player with multiple 10-strikeout games and multiple two-homer games in a season since 1901 after Rick Wise (1971) and Jack Harshman (1958), according to Stats Perform.
Judge and Gary Sanchez both homered to help the slumping Yankees snap a four-game skid.
Marquez flirts with no-hitter
Colorado Rockies pitcher German Marquez flirted with history in the team's 8-0 rout of the Pittsburgh Pirates at Coors Field. Marquez threw eight hitless innings until Ka'ai Tom led off the ninth inning with a single into right field. Marquez completed a one-hitter, while striking out five batters. According to Stats Perform, he is the first pitcher to throw a Maddux while having two extra-base hits himself since pitches started being tracked in 1988 (A Maddux is a complete-game shutout with fewer than 100 pitches).
Robbie Ray tied Roger Clemens (1997) for the most strikeouts by a Blue Jays pitcher in the first 15 starts of a season after reaching 113 on Tuesday. Ray finished with 10 strikeouts, five hits, three runs and a homer in 6.0 innings as Toronto topped the Seattle Mariners 9-3.
World Series champions the Los Angeles Dodgers extended their winning streak to five games after defeating the high-flying San Francisco Giants 3-1. The Dodgers are now one and a half games adrift in the National League (NL) West.
Orioles get on top of Garcia
The Houston Astros were crushed 13-3 by the Baltimore Orioles. Robel Garcia was tagged for four runs on two-run homers in his first career pitching performance in the ninth inning. Ramon Urias and Austin Wynns homered off Garcia, who gave up five hits in 1.0 innings.
Schwarber stays hot
Kyler Schwarber celebrated his 12th homer in 10 games to help the Washington Nationals past the Tampa Bay Rays 4-3. Schwarber led off the first inning with a home run. He tied Albert Belle (1995) for the most homers over a 10-game span since at least 1901.
Tuesday's results
New York Yankees 11-5 Los Angeles Angels
Philadelphia Phillies 4-3 Miami Marlins
Washington Nationals 4-3 Tampa Bay Rays
Toronto Blue Jays 9-3 Seattle Mariners
Boston Red Sox 7-6 Kansas City Royals
San Diego Padres 5-4 Cincinnati Reds
New York Mets 4-3 Atlanta Braves
Baltimore Orioles 13-3 Houston Astros
Milwaukee Brewers 2-1 Chicago Cubs
Chicago White Sox 7-6 Minnesota Twins
St Louis Cardinals 3-2 Arizona Diamondbacks
Colorado Rockies 8-0 Pittsburgh Pirates
Texas Rangers 5-4 Oakland Athletics
Los Angeles Dodgers 3-1 San Francisco Giants
Detroit Tigers-Cleveland Indians (postponed)
Here's your daily Kyle Schwarber June HR tally update:

6/12 - SCHWAR
6/13 - 2 SCHWARs
6/14 - SCHWAR
6/19 - 2 SCHWARs
6/20 - 3 SCHWARs
6/23 - SCHWAR
6/24 - 2 SCHWARs
6/25 - SCHWAR
6/28 - 2 SCHWARs
6/29 - SCHWAR@kschwarb12 // #NATITUDE pic.twitter.com/8MzZMA7UVO

— Washington Nationals (@Nationals) June 29, 2021
Angels at Yankees
The Angels (38-41) and Yankees (41-38) will continue their battle at Yankee Stadium on Wednesday. Red-hot Ohtani will start on the mound for the Angels, while the Yankees counter with Domingo German.