LaLiga 2021/22 key dates for Real Madrid: El Clásico, derby, final day...
Real Madrid's first encounter with Barça in 2021/22 will be on 24 October at Camp Nou. The derby against Atleti in Weeks 17 and 36. Madrid-Betis on the final day...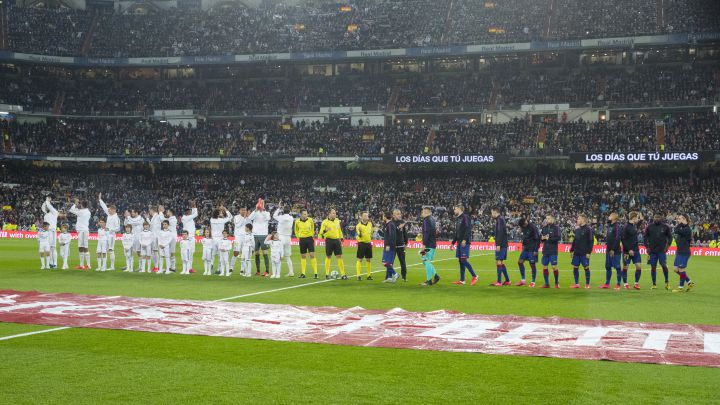 Real Madrid now know their fixtures for the LaLiga 2021/22 season which start on the weekend on 14-15 August away to Alavés at Mendizorroza. LaLiga and the RFEF have granted Madrid' request to be able to play their first three league games away from home so that they can forge ahead with work on the Bernabéu. Los Blancos visit Levante in Week 2 (21-22 August) then Betis in Week 3 (28-29 August). Madrid hope to be back playing at their stadium by Week 4, on 11 September when Celta are guests.
Clásicos: Two in LaLiga, one in the Super Cup
There will be at least three Clásicos in the 2021-22 season. Apart from the two league meetings, Barcelona and Real Madrid will face each other in the semi-final of the Spanish Super Cup which will be played on either 12 or 13 January 2022. The first LaLiga Clásico will be played on the weekend of 23-24 October 2021 at Camp Nou (Week 10). The reverse fixture at the Bernabéu will take place on 19-20 March 2022 (Week 29).
Madrid derbys against Atlético, Getafe and Rayo Vallecano
The first Madrid derby between Real Madrid and Atlético comes in Week 17 on the weekend of 11-12 December 2021 at the Santiago Bernabéu. When the two clubs meet again, it could turn out to be a decisive game as it falls three matches before the league is decided. The defending champions welcome Ancelotti's team to the Metropolitano on the weekend of 7-8 May 2022 (Week 35).
As for Madrid's clashes with other clubs from the same city, Rayo Vallecano and Getafe, the first will be against Rayo at the Bernabeú (6-7 November 2021, Week 13). Los Blancos travel to Getafe on the final day of the first round of games (Week 19), scheduled for 2 January 2022. That game however, could be brought forward to New Year's Eve (Friday 31 December). Madrid will be in Vallecas in Week 26 (26-27 February 2022) while Real Madrid-Getafe will be in Week 31 (9-10 April 2022).
Final day
Betis are Madrid's opponents of the final day of LaLiga (22 May 2022), but at least Ancelotti's team will be at home. As will Barcelona, with Villarreal as guests at Camp Nou on the final day,while Atlético bring their season to a close away to Real Sociedad.
Champions League group stage draw: 26 August
Real Madrid will find out which teams they will face after the group stage draw on 26 August. The tournament gets underway on 14 -15 September with the group stage reaching its conclusion on 7-8 December.
The Last 16 ties will start on 15-16 February 2022 with the final set for Saturday 28 May 2022 in San Petersburg, Russia.
Champions League 2021-2022 calendar
Matchday 1 – 14-15 September 2021
Matchday 2 – 28-29 September 2021
Matchday 3 – 19-20 October 2021
Matchday 4 – 2-3 October 2021
Matchday 5 – 23-24 November 2021
Matchday 6 – 7-8 December 2021
Last 16 (first leg) – 15, 16, 22 and 23 February 2022
Last 16 (second leg) – 8, 9, 15 and 16 March 2022
Quarter final (first leg) – 5-6 April 2022
Quarter final (second leg) – 12-13 April 2022
Semi-final (first leg) – 26-27 April 2022
Semi-final (second leg) – 3-4 May 2022
FINAL: Saturday 28 May 2022, San Petersburg, Russia.
Copa del Rey
Real Madrid, who will be involved in the Spanish Super Cup, will be exempt from the first two rounds of the Copa del Rey. They will enter the competition at the knockout stage in the Last 32, which is programmed for 5 January 2022. The Copa final will be played on Saturday 23 April 2022 at La Cartuja in Seville.
Copa del Rey 2021-2022 calendar
Qualifying rounds – 17 November 2021
1 round – 1 December 2021
2 round – 15 December 2021
(Real Madrid and the other teams taking part in the Spanish Super Cup are excused from these first three rounds and enter the tournament at the Round of 32 stage)
Round of 32 – 5 January 2022
Last 16 – 15-19 January 2022
Quater final – 2 February 2022
Semi-final (first leg) – 9 February 2022
Semi-final (second leg) – 2 March 2022
FINAL: Saturday 23 April 2022, La Cartuja, Seville.