Achraf Hakimi transfer to PSG delivers another windfall for Real Madrid
The Moroccan's imminent transfer to PSG for 70 million euros will bring a financial bonus for Real Madrid - although they lose their right of first refusal...
Achraf Hakimi's transfer from Inter Milan to PSG seems imminent the full-back and French club have reached an agreement on the conditions of the contract while Inter are mulling over the latest offer of €70M. It is an offer which the Italians are likely to accept and an operation which Real Madrid are following with interest. Because a small portion of that money will be destined for Madrid as part of the solidarity mechanism under FIFA's regulations on the status and transfer of players who are in the middle of a contract and move between two countries.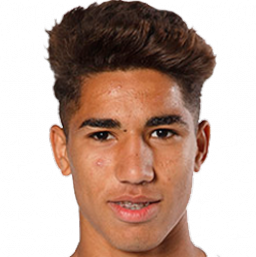 Madrid are set to receive 2.1 million euros of the fee which Inter will pay PSG for Achraf. In line with the solidarity mechanism in Article VII of FIFA's regulations on the transfer of players which stipulates that "when a professional is transferred before the expiry of his contract, any club that has contributed to his education and training shall receive a proportion of the compensation paid to his former club". Clubs that have contributed to the formation of a player between the ages of 12 and 23 are eligible to receive 5% of the transfer fee, proportional to the years the player spent at the club. In Achraf's case, he was entered Real Madrid's youth academy aged 12 and left when he was 19 - seven years, which for Madrid, corresponds to 60% of the 5% solidarity contribution from the 70 million euro transfer fee - which works out at 2.1 million euros. It's not a huge amount, but it's a little extra on top of the 40 million euros which Real Madrid banked for Achraf's transfer to Inter a year ago this week.
However, there is no small catch with the solidarity contribution - it means that Madrid will effectively lose the right of first refusal which they had over Achraf. That was the sole clause which was inserted when the club sold the defender to Inter in July 2020, because they were unable to secure a buy-back option. They were left with the right to be able to match any offer received for the player from other clubs, but that will be gone when Inter accept PSG's offer. Madrid usually include right of first refusal clauses for a 72 hour period but on this occasion they will not match PSG's bid if all goes to plan and the Moroccan full-back moves to Paris.