Doug Pederson eager to return to sidelines after Eagles exit
After five years with the Philadelphia Eagles, Doug Pederson revealed he is eager to lead another team to Super Bowl success.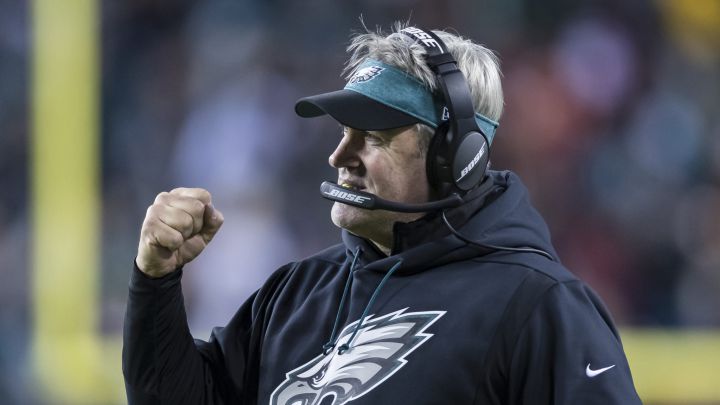 Doug Perderson's time as coach of the Philadelphia Eagles came to an abrupt end in January, just three years after the former quarterback led the franchise to its first-ever Super Bowl in 2018.
In a radio interview for 97.5 The Fanatic, Pederson stated he is determined to add to the five years of experience he gained in Philadelphia by getting back on the sidelines as soon as the opportunity arises.
"The competitor inside wants to continue to compete," he said in an interview on talk show 97.5 The Fanatic. "Hopefully, I get an opportunity to lead another football team and do the same things again and learn from the last five years -- what a great teaching moment for me. I always talk about how we learn from failures and different things like that. I don't want to say that this was a failure, but at the same time, I want to learn from the last five years moving forward in my next opportunity."
Pederson hungry for more Super Bowl success
After his first season of adaptation, in which he finished with a 7-9 record, Pederson went on to lead the Eagles over three consecutive winning seasons, during which he scooped the Vince Lombardi trophy. After five years in Pennsylvania, Pederson finished with an overall record of 42-37-1.
Having won the Super Bowl on three occasions throughout his career, twice as player and once as coach, the 53-year-old revealed he is hungry to add another championship ring to his cabinet as head coach of another team.
"I'll be defined in Philadelphia for my wins and losses," Pederson said. "Obviously, the championship is huge. But for me, I feel like if I get another opportunity, I want to do it again. I went to two Super Bowls as a player in Green Bay, and then obviously now being a coach in Philadelphia, and so three Super Bowls, and when it gets in your system like that, it's just hard to turn that off."