Belgium 1-2 Italy summary: score, goals, highlights, Euro 2020
Belgium vs Italy: as it happened
An impressive performance from Insigne, whose 43rd minute wonder goal proved the difference as Italy went 2-0 up following Barella's goal around the half hour. Belgium responded quickly through a Lukaku penalty in first half extra time. The Red Devils came close to equalizing as Lukaku hit the post from close range on 60' when he really should have scored. But that's as good (or bad) as it got for Belgium, who have never beaten the Italians at a major tournament in what is now five attempts. Italy march on to the semi finals where they will meet Spain.
Game over!
Peep, peep, peep! It's over, Belgium threw everything at it to find an equalizer but they just haven't been good enough in front of goal. Italy the deserved winners in the end.
Belgium have one last corner! But no, they can do nothing with it. Italy have a goal kick and that is surely that!
Another Italian on the floor now with 3 of 5 added minutes played. Time running out for Belgium.
De Bruyne floats the ball towards Witsel from the free kick but Donnarumma is out quickly to punch the ball away. And the Italian keeper has hurt himself in the process it seems. He's receiving attention. The Belgian fans not happy about it.
Belgium's persistance pays off as De Bruyne wins a free kick in a dangerous position.
Doku skips around another couple of challenges in the box but loses the ball before he can a shot or pass off.
Doku shoots! Doku beats one, beats two and then launches the ball towards Donnarrumma's goal, but it's just wide and over. The 19-year-old's looked impressive.
Spinazzola pulls up as he chases the ball. He's damaged something and immediately calls for a replacement. He looks in some pain as he leaves the pitch on a stretcher. Emerson comes on to replace him.
Belgium threaten again through De Bruyne and Lukaku, whose shot from just inside the box is blocked down allowing Donnarumma to collect.
Another huge chance for Belgium! Chadli squares the ball towards Lukaku inside the six yard area, but the ball takes an awkward deflection of the defender and just bounces over Lukaku's head. Thorgan Hazard was by the far post but the ball goes behind him as desperately tries to make contact.
Insigne! Insigne shoots from distance towards the far corner, but Courtois saves well. Insigne scored a cracker in the first half from a similar position and he almost did the same again.
Lukaku misses a tap in!
He won't get a better chance than that as De Bruyne plays a pin-perfect ball across the face of goal right into Lukaku's path. He only had to tap the ball in from 2 yards out but he's managed to hit the ball off the incoming defender. The ball takes a small deflection and hits the post. It should be 2-2!
Cross comes in from the right towards Lukaku, but Di Lorenzo clears for the corner. De Bruyne plays it short and the move ends with Doku bursting into the box and squaring a ball towards Lukaku in the center. But Donnarumma dives low to save before the ball reaches the Belgian striker.
Barella passes wide to Chiesa, who tries to play a low-and-fast ball towards Immobile in the center. But the ball is too fast and Immobile struggles to control it.
Chiesa shoots! Verratti collects an Insigne pass from the left and then plays a quick ball to Chiesa around the edge of the box. Chiesa shoots and drags his shot wide of the right post. Decent effort from distance as Italy launch an early threat.
Second half starts!
Italy get the second half underway in Munich.
With that being his fourth goal of the competition, Lukaku is in the running for the Golden Boot. He's one behind Cristiano Ronaldo, but has 45 minutes here and perhaps two more games to surpass the Portuguese striker, who's out of the competition.
First half ends!
The ref blows his whistle. Half time in Munich with the score at 2-1 to the Italians. Three goals, a penalty and one disallowed goal in what was a thrilling first half.
GOAL BELGIUM! 2-1
Lukaku steps for the penatly and drives it straight down the center as Donnarumma dives to his right. 2-1!
Belgium win a penalty!
Di Lorenzo is called out for a challenge on Doka on the left edge of the box. It's rechecked by VAR and the ref's decision is upheld.
GOAL ITALY! 2-0
A wonder goal from Insigne! The striker skips around Tielemens, looks up and expertly guides the ball into the far top corner from 20 yards out.
Chiesa shoots! And it's just wide of the right post, after the ball bounced in his direction from a corner clearout.
GOAL ITALY! 1-0
After Vertonghen foolishly handed the ball to Italy as he tried to pass the ball out inside his own box, Mancini's side pounce quickly. Verratti passes to Barella, who beats two men before launching the ball passed Courtois from close range. After VAR ruled out an earlier goal for Italy for offside, there are no doubts this time.
Italy have their first corner of the game, which Vermaelen deals with easily.
Belgium have had six attempts at goal. Italy have had one and scored with it.
Lukaku! He plays the double stepover with Chiellini in front of him before trying to place a shot towards the far bottom corner. Decent effort, but again it's saved by Donnarumma.
De Bruyne lets fly from distance! The ball was bound for the far top corner, but Donnarumma stretches to punt the ball out for a corner. Fine shot, and an even finer save.
And now Tielemans is booked for a sliding challenge from behind on Verratti, looks like those two are ready for a battle tonight in the center of the park.
Marco Verratti is the first man in the book for a tug on the shirt on Tielemans.
Belgium break quickly down the right through Meunier and Tielemans, who wins a corner as he tries the cross. De Bruyne takes but again Italy clear with ease from the corner set piece.
Italy finally enjoying some possession and looking for a way into the Belgian box. Not to much avail so far.
Another threat from Belgium as Doka strikes from an acute angle on the left, but Donnarumma saves. It's been all the Red Devils in these opening minutes.
Lukaku! The Belgian striker takes down a well-played long ball from Alderweireld, before launching a half volley from 10 yards. But it sails over. The linesman then waves his flag for offside.
De Bruyne takes the first corner of the game from the right, but it's headed away by the Italian defence, who have conceded just one goal in their last 12 games. The goal in question was scored by Austria in Italy's last game in the round of 16.
Belgium with the first early threat as De Bruyne finds Lukaku in the box. Lukaku does well to turn one defender but the ball is gobbled up by Donnarumma as he tries to shoot.
Peep! Game on!
Belgium get the game underway in Munich. Who will join Spain the semi final?
This will be the fifth meeting of two sides at a major tournament. Italy have not lost any of the previous four, winning three and drawing one.
The teams are on the field and lining out for the anthems, Italy up first.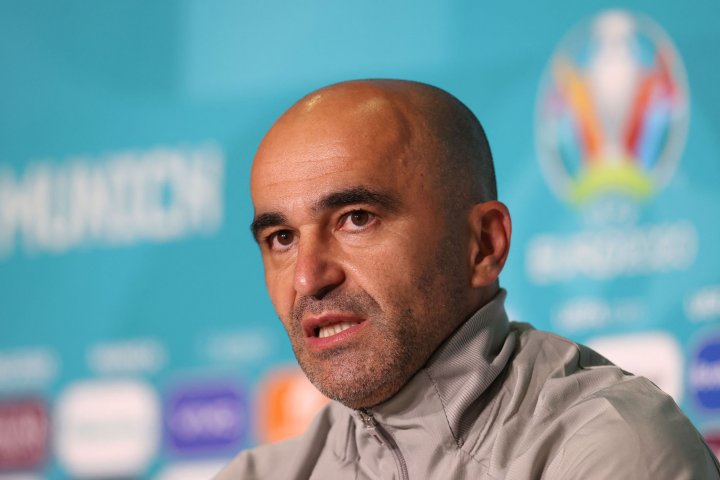 Roberto Martinez evaluated Italy ahead of the game...
"We are talking about a balanced team, because you don't get those kinds of numbers if you are not a very good side. They are different, dynamic, modern in their 4-3-3 and with a strong structure. They are stronger as a unit than a group of individuals.
"We'll have to defend well, but also try to keep the ball, as they are good at counter-attacking too. We have beaten the reigning Euro champions in Portugal, so we are ready to face Italy."
Spain through after penalties against Switzerland
Today's other game has just ended: Spain have won the penatly shootout against Switzerland and go through to the semi finals.
Roberto Mancini wanted to see Belgium at full strength
Roberto Mancini would have liked to have seen both De Bruyne and Hazard on the pitch this evening, however the latter has been ruled due to injury.
"Fixtures such as these are nice because of the top players involved," said Mancini ahead of the game. "Belgium are a brilliant team and we are performing well, and for the spectators it would be great to see them at full strength.
"Hazard and De Bruyne would cause us more problems because of that, but that's what is great about football."
Lukaku vs Immobile: Serie A hotshots ready to do battle at Euro 2020
The two strikers went into the tournament after impressive showings in Serie A last season. So far in the tournament, Lukaku has scored three goals, while Immobile has netted two. They'll both be eager to add to their tallies this evening in Munich....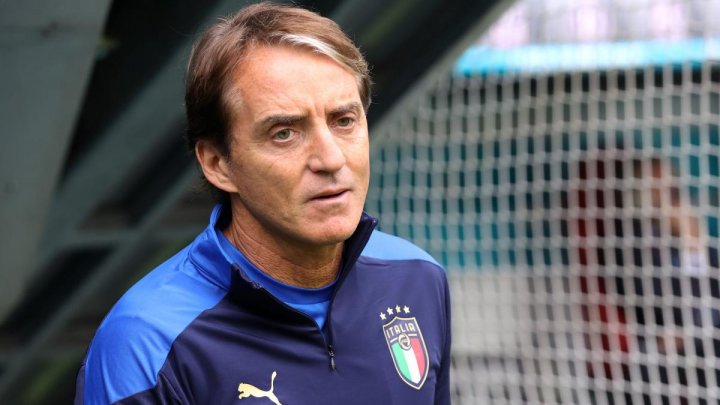 Sven-Goran Eriksson on Roberto Mancini
Former England coach Sven-Goran Eriksson was full of praise for Roberto Mancini ahead of the encounter, whom he managed as a player at Sampdoria and Lazio in Serie A. Italy have been rejuvenated under the former Man City boss and are seeking their first European Championship title since winning the tournament on home soil in 1968.
"Italy are playing very, very well," Eriksson told Perform. "In the first two, or the first three games, they were the team that played the best football of all. Why? I don't know. However, they have many good players without any doubt, playing in top clubs, important ones.
"And then they have Mancini, Roberto. Clearly, he's been a manager for a long time now, he's been in Italy, he's been in England, in Russia I think, in Turkey as well. However, I knew, 25 years ago, that Mancini would have become a great manager. Because I've had him as a player for eight-nine years, and back then he already was like a manager.
"He was everything at Sampdoria: warehouse worker, cook, everything. And manager as well. Because he lives for football and it's always been like that for him. He is very curious – 'Why are we doing this during training?', 'Why don't we do this, or that?'. He would always come to me with questions about our training. And he was always talking about football.
Spain and Switzerland still tied in extra time
In today's other quarter final, Spain are throwing everything at Switzerland in extra time but it remains 1-1 as the end of the first period approaches. Switzerland proving to be the comeback kings of the tournament...
Belgium team news: De Bruyne starts but no Eden Hazard
Belgium XI: Courtois, Alderweireld, Vermaelen, Vertonghen, Meunier, Witsel, Tielemans, T. Hazard, De Bruyne, Doku, Lukaku
Team News: Italy XI named
Italy XI: Donnarumma, Di Lorenzo, Bonucci, Chielinni, Spinazzola, Barella, Jorginho, Veratti, Chiesa, Inmobile, Insigne
The battle of the two Robertos
The last time Robero Martinez and Roberto Mancini locked horns was back at the 2013 FA Cup between Wigan Athletic and Manchester City. Against all the odds, Martinez's Wigan went on to beat Mancini's City 1-0 in one of the biggest upsets in FA Cup final history.
Both sides hoping to maintain long-standing unbeaten runs
Roberto Martínez's men haven't lost this year, while Italy are on a 31-game unbeaten run.
The Red Devils, who topped Group B, have won each of their last 14 games throughout the qualifiers and these finals; equaling the record set by Germany and Italy. They have also scored in all of their last 34 games while winning 23 of their last 27.
Italy meanwhile, had gone a staggering 11 games without letting in a goal before conceding one to Austria in their last round of 16 game.
Fifth meeting of Belgium and Italy at a major tournamet
This will be the firth time that Italy and Belgium will meet at a major tournament, but the first time they will play each other at the knock out stages.
The last meeting between the pair was at Euro 2016 at the group stages, where Italy won 2-0. In fact, Italy have not lost any of the previous four tournament meetings, winning three and drawing once.
Welcome
Hello and welcome to our live coverage of the Euro 2020 quarter final between Belgium and Italy. The game gets underway at the Allianz Arena at 3pm ET, in the meantime you can follow the build-up with us here on AS. We'll have the team news as soon as it's in so stay with us.