Busquets: "It's a privilege to have Luis Enrique as head coach"
The captain of 'La Roja', Sergio Busquets spoke to AS ahead of the Euro 2020 semi-final as Spain prepare to face Italy at Wembley.
Sergio Busquets sat down and talked to AS just days before Spain face Italy in the Euro 2020 semi-final at Wembley Stadium. The 'La Roja' captain cuts a different figure to the player who was forced to abandon the Spain camp in early June following his positive covid 19 test.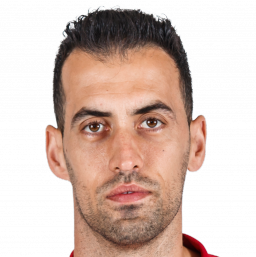 How would you summarize Spain's campaign at Euro 2020? Was the objective always to reach the semi-final stage?
Although our results have steadily improved, we've never deviated from maintaining true to our style of play and I'll admit that there have been games when we've been sharper and converted chances. We've always wanted to retain possession and keep the ball and apply pressure when we lose control of the ball.
Spain have only secured one win in 90 minutes, does this suggest that there is room to improve?
Matches are won or lost in the penalty box and it's always our intention to be in control of situations in both areas. There have been games when we haven't been able to dominate this position and may have lacked that little bit of luck or ability to put away chances. Looking back at the Switzerland goal in the quarter-final, I'd put that down to bad luck as Laporte collides with Pau in his attempt to get rid of the ball and all we need to do is try and ensure that situations like that are not so commonplace.
Do you see the Italian team as one who can challenge your attempts to retain possession?
Italy are a side who enjoy possession and the likes of Jorginho, Verratti or Insigne are fine ball players and we'll do all we can to ensure they don't get to dominate the game.
What's your view on Italy using two central defenders that are almost 40?
They get to play as they are fine players and because Mancini believes in their ability. Both have forged a strong partnership at club level too and they have still got plenty to offer.
It was wonderful for so many to see you play again against Slovakia upon your post covid return. Do you treat each game at Euro 2020 as a bonus now?
It was a tricky situation that I had to undergo and that is especially true considering that I've rarely missed a call-up and am an ever-present for the national side. Those ten days were hard as I was so focused on the Euros and even more-so knowing that this is probably my last European Championship.
Are you thinking of retiring from the national side?
One needs to be aware when that time comes. I'm sure that this will be my last European Championship and I'll just wait and see once the tournament comes to an end as I'm no longer a 20-year-old. I'm still enjoying playing international football and the head coach tells me to forget about age. At present, my only focus is on the semi-final against Italy and then the UEFA Nations League in October and then we'll see how things are.
You've won titles with Spain but have also suffered early tournament exits with the national side, did you ever think you'd get to play in a major semi-final again?
It's far from easy to get to a semi-final but we always felt that the work that Luis Enrique is doing would serve us well. We're lucky to be able to have him as head coach and he has delivered a sense of belief which is then replicated on the pitch. At present we've reached the semi-final and we need to believe in ourselves and dreaming of achieving great things.
Has Sergio Ramos been in touch with you as captain, is he following the side at Euro 2020?
For sure, he submitted a post on Instagram and is right behind us as we're all his team-mates. We've been hugely grateful for all the support from players as there are so many involved in the national set-up despite only 23 having being called up. We hope we can make them happy and keep the dream alive through to next Sunday.
You've managed to get the country behind you, do you have a message for Spain fans?
We'll keep playing with our style in these final games and give every ounce of effort on the pitch. We feel the warmth of the fans and despite pandemic restrictions we feel their support as if the stands were packed. We really hope that we can make them proud of us and that all works out well.