Why isn't James Rodriguez in Colombia Copa America 2021 squad?
Colombia have progressed to the semi-final of the Copa America where they face Argentina with a game against Brazil in the final at stake for the victors.
James Rodriguez, the Everton star, was not featured in the squad that Colombia called up for the meets against Peru and Argentina for the South American World Cup qualifiers and eventually was left out of the roster that made it to the Copa America.
After the team fired Carlos Queiroz following a 6-1 loss in the qualifiers, Colombia, under new management, has determined that James was not match fit for the Copa America competition. Reynaldo Rueda, the new boss, released Rodriguez from the squad after the Colombian medical team performed a physical assessment.
Injury and missed tournament
James, who missed the last games of the season at Everton following injury, followed a strict physical regiment to make it to the Copa America. The club and national team had a pact on what needed to be done with the number 10. It seems that at the last minute, the new managerial staff decided that it was better to call up another player than to lose a spot on a James that may not be fit once the games start.
James not happy with Rueda
The decision not to include the 2014 World Cup top scorer came as a shock for everyone, including the player. Following his discharge from the team, James released a statement on his social media channels explaining that he was fit to play in Copa America, adding that this decision by the medical staff came as a shock to him.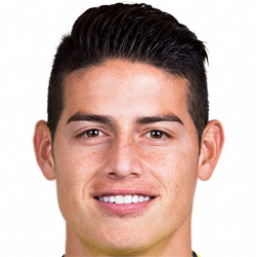 Rodriguez has recently said that he is healthy to play " I want to make it very clear that I was fit to play. This is a managerial decision, and I accept it, but I don't agree with it because they disrespected me." Adding that, " Another thing is for him to tell me, I don't like you as a player, and if that's the case I close the book and leave."
Colombia looking to upset the odds
Colombia will look to pull off an upset and reach the Copa America final for the first time outside of their country when they take on a Lionel Messi-insp ired Argentina on Tuesday.
Los Cafeteros have lost their six previous semi-finals at neutral venues in the competition, with their only two final appearances – in 1975 and 2001 – seeing them play at least one game on home soil.
Reinaldo Rueda's side beat Uruguay on penalties in the quarter-finals – David Ospina saving two spot-kicks in the shoot-out – following a goalless draw after 90 minutes.
A tough match with Argentina in Brasilia awaits and Rueda, who was only reappointed by Colombia in January, is happy with the progress made by his side in that short period.
"We played a very collective game against Uruguay, with a lot of solidarity and the right balance," he said. "All this helps us believe that we can continue with our improvements.
"We will continue to demand more and more from ourselves in each session before the next game."
If Colombia are to have any hope of overcoming Argentina, they will need to do something Ecuador, Bolivia and Chile failed to do by keeping Messi quiet.