Storm Elsa: How is it evolving and how far is it from Florida?
The tropical storm has hit Cuba, the Dominican Republic and St Lucia in recent days and Sen. Ron DeSantis is bracing for when Elsa moves into his state.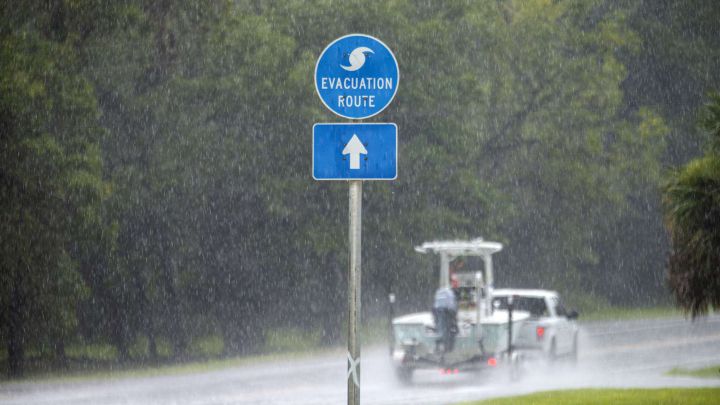 Tropical Storm Elsa is expected to reach the eastern coast of the United States on Wednesday after moving north from the Caribbean.
Millions of people in Florida are bracing themselves for heavy winds, a life-threatening storm surge and potential isolated tornadoes as Elsa moves towards the state's western coast. As of Wednesday morning Elsa was roughly 50 miles southwest of Cedar Key and generating sustained winds of up to 65mph.
As a result there are now hurricane warnings in place from the Chassahowitzka River (south of Homosassa, Florida) to the Steinhatchee River. There are also tropical storm warnings from Chassahowitzka River to Egmont Key, Florida.
Tropical Storm #Elsa Advisory 28A: Elsa Weakens to a Tropical Storm. Heavy Rains and Gusty Winds Continue Spreading Inland Across Southwest and West-Central Florida. https://t.co/VqHn0u1vgc

— National Hurricane Center (@NHC_Atlantic) July 7, 2021
The system weakened slightly on early Wednesday morning to see the status downgraded to a tropical storm but the hurricane warning remains for more than four million Florida residents. The heavy rain and strong winds are expected to creep inland across southwest and central Florida in the coming days.
Storm Elsa ravages the Caribbean
Elsa caused devastation in the Caribbean hitting the Dominican Republic and St Lucia last weekend, leaving at least three people dead. That was followed by mass evacuations in Cuba as the storm caused mudslides and "flooding rains" on Monday.
Insmet, Cuba's meteorological institute, recorded winds of more than 60mph on Monday with some stronger gusts also present. By Monday evening the storm had started to pass and moved on to the Gulf of Mexico, dumping heavy rains on the island as it vacated.
Elsa is expected to be the first major storm of this year's Atlantic hurricane season to hit mainland Florida. It has strengthened into a Category 1 hurricane twice since Friday before weakening into a tropical storm. https://t.co/UqBW2Pijee pic.twitter.com/BTDhb68mgj

— The New York Times (@nytimes) July 7, 2021
Speaking on state television Jose Rubiera, Cuba's best known meteorologist, said: "The rain is coming behind the centre so the fact it is moving out to sea along the northern coast between Havana and Mayabeque... does not mean the rain is over."
Florida makes preparations for the arrival of Storm Elsa
In response to the impending storms Florida Gov. Ron DeSantis announced an expansion of his state of emergency declaration to put more resources towards the effort. The state of emergency is now active in 33 counties across the state with local, state and utility authorities preparing for the storm.
Another 60 guardsmen have been activated in the Florida National Guard to bolster resources at the State Emergency Operations Center and the Logistics Readiness Center. A statement from the Guard read: "We are well-equipped with assets including high-wheeled vehicles, helicopters, boats and generators, and are preparing for possible missions to include humanitarian assistance, security operations, search and rescue, aviation, and more."
Tampa's Emergency Coordinator John Antapasis has told residents to get to safety as the state braces itself for a substantial amount of disruption in the coming days.
"Now is the time to get back home, get off the streets and stay safe for the rest of tonight," Antapasis said. "You should be making and finalizing your hurricane plans and ensuring that you're in a safe location while ... Elsa makes its way through our community."