How many titles have Messi and Maradona won with Argentina?
Messi has often been compared to Maradona due to his performances at Barcelona and La Albiceleste. But how many titles have they won with Argentina?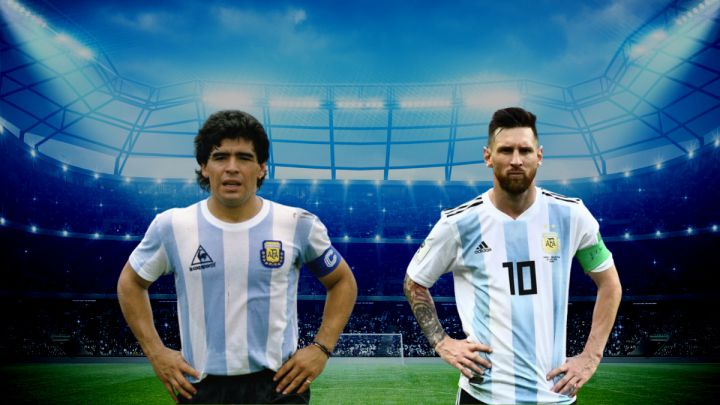 Lionel Messi is still one of the best players in the world and will go down in history as one of the best ever. His career at FC Barcelona has been impressive and he has won all the available trophies at club level.
However, La Pulga has usually been criticised when he has played for Argentina, where his performances haven't been as outstanding as in the Catalan club.
How many titles has Messi won with Argentina?
Messi has not yet won a single major title with Argentina, but he has some under-age success on his record, as he won the 2005 FIFA World Youth Championship.
The attacker, who was 18 at the tournament, was part of a squad that also featured talented players such as Pablo Zabaleta, Sergio Agüero and Fernando Gago. He finished the competition as top scorer and won the Golden Ball.
Three years later, he tasted glory again, this time at the 2008 China Olympics. Joined by Agüero, Riquelme and Ángel Di Maria they beat Brazil in the semifinal and defeated Nigeria in the last round of the tournament.
Since then, Messi has been collecting disappointing moments with the national team, as he hasn't won the World Cup nor the Copa America trophy.
How many titles has Maradona lifted with the national team?
Meanwhile, the Argentinian idol Diego Armando Maradona won his first major trophy in 1979 when Argentina lifted the under-20 World Cup for the first time.
He scored six goals throughout the tournament in Japan and scored a goal in the final against Soviet Union (3-1). 'El Pelusa' was awarded the Golden Ball for being the best player.
But probably the best moment in Diego Maradona's career was when he won the 1986 World Cup with Argentina. His 'Hand of God' goal against England in the quarter-finals is in the memories of worldwide soccer fans, but after that he kept on showing his amazing talent and scored one of the best goals ever weaving through England's midfield and defence with ridiculous ease.
Argentina lifted the trophy after defeating West Germany 3-2 in the final. Maradona was awarded the Golden Ball as the tournament's best player. That triumph confirmed him as a global superstar.
In 1993, Maradona won the Artemio Franchi Cup, a match between the Copa America and the European Championship winners. Argentina defeated Denmark on penalties after the match ended in a 1-1 draw.