"He said 'fuck you' to me twice" - Verratti faces another run-in with Euro 2020 final ref Kuipers
With Bjorn Kuipers being appointed for the Euro 2020 final against England and Italy, we look back at the millionaire ref's run-ins with Verratti, Paredes, Ronaldo and Messi.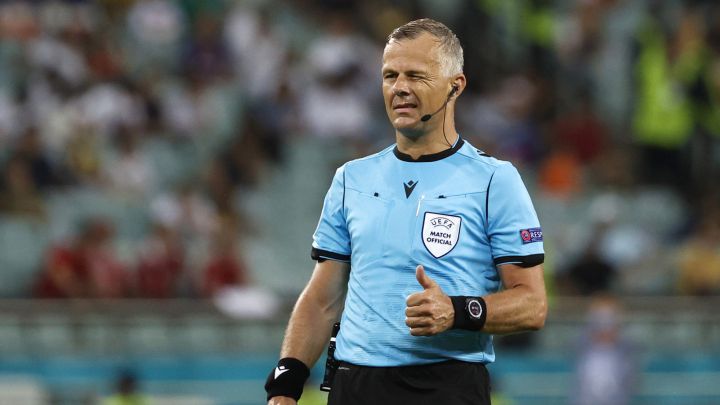 Bjorn Kuipers is considered the richest referee in the world. The Dutchman has amassed a reported fortune of €11.5 million euros as owner of a chain of supermarkets in his native Netherlands.
But besides his wealth, Kuipers is best known for a number of high-profile run-ins he's had with some of the world's biggest players, one of whom, Marco Verratti, will be on the pitch when he presides over the Euro 2020 final between Italy and England on Saturday.
Following the Champions League semi-final between PSG and Manchester City in April, Veratti accused Kuipers of swearing at him during the game, while his team mate Ander Herrera claimed the referee had also told Leandro Paredes to "fuck off".
"He said 'fuck you' to me twice," Veratti said after the match. "Of course, I also talk a lot with the referee in the field, but you will never hear me say something like that."
For his part, Herrera told the French multimedia outlet RMC Sport: "We talk about respect with referees – the referee tonight said 'fuck off' to Leandro Paredes," Herrera. "If we say that we get a three- or four-match ban."
Kuipers' run-ins with Messi and Ronaldo
Kuipers has also had controversial run-ins with two biggest stars in world foobtall, Cristiano Ronaldo and Lionel Messi.
Ronaldo was reportedly furious with the Dutchman after Juventus's elimination from the Champions League at the hands of Porto earlier this year. Such was the anger in Italy following the game that Tuttosport claimed Kuipers had "no level for the Champions League" and accused him of committing "serious mistakes" that cost "millions of euros and the credibility of the competition."
With regards to Messi, Kuipers was heard telling the Argentine captain to "have a little respect" after he scored Barcelona's third goal against Liverpool at Camp Nou in the Champions League semi-final tie in 2019, which later ended with the Reds' famous 4-3 comeback in the second leg at Anfield.
"Messi! Why are you celebrating like this? Come on! Show them a little respect! Come on! Why are you doing it?" Kuipers was heard telling the Barcelona forward.
Considering his run-in with Verratti and his apparent lacklustre performance in the aforementioned Juventus-Porto tie, Kuipers' appointment for the Euro 2020 final will have definitely made some Italian fans nervous.