OLYMPIC GAMES
Will Simone Biles compete in the 2021 Olympics?
Simone Biles will compete in the Tokyo Olympics on Team USA. The outspoken and outgoing gymnast is a defining figure and could win 6 medals this year.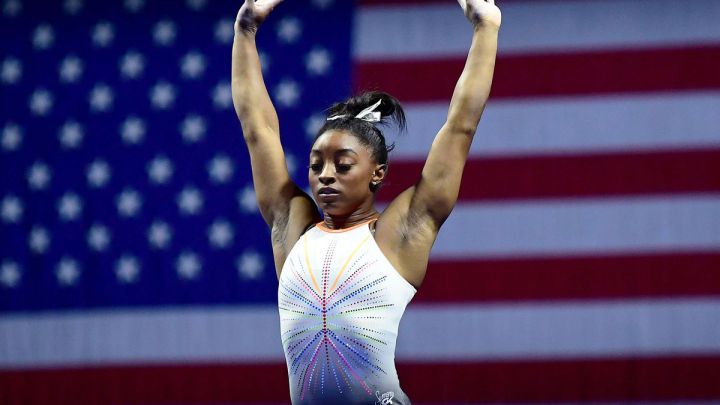 Simone Biles is widely known as the greatest Olympian of all time, and she will be returning to the 2021 Tokyo Olympics to bring home more medals for team USA. Simone has yet to be beaten in an all-around competition and has the potential to win 6 medals in the Olympic Games this year.
WE'RE GOING TO TOKYO🎉

such a surreal feeling. I can't believe I made the olympic team for a 2nd time & I'm beyond excited to represent Team USA.

This is just the beginning of the journey.

thanks for all the endless support & love. I couldn't ask for better support 🖤 pic.twitter.com/oL9M1dPmH0

— Simone Biles (@Simone_Biles) June 29, 2021
Biles already has four skills named after her, and it's expected she will have five named after her following the Tokyo Olympics. This depends on how she performs the Yurchenko double pike vault.
What is the Yurchenko double pike vault?
Simone Biles is the first woman to do the Yurchenko double pike vault in a competition, and not many men have dared to try it. The trick is named after Soviet gymnast Natalia Yurchenko who won the gold medal at the 1983 World Champions in the women's all-around. The skill consists of two entire flips in the pike position, which require a ton of speed and power.
How many medals does Simone have?
Simone Biles is the most decorated American Gymnast in the world with 25 world medals to her name and she is the most decorated female Olympian gymnast. At the 2016 Rio Olympics, Simone Biles won four gold medals and one bronze medal. She also became the 5th gymnast to claim 4 medals at one single Olympic Games. Michael Phelps is the most decorated Olympian in the world with 28 medals, 23 of which are gold, three are silver, and two are bronze medals.
Who else will represent team USA on the USA Gymnastics team?
Simone Biles is the only woman gymnast on Team USA with prior experience at the Olympic Games this year. She will be joined on Team US Gymnastics with the following newcomers:
Sunisa Lee
Jordan Chiles
Grace McCallum
Team USA Gymnastics individual competitors are the following:
Jade Carey
Mykayla Skinner
Team USA Gymnastics has a strong roster once again this year, though they aren't the only team with promising talent. Although Team USA qualified by a long shot, Russia and China proved they have strong teams for the 2021 Tokyo Olympics that will certainly give Team USA competition.