MLB
White Sox trounce Astros as Braves kill off Rays
Max Fried starred on the mound and at the plate for the Atlanta Braves in a shutout of the Tampa Bay Rays.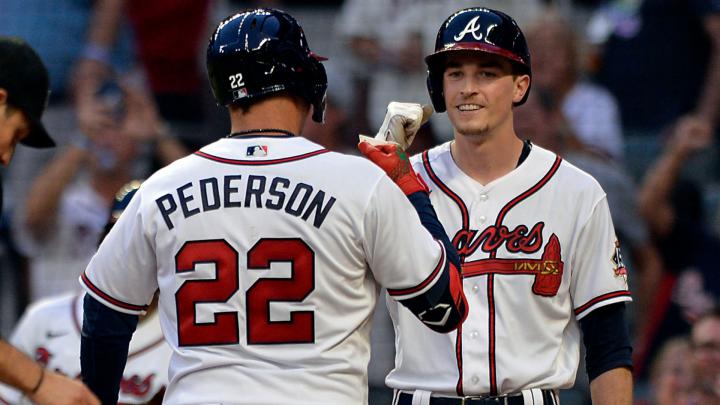 Max Fried did it all for the Atlanta Braves, pitching seven scoreless innings and collecting three hits in a 9-0 victory over the Tampa Bay Rays.
Proving Shohei Ohtani is not the only multi-talented pitcher in the majors, Fried allowed just four hits and one walk while striking out seven on the mound and going 3-for-3 with a two-run double at the plate
Fried, who had a pinch-hit, walk-off single on July 4, boosted his batting average to .333 with his offensive effort Saturday.
In addition to their pitcher's heroics, the Braves also got home runs from new addition Joc Pederson and reigning National League MVP Freddie Freeman as they pulled to within a win of .500 at 45-46.
Giolito, White Sox dominate Astros
Chicago starter Lucas Giolito held the Houston Astros to just three hits and the White Sox pounded five home runs in a 10-1 victory over the Houston Astros.
Sixth-inning homers by Gary Sanchez and Gleyber Torres were the difference for the New York Yankees in a rain-shortened 3-1 win over the Boston Red Sox.
The Milwaukee Brewers scored three times in the 11th inning against Sean Doolittle to defeat the Cincinnati Reds 7-4 and extend their division lead to six games.
Robbie Grossman had a leadoff home run in Game 1 and Miguel Cabrera a walk-off bloop single in Game 2 as the Detroit Tigers swept a doubleheader from the Minnesota Twins 1-0 and 5-4.
Ohtani runs out of gas
After a busy week as the center of attention at the All-Star Game, Ohtani turned in his worst batting performance of the year, going 0-for-5 with a season-high four strikeouts in the Los Angeles Angels' 9-4 win over the Seattle Mariners. It was only the second time in 340 MLB games Ohtani has struck out four times at the plate. The other, on Aug. 30, 2019 against the Boston Red Sox, was a 15-inning game in which he made eight plate appearances.
Pirates slam Mets
Trailing 6-0 to the New York Mets, the Pittsburgh Pirates scored five runs in the eighth inning before Jacob Stallings' walk-off grand slam in the ninth gave them a 9-7 victory.
Saturday's results round-up
Detroit Tigers 1-0 Minnesota Twins
Detroit Tigers 5-4 Minnesota Twins
New York Yankees 3-1 Boston Red Sox
Pittsburgh Pirates 9-7 New York Mets
Milwaukee Brewers 7-4 Cincinnati Reds
Atlanta Braves 9-0 Tampa Bay Rays
Chicago White Sox 10-1 Houston Astros
Baltimore Orioles 8-4 Kansas City Royals
St Louis Cardinals 3-1 San Francisco Giants
Los Angeles Dodgers 9-2 Colorado Rockies
Los Angeles Angels 9-4 Seattle Mariners
Chicago Cubs 4-2 Arizona Diamondbacks
Cleveland Indians 3-2 Oakland Athletics
San Diego Padres 8-4 Washington Nationals (suspended)
Philadelphia Phillies 2-2 Miami Marlins (suspended)
Toronto Blue Jays-Texas Rangers (postponed)

Astros at White Sox
After splitting their first two games, division leaders the Houston Astros and Chicago White Sox will square off again in Chicago with the series on the line.