USA boxing team at the Tokyo Olympics: boxers and categories
The USA boxing team, which won three medals in Rio, aim to improve on that performance. Here are the boxers looking to punch their way to glory in Japan.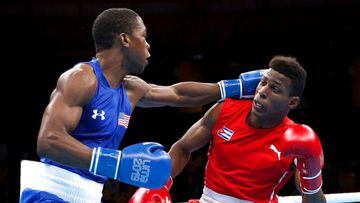 The United States have collected the most gold and most overall Olympic boxing medals of all time, so they will want to give a good performance in the Asian country. Tokyo will mark just the third Olympic Games where women's boxing has been contested, with the US winning three medals between 2012 and 2016: two golds and one bronze.
The 2021 Tokyo Games will have an overall quota of 286 athletes being made up of 186 men and 100 women, compared to 250 men and 36 women at Rio 2016.
Ten of those athletes will represent Team USA:
Olympics 2021: US Men's boxing team
Duke Ragan (Featherweight)
Ragan is already competing as a professional with a record of four wins and no losses. The Cincinnati native won his last bout via unanimous decision against Charles Clark in April.
Ragan, who did his pro debut last August, has proved to be a dominant and powerful fighter.
Keyshawn Davis (Lightweight)
As Ragan, Davis has also proved he has great potential, with a 3-0 record as a professional.
One of the most notorious rising stars in the sport, the current WBO interim junior lightweight champion Shakur Stevenson, thinks Davis has a real chance of winning the gold medal at the Tokyo Olympics.
Before turning pro, Davis took first place honors at the 2017 and 2018 Elite National Championships.
Delante Johnson (Welterweight)
Delante Johnson also carries world championship experience into the Olympic tournament, after having taken part in the Elite World Championships and Youth World Championships, finishing first in the latter in 2016.
Troy Isley (Middleweight)
Isley is a professional unbeaten boxer with a 2-0 record so far. Isley, Ragan and Davis are the first pro boxers to represent Team USA in the Olympics thanks to an International Boxing Association (AIBA) proposal from 2016 that came to fruition.
Richard Torrez Jr. (Super Heavyweight)
The Californian native Torrez Jr. is coming off a first-place finish at the 2020 Boxam Tournament. His father competed in the 1984 Olympic Team Trials, so, there is boxing in his blood.
Olympics 2021: US Women's boxing team
Virginia Fuchs (Flyweight)
Fuchs is no unknown for boxing fans: she finished first in the 2020 Strandja Tournament, second in the 2019 Pan American Games and third in the 2018 Elite Women's World Championships.
Yarisel Ramirez (Featherweight)
Ramirez is a solid boxer who won the bronze medal at the 2019 Pan American Games and participated in the 2019 Elite Women's World Championships.
However, her name started to be known after winning a silver medal in the 2015 Junior World Championships.
Rashida Ellis (Lightweight)
Ellis, a power puncher, will compete at the Tokyo Games after a third-place finish in the 2020 Boxam International Tournament and the 2019 Elite Women's World Championships.
Oshae Jones (Welterweight)
Jones is the first welterweight woman to be a member of the USA Boxing in the Olympics. The welterweight boxer, who possesses a very good jab and can throw lots of combinations, competed in the 2018 and 2019 Elite Women's World Championships and was first in the Boxam International Tournament and Pan America Games.
Naomi Graham (Middleweight)
Graham is the first active female military member to represent Team USA in the Olympics. She will try to follow the steps of Claressa Shields, the two-time Olympic gold medalist in the 2012 and 2016 Olympic Games, and she has the quality to repeat Shields' accomplishments.
Graham was first in the 2020 Boxam International Tournament, 2020 Strandja Tournament and 2019 Pan American Games.