Colts QB Wentz could be out for 12 weeks after foot surgery
The Indianapolis Colts will have to turn to Jacob Eason with Carson Wentz out for potentially as long as 12 weeks with a metatarsal issue.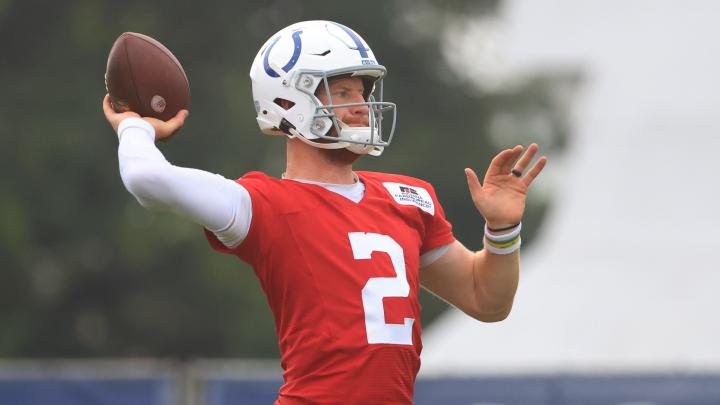 Indianapolis Colts quarterback Carson Wentz is to undergo foot surgery and could be out for as long as 12 weeks. Colts head coach Frank Reich confirmed Wentz would have an operation on his left foot after injuring it during last Thursday's training camp practice and will need five to 12 weeks to recover. Reich told reporters the injury was to Wentz's metatarsal and that the pain stemmed from a previous issue that could date as far back as high school.
The Colts traded for Wentz back in March, sending a 2021 third-round pick and a 2022 second-round pick that could become a first-rounder to the Philadelphia Eagles to land the 2016 second overall pick. Philadelphia will receive a 2022 first-rounder if Wentz plays 75 per cent of the offensive snaps in 2021, or if he plays 70 per cent and the Colts make the playoffs.
However, the prospects of either scenario coming to pass now look slim, with the Colts' hopes of Reich getting Wentz's career back on track dealt a significant blow.
"Obviously we're optimistic and hopeful that we can be on the front end of that [five to 12 week recovery time]," Reich admitted.
Per Coach Reich, QB Carson Wentz will undergo a procedure on his foot.

— Indianapolis Colts (@Colts) August 2, 2021
Chance for Eason
While Wentz is sidelined, the focus will be on getting Jacob Eason, a fourth-round pick in 2020, ready to start Week 1 against the Seattle Seahawks. "The job is Jacob's right now … and he's gotta earn it," Reich added. "But he's in the driver's seat."
Reich was the offensive coordinator in 2017 when Wentz was a frontrunner for the MVP award before a knee injury curtailed his campaign and backup Nick Foles improbably led the Eagles to their first Super Bowl title.
The Colts banked on a reunion with Reich helping Wentz rediscover that form following a 2020 season in which he suffered 50 sacks - the most of any quarterback in the league - and was tied-first for interceptions with 15.
As per Stats Perform data, Wentz had the worst well-thrown percentage in the NFL last year. He delivered an accurate, well-thrown ball on just 68.8 per cent of his passes. He threw a pickable pass on 6.78 per cent of his attempts, with only three quarterbacks doing so more often.
The Colts will now have to wait to see if he can bounce back and reprise his 2017 form, while Eason has the opportunity to give Reich a headache in the game's most important position.