Mexico vs Brazil summary: score, goals, highlights, Olympics 2021
Mexico 0-0 Brazil (1-4 on pens aet): Olympic semi-final as it happened
Brazil into Olympic final against Japan or Spain
Brazil's shoot-out was flawless, Mexico's very much wasn't, and the defending Olympic champions will face either Japan or Spain in Saturday's final in Yokohama. The Mexicans, meanwhile, will play for the bronze medal on Friday against the loser of today's other semi-final.
After a very watchable first half, we didn't get anything like as good a game in the remaining 75 minutes, as the teams struggled to show the creative spark that both had provided at at least some stage of the opening period.
Richarlison came the closest to breaking the deadlock when his header bounced back off the inside of Guillermo Ochoa's post with 10 minutes left of the regulation 90 - but once we went into extra time, this semi-final had the look of a tie heading inexorably towards penalties.
We don't have long to wait to find out who Brazil's final opponents will be: Japan and Spain's semi-final kicks off in Saitama very shortly, at 7am EDT.
That's all from me - thanks for reading!
Reinier scores! Mexico 1-4 Brazil - the Brazilians win the shoot-out!
Reinier fires low past Ochoa into the corner, and Brazil are into the gold-medal match!
Rodríguez scores! Mexico 1-3 Brazil
The substitute must score... and does! He sends Santos the wrong way.
Bruno scores! Mexico 0-3 Brazil
Bruno Guimaraes plants his effort into the corner! Mexico must score their next kick.
Vásquez misses! Mexico 0-2 Brazil
The Mexican hits the post! Brazil are in total charge of this shoot-out.
Martinelli scores! Mexico 0-2 Brazil
That's a fine penalty. Firmly placed into Ochoa's left-hand corner.
Aguirre misses! Mexico 0-1 Brazil
The substitute hits a weak penalty that Santos saves with ease! Brazil stay in front.
Alves scores! Mexico 0-1 Brazil
He strikes low to Ochoa's right, and gets just enough power on it to find the net, despite the goalkeeper getting a hand to it!
The two goalkeepers, Guillermo Ochoa and Santos, exchange a friendly pat on the back as they head towards the goal, before being the usual no-funny-business talk by the referee. It'll be Brazil captain Dani Alves to take first.
Malcom plays a one-two with Reinier before hooking the ball into the middle of the box... but Mexico clear, and that will be that.
The freshly-introduced Matheusinho skips into a good position some 25 yards out from the Mexico goal, before massively overhitting his attempted through ball to Richarlison, who is far too knackered to get anywhere near that.
Douglas Luiz is withdrawn for Matheusinho.
Five minutes for someone to find a winner, or it shall be penalties.
Lainez skips past Arana before falling to the turf under Diego Carlos' challenge, but the referee gives a free-kick against the Mexican. If, as seems to be the case, Kabakov has penalised Lainez for a dive, one wonders why he hasn't booked him, too. The winger was already on a yellow card, of course.
Douglas Luiz is booked after catching Romo with an elbow as the pair jumped for the ball on the halfway line.
Mexico pump the free-kick towards the Brazil box, where Lainez dinks it left to Alvarado to smash a low cross across goal. However, Dani Alves does well to block.
Reinier is brought down by Mora, giving Brazil a free-kick in a central position some 35 yards or so out. Despite the distance, Alves fancies his chances of hitting the target... but balloons his effort well, well over.
Brazil immediately work it Arana, who whips it in from the left, but Montes heads it away.
The Brazilians quickly launch another attack, though, Alves' right-wing cross running through to Arana, who wins a corner. Said corner is headed clear by Montes, but it's Brazil ball once more.
Peep peep peeep! Half time in extra time.
Romo is booked after catching Malcom with a wayward arm.
One minute of time added on.
Lainez twists and turns on the right before laying it back to Aguirre on the edge of the Brazil box. His touch lets him down, however, and he's run off it.
Brazil's Arana then takes a pot shot from distance that drifts a few yards wide of Ochoa's left-hand post.
Richarlison is down and in a bit of pain after taking a knee in the back from Mora in an aerial duel. He gives the referee an aren't-you-gonna-book-him-for-that look, but a yellow card is not forthcoming.
Mexico make a double change, Angulo and Martín replaced by Adrián Mora and Eduardo Aguirre.
Malcom gets his first chance to have an influence in attack. He cuts inside from the right and drifts a left-footed cross in towards the goalmouth, but Montes heads away.
At the other end, Mexico get Lainez into a position to take on his man and cross from the right, his fine ball sailing right onto Martín's head. The forward can only nod it well over, though.
Diego Carlos flattens Martín just inside the Brazil half, and Mexico will pump it forward into the penalty area. Nino heads clear, before Vásquez is caught offside when the ball is turned back into the box.
Peeeeeeep! Extra time is up and running at Kashima Stadium.
Brazil bring on Malcom for Antony ahead of extra time.
Peeep peeep peeep! Into extra time we go.
That's a crucial intervention by Romo. Reinier barrels into the Mexico box before turning the ball across goal, but the Mexico midfielder is there to cut it out and clear.
Reinier plays the ball out wide to Antony in the final third, but he's well tacked by Jesús Angulo.
Mexico replace Vega with Roberto Alvarado.
Alves plays a low ball into Richarlison's run towards the near post, but Vásquez sticks right to him and, when the forward tries to turn and shoot, he gets a boot in the way to take the sting out of his effort. Ochoa gathers comfortably.
Three minutes of time added on.
Martinelli leads a Brazil break, charging at pace towards the Mexico box before flopping to the turf when Romo challenges him... and the referee says the midfielder did so fairly. No free-kick.
Montes meets a Vega free-kick delivery with a firm header from 15 yards or so out, but it's too close to Santos. We're seeing more chances now!
Antony cuts inside from the right and curls an inswinging ball towards the six-yard area, but Montes is in position to head clear.
Back come Brazil, though, and Richarlison hits the post! Alves whips a cross in from the right, and the striker glances it onto the inside of Ochoa's right-hand upright. Richarlison is then first to the loose ball, firing it back across goal, but it's too far ahead of Martinelli.
The best attacking moment of the second half by a country mile.
Brazil took to get Antony scampering down the right, but Jesús Angulo does enough to outmuscle him, and the ball runs out for a goal kick. We really are seeing precious little in attack from either side now.
Mexico replace Córdova with Ricardo Angulo.
This game is starting to become a shade ill-tempered. Guimarães and Lainez squared up after the Mexican was booked, and now Loroña shoves Reinier in the back after being guilty of a foul on Martinelli, leading to a little bit of a melée.
It results in Loroña and Reinier being shown yellow cards.
Lainez is shown a yellow card after catching Arana with a swinging arm.
Brazil make their second change, introducing Reinier for Claudinho.
Bruno Guimarães is booked for bringing down Lainez.
Antony plays Martinelli in behind Angulo on the right, allowing him to whip a low ball into the centre. Montes blocks, before Brazil appeal for a handball as Angulo controls and clears. Nothing doing, says the ref.
Vega slips the ball to Córdova in acres of crossing space on the left, but his low, powerful cross is cut out.
At the other end, Loroña miscontrols in his box and almost allows Martinelli to nick the ball of his toes, but in the end the Arsenal striker fouls the Mexican and El Tri can clear.
On comes Martinelli for Paulinho, who hasn't done a great deal, to be honest.
Just as I say that, Antony races down the right wing, cuts inside Angulo and shoots towards Ochoa's near post. His effort isn't all that powerfully struck, though, and won't be troubling the Mexico keeper.
We're seeing a lot less in the way of penetrative attacking play in this second half.
Gabriel Martinelli is preparing to come on for Brazil.
Antony is booked after catching Angulo with a late challenge.
Mexico make another change, withdrawing Antuna for Diego Lainez.
Claudinho produces a stepover on the left before lifting a ball into the box, where Diego Carlos and Angulo both tumble to the turf. A foul by the Brazilian, says the referee.
Nino is all over Vega on the left wing and is rightly penalised for a foul, giving Córdova a chance to bend a free-kick into the Brazilian box. Bend it in he does, right down the corridor of uncertainty, but nobody in a green shirt is there to turn his delivery goalwards.
Douglas Luiz bends an inch-perfect ball into Claudinho's run in behind the Mexico defence... but he can't bring it under control, and he was offside anyway.
Richarlison tumbles to the ground after being ever so slightly bumped by Romo in the box, but the referee says no. It was a challenge not dissimilar to the one that brought the overturned penalty award in the opening half.
The second half hasn't started in quite the same intense fashion as the first; we're still waiting for the game to properly get going again. That said, the teams were never going to be able to keep up the frenetic pace of the first 45.
Douglas Luiz curls a lovely ball into the box towards the penalty spot, but Richarlison can only glance it out of play.
Mexico made a half-time substitution, by the way, replacing Esquivel with Carlos Rodríguez.
Martín immediately gets the ball out of his feet and lets fly from 35 yards, but it's too close to Santos, who grabs hold at the second attempt.
Peeeep! We're back up and running at Kashima Stadium.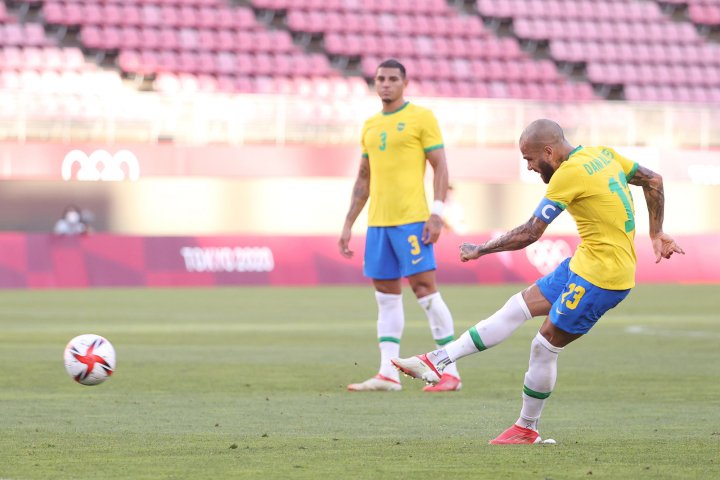 Brazil skipper Dani Alves hits a free-kick at goal during the first half at Kashima Stadium.
(Photo: Atsushi Tomura/Getty Images)
Peeep peeep peeep! Georgi Kabakov blows for half time in Kashima, where we've witnessed an enjoyable first half despite the lack of goals so far.
Brazil had the upper hand for much of the first half hour or so, but Mexico came right back into it as the break approached. In terms of goalscoring chances, the sides are about level-pegging. Arana and Alves both brought decent stops out of Ochoa, while Romo drew a fine save from Santos shortly before half time. Martín and Montes have also gone close with headers.
Another couple of chances for Mexico! They're ending this first half the stronger of the two. The ball is played into the box from the left, and Antuna brings it down before volleying towards goal - but his strike is deflected behind.
Martín then rises highest to meet the corner, but - just as he did in the early stages of the half - he nods wide!
Montes - who has just been booked, remember - flies into Richarlison in an aerial challenge, leaving the Everton striker in a heap on the floor. The Mexican needs to tread a little more carefully than that.
One minute of time added on.
That's a great chance for Mexico, but Santos makes a fine save! Antuna carries the ball at pace down the right towards the Brazil area, before laying it off for Romo, who's arriving like an express train. He hits it first time towards Santos' top corner, but the goalkeeper is quickly across his line to parry!
This is better from Mexico. It's much more even now.
Montes joins Diego Carlos in the book after bringing down Richarlison on the left flank, and Brazil have an opportunity to send a free-kick into the Mexico area.
It's whipped in viciously towards the back post, but Romo heads clear and was fouled by Diego Carlos.
Diego Carlos loses it on the halfway line, allowing Martín to get his head down and make a beeline towards the Brazil box with ball at feet. Carlos has no option but to nip the striker's forward foray in the bud, and it's a foul that earns him the game's first yellow card.
Vega delivers the free-kick into the box, where Montes heads just wide! A very decent chance for El Tri, who are showing signs of coming back into this, having been second best for the last 25 minutes or so.
Mexico just can't get hold of the ball. Antony plays a one-two with Alves and appears to be blocked off as he spins away to chase down the return pass, but doesn't get a free-kick. He is not happy with Mr Kabakov.
...and reverses his decision! Douglas Luiz got his body in front of Esquivel and, it has to be said, the Mexican made every attempt to get out of the way before the Brazilian flopped to the turf under minimal contact. Esquivel did very little to Luiz to merit the award of a penalty.
The right call.
Penalty awarded to Brazil! Douglas Luiz falls to the turf under Esquivel's challenge as he runs on to Antony's through ball into the box... and referee Georgi Kabakov points to the spot!
He's going to go and have a look at it, however...
Guimarães charges on to a loose ball 35 yards out and produces a bit of a wild swipe, catching Córdova in the process. The ball bounces off Richarlison and through to Ochoa, and Córdova is down in a little bit of pain. He looks like he'll be OK, though.
Bruno Guimarães tumbles under Córdova's challenge on the edge of the box, and it's a free-kick to Brazil in a very, very inviting shooting position for Alves.
The Brazilian captain goes for power rather than placement, and Ochoa parries!
Brazil are well on top.
Montes plays a loose ball out from the back, giving Dani Alves the chance to bring it forward once more for Brazil. It's worked out to the left to Claudinho, who dinks a ball to the top of the box for Antony to exchange passes with Alves before shooting. He keeps it low and gets a reasonable amount of power on it, but it's straight at Ochoa, who gathers with ease.
It was something of a ding-dong affair in the first 10 minutes, but Brazil have since taken control and are dominating possession now. It's all being played in the Mexico half.
There's a great chance for Arana to open the scoring! Claudinho lets a square ball run through to the left-back, who's arriving in the area at pace, but Ochoa makes himself big at the near post and blocks his shot. Brazil are really zipping the ball about here.
Dani Alves tries to feed a low ball into Richarlison in the box, and when his through ball is cut out it lands at the feet of Claudinho. He produces a drops of the shoulder to open up a yard of shooting space on the edge of the area, but Montes is well placed to block.
Romo curls a delicious cross towards the penalty spot from the right-hand channel, and Douglas Luiz has to look alive to head behind.
The corner is delivered squarely onto Martín's forehead, but he glances wide! That was a very presentable opportunity for the Mexican, and, judging by his reaction, he knows it.
Antony wins a free-kick off Angulo on the right, and now it's Brazil's chance to send a dead ball into the area. Antony it is who delivers, but Martín heads clear.
This semi-final has started at a ferocious pace.
It's an eventful opening to the game in Kashima. Mexico win a free-kick on the right wing when Arana catches Antuna with a flailing arm. The Mexicans want a card of some description for the left-back, but the referee says they'll have to content themselves with a dangerous set piece chance.
Córdova delivers to the near post... but Richarlison is there to head behind, and the corner is cleared.
Right away Brazil create an opening, and Antony is inches away from prodding André Jardine's side ahead. It's a fabulous left-wing cross from Arana, who gets real whip on a ball that fizzes through to the back post - but though Antony stretches to get there, he can't quite make contact with the ball.
Peeeep! Underway in Kashima!
Our match referee is Bulgaria's Georgi Kabakov.
Out come the teams!
Mexico and Brazil make their way out onto the field at Kashima Stadium, where it's anthem time. Mexico first.
Sweden vs Canada in women's final
Over in the women's Olympic soccer tournament, four-time gold-medallists the United States suffered a surprise defeat to Canada as Bev Priestman's side claimed a 1-0 semi-final win on Monday to book their place in Friday's final.
Jessie Fleming's 75th-minute penalty gave the Canadians their first victory over the USWNT since March 2001.
They'll meet Sweden in the gold-medal match, after Fridolina Rolfö's goal earned the Swedes a 1-0 win over Australia in Monday's second last-four clash.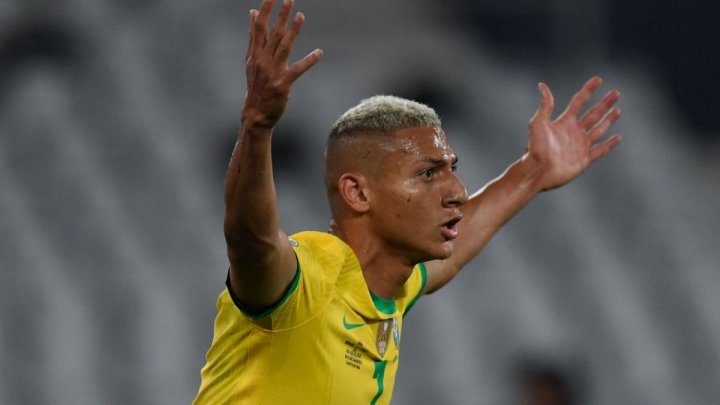 Thrilling El Tri, Richarlison leads goal charts
Mexico have served up plenty of entertainment in Japan, scoring no fewer than 16 goals in their four games at the Olympics so far. Just over a third of that not unimpressive haul came in their 6-3 quarter-final victory over South Korea.
The Mexicans may be the competition's most prolific team, but it's Brazil's Richarlison - a player who has been linked with a move to join his former Everton boss Carlo Ancelotti at Real Madrid - who tops the individual scoring charts.
The 24-year-old wasn't on target in Brazil's 1-0 last-eight victory over Egypt, but hit a hat-trick and a brace in the group stage (against Germany and Saudi Arabia, respectively) to lead the way with five.
(Mauro Pimentel/AFP)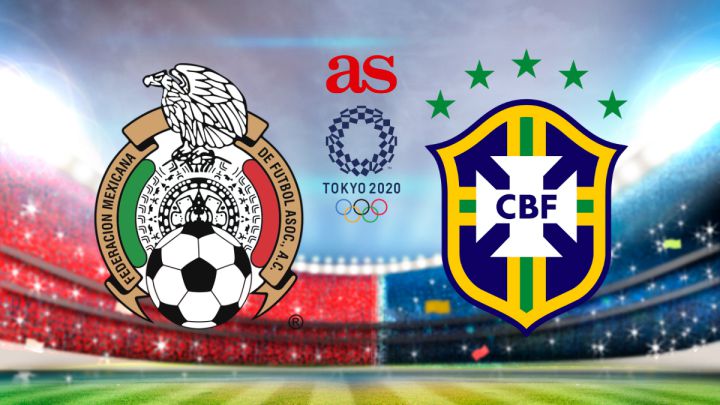 Angulo in for Mexico, Paulinho starts for Brazil
Mexico and Brazil make one change each to the sides that saw off South Korea and Egypt, respectively, in the quarter-finals.
With Jorge Sánchez suspended, Mexico head coach Jaime Lozano brings in Jesús Angulo at left-back, while Paulinho starts up front for Brazil after Matheus Cunha limped out of the Selecão's last-eight win with a thigh problem.
Mexico team news
Starting line-up: Ochoa, Loroña, Montes, Vásquez, Angulo, Romo, Esquivel, Córdova, Antuna, Martín, Vega
Brazil team news
Starting line-up: Santos, Dani Alves, Nino, Diego Carlos, Arana, Douglas Luiz, Bruno Guimaraes, Antony, Claudinho, Richarlison, Paulinho
Mexico vs Brazil: welcome
Hello! Welcome to our live coverage of the first semi-final in the men's Olympic soccer tournament, as 2012 gold-medallists Mexico take on reigning champions Brazil in what is a repeat of the final in London nine years ago.
The winners of this clash at Kashima Stadium will face either Japan or Spain in Saturday's final in Yokohama.
Kick-off is at 5pm local time (4am EDT) and team news is in, so let's get straight to that.