Messi: "Last year I wanted to leave, but this year I didn't"
Messi leaves Barcelona: press conference as it happened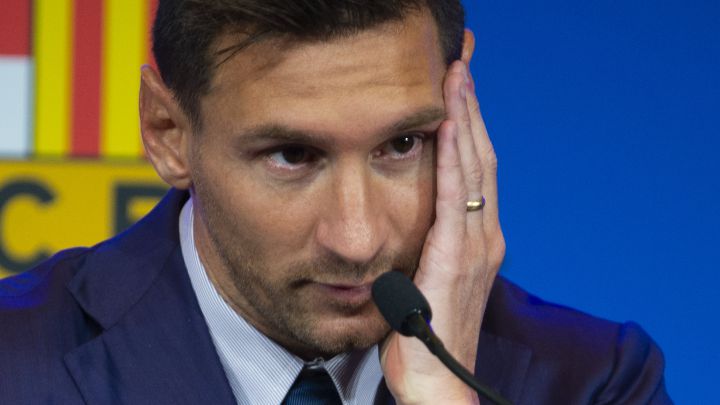 And that brings the press conference to an end. Messi receives another standing ovation and now the press are being asked to clear the room so that Messi, his family and teammates can have some private time for photos with a pretty impressive collection of silverware.
How long does Messi think he has left as a player? "It depends how my body responds. I have many teammates who says it is difficult from day to day. We are used to a routine and then later it's difficult. I'll keep going while I can still compete."
Photo with PSG players in Ibiza: "All of that was a joke. Neymar called me and we got togeter with Di María and Paredes. Verratti was also there. They said as a joke I was going to Paris. It was a coincidence and people made what they made of the photo. It was just a thing among friends on holiday, nothing else."
Messi: "There were never any false expectations. We were convinced I would be staying. It was all arranged and there were no problems. I think I have always been honest with people. As I said before, it didn't happen because of the things I mentioned. For my part I was never dishonest with anyone. We agreed a 50% pay cut and they didn't ask me for anything else. Everything else is false. We did everything possible but it couldn't be done. There have been a lot of things said that aren't true."
Messi: "This is the most difficult moment of my career. I have been through tough moments, defeats... but the next day you go back to training and you have another chance to avenge yourself. That isn't going to happen here, it's the end. Now another chapter starts."
Messi reiterates: "Last year I wanted to leave, but this year I didn't. I was always completely up front about everything and I have to leave the club I love."
Messi is asked about PSG and replies: "It's a possibility but nothing is decided yet. I haven't got anything arranged with anybody. When the announcement was made I had a lot of phone calls, several clubs were interested. Nothing is decided yet but we are in talks..."
Asked to pick a moment for the memory, Messi responds: It's difficult, but I think the day I made my debut. That was the start of everything, it was my dream come true."
Messi: "Everything was arranged with Laporta and the club but it wasn't possible in the end and that's all there is to it. A lot was said and from my part I wanted to stay as well, but it just couldn't be done because of things to do with LaLiga."
And Messi breaks down in tears at the ovation he is receiving.
A round of applause as Messi thanks everyone for everything, and we'll move to questions in a minute.
Messi: "I never imagined I'd be saying goodbye because I never thought I'd leave. It's even stranger due to the pandemic and playing without fans. I have always felt the love of the fans though and hopefully I'll be back at some point."
Messi: "There have been so many good times, and also some bad ones, but that has helped me to grow and become the person that I am. I was convinced we were going to stay, which is what we all wanted, but today it turns out I have to say goodbye."
Messi: "This is very difficult for me after so many years. Last year when all the stuff with the burofax was going on I was convinced [to leave]. But this year no. This is our home and we love Barcelona, as much from the sporting side as in our everyday life. After 21 years here I'm leaving with my wife and three Argentinean-Catalans. We'll be back, this is our home and I promised my kids as well."
Messi has arrived in the press room, there are tears already from the Argentinean.
Xavi has arrived at the Auditori 1899, the media room where the press conference will be held. Among the other Barça figures expected to attend are Carles Puyol, Gerard Piqué, Jordi Alba and Sergio Agüero, who is reportedly aleady considering his own future after the departure of his friend Messi.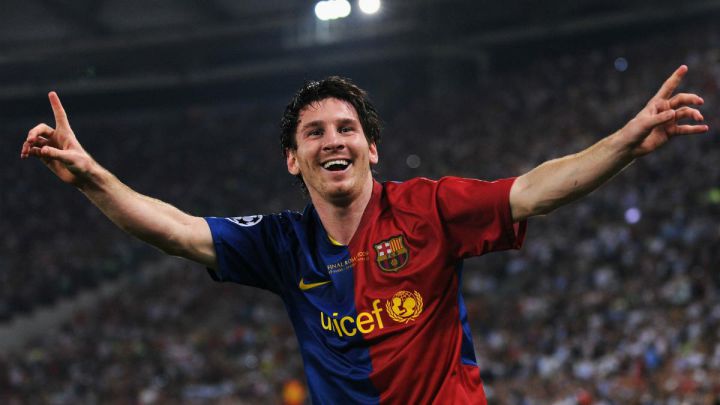 When did Messi score his first and last goals for Barcelona?
No other player has made as many appearances for Barcelona's first team (778) or scored as many goals for the blaugranas - or in fact for any one club in the history of the game (672) - as Lionel Messi. Both of those records look set to stand for a while yet and Messi's goals record may never be broken.
The Argentinean is also the all-time top scorer in the history of LaLiga with 474 goals. To put that into perspective, the next player in the ranking, is Cristiano Ronaldo on 311. He also holds the record for the most hat tricks in LaLiga - 36; in total, he has bagged an eye-watering 54 hat tricks for Barça since celebrating his first one in March 2007 and his last one, against Eibar in February 2020.
Barça players pay tribute to Messi
As news of Messi's departure filtered through to the dressing room, Barça's players said their farewells to their erstwhile teammate.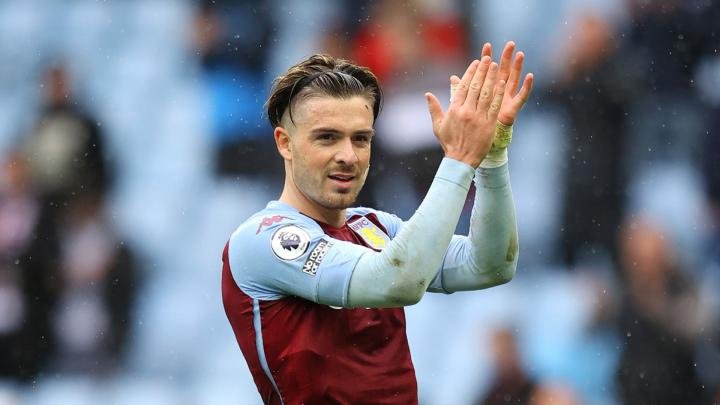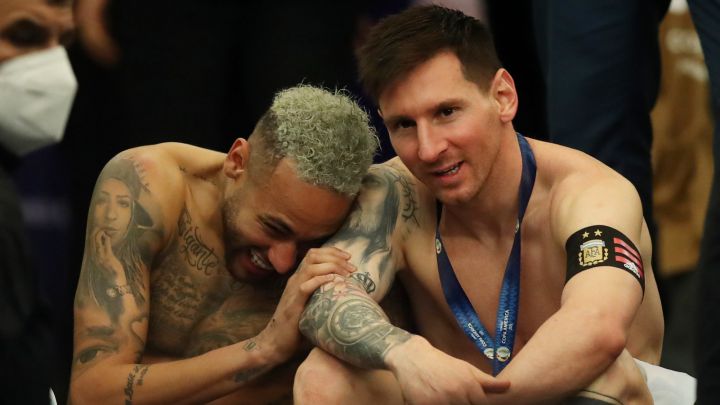 PSG reportedly confirm imminent Messi arrival to players
Le Parisien, meanwhile, say Messi is practically a PSG player already. The French daily has close links to the Ligue 1 giants and is a decent source so all things considered it would be a surprise at this stage if Messi ended up anywhere else this summer.
Incidentally, what odds would you have got on Sergio Ramos and Messi lining up in the same side for 2021-22 a few weeks ago?
Abramovich waiting in the wings
There could yet be a twist in this transfer tale though with Chelsea owner Roman Abramovich having instructed his bean counters to get the calculator out and look into the feasibility of trying to lure Messi to Stamford Bridge.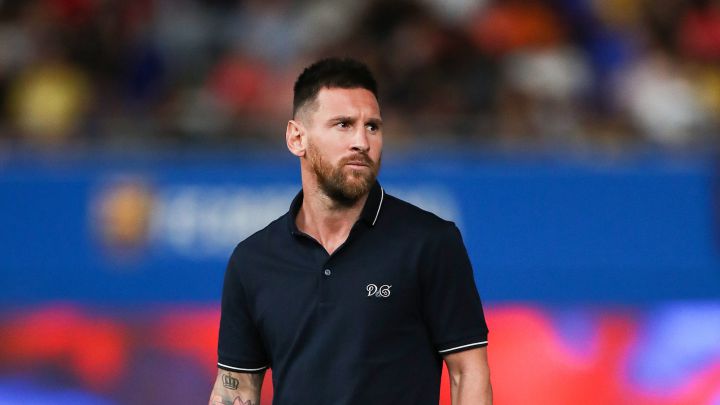 PSG's starting XI with Lionel Messi
PSG ready to take advantage
Unsurprisingly, PSG wasted little time in making their move for Messi and it seems to be a given that the Argentinean will be presented at the Parc des Princes before long. Neymar has offered up his number 10 shirt as a sweetener and Messi's arrival is viewed by many as a boost to PSG's hopes of retaining Kylian Mbappé. It's a win-win for the Parisians and with Manchester City having splashed over €100m on Jack Grealish, the Ligue 1 side have a more or less clear path to Messi's signature.
Expounding on Barça's economic woes, the result of years of mismanagement at Camp Nou compounded by the coronavirus pandemic,, Laporta added: "We had predicted losses of around €200 million, but they will be closer to €487 which is a lot. It means we must work harder for the impact it will have on our sponsorship deals. I am sure that there will be players who will excite our sponsors for them to remain linked to Barça".
Barcelona salary cap issues
The results of an audit carried out at the club revealed that Barça's financial situation is considerably worse than originally thought and due to Liga rules on salary caps Barça president Joan Laporta came to the conclusion that retaining his star player was not feasible.
"We closed last season with substantial losses, but the predictions in terms of revenue are encouraging. As for the salary cap, the industry recommends that the limit should be around 65-70% so a lot of work still needs to be done. The problem is paying off our debts. That's a burden which we have. We need to push harder to generate greater income. Fortunately, a club like Barça has the possibility of doing that without mortgaging our TV rights," Laporta said in a press conference on Friday.
Barcelona's current wage bill represents 95% of the club's income, Laporta added. With Messi's proposed new deal, that figure would have risen to 110%.
How did it get to this point? That's the question on the lips of Barça fans worldwide as the impossible becomes something. In a nutshell, Barcelona cannot afford to keep Messi, despite the 34-year-old agreeing to a 50% pay cut when the two parties came to a verbal agreement on a contract extension.
Leo Messi press conference live: welcome
Hello and welcome to AS English's live coverage of Leo Messi's final Camp Nou press conference as the Argentina captain prepares to bid farewell to the club where he has spent his entire career to date. Messi is due to speak from the Camp Nou media room at 12:00 CEST (6am ET).