"Active Bomb Threat" suspect in police custody
After a five-hour standoff with police in front of the Library of Congress, the active bomb suspect surrendered to US Capitol Police without incident.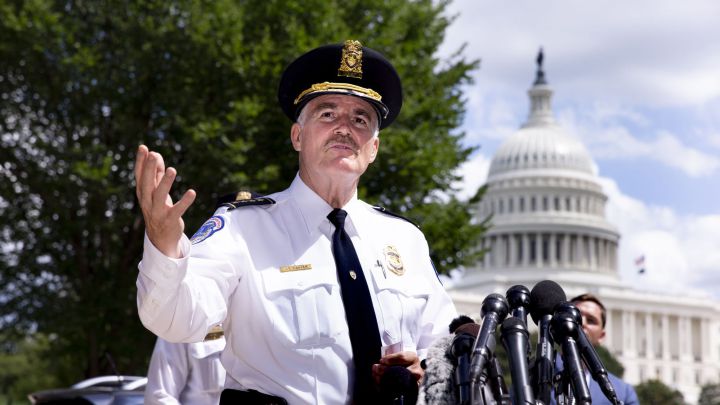 US Capitol Police Chief J. Thomas Manger announced at a 2:30 pm press conference that "Moments ago, Floyd Roy Roseberry from North Carolina was taken into custody without incident." This ended a five-hour standoff that began when Mr Roseberry parked his pick-up truck outside the Library of Congress and told police he had a bomb in his car. Mr Roseberry livestreamed anti-government rants while parked in his truck until Facebook finally pulled down the feed and his profile from the social media site and Instagram.
Chief Manger told the press that during the five hours Mr Roseberry had communicated with them using a whiteboard. When the police tried to give him a phone using a robot to aid in the negotiations, he refused. Eventually, Mr Roseberry surrendered of his own decision and without incident never talking to the police negotiators over the phone according to Chief Manger.
Four bombs spread around Washington DC
During his livestream, the Mr Roseberry indicated that there were four other bombs at unknow locations "sittin' around this town." as reported by the Daily Beast. His alleged accomplices had all arrived from different locations. However, Chief Manger said that currently it didn't appear that he was acting with anyone else but that officers were looking for more explosives. Chief Manger told the press that the suspect didn't have any serious criminal history.
What were Mr Roseberry motives for the bomb threat?
Mr Roseberry was an ardent Trump supporter who had attended at least one rally to overturn President Joe Biden's 2020 election victory. He was calling for the Democrats to step down over the situation in Afghanistan but said while streaming "This ain't about politics. This ain't got nothing to do with politics, I don't care if Donald Trump ever become president again don't matter to me."
Tom Lynch, an NBC Washington assignment editor, managed to talk to Mr Roseberry's wife. She told him that her husband had left last night to go on a fishing trip. She mentioned that he had been struggling with mental issue lately and had changed medications not long ago. She also said that he had been frustrated by the election outcome having voted for the first time, casting his ballot for former President Trump.