Yankees win 10th straight, Red Sox's Shaw delivers walk-off slam
Giancarlo Stanton fuelled the streaking New York Yankees to 10 straight games, while Travis Shaw lifted the Boston Red Sox with a walk-off slam.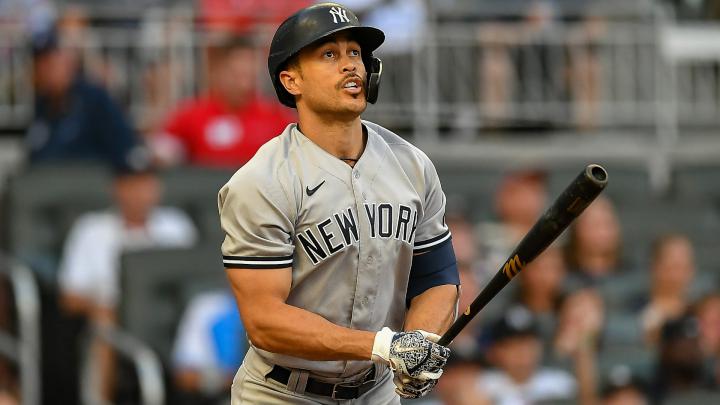 The New York Yankees stayed hot in MLB on Monday, extending their winning streak to 10 games by seeing off the Atlanta Braves 5-1.
Giancarlo Stanton fuelled the streaking Yankees with a homer and three runs in Atlanta.
Yankees slugger Stanton homered in the second inning as the Braves had their nine-game winning run snapped.
Cubs snap skid
The @Cubs are the first team in MLB history to hit a walkoff HR to end a 13+ game home losing streak.

The previous long home losing streak snapped by a walkoff HR was 12 straight by the St. Louis Browns in 1949 (snapped by Jerry Priddy's HR on May 10).

— Stats By STATS (@StatsBySTATS) August 24, 2021
Rafael Ortega's walk-off home run in the bottom of the ninth inning inspired the Chicago Cubs to a 6-4 victory over the Colorado Rockies. It ended the team's home losing streak at 13 games, the longest in franchise history.
According to Stats Perform, the Cubs are the first team in MLB history to hit a walk-off homer to end a 13-plus game home losing streak. The previous long home losing streak snapped by a game-ending home run was 12 in a row by the St Louis Browns in 1949.
The Toronto Blue Jays edged the Chicago White Sox 2-1 as Alek Manoah impressed on the mound. The Blue Jays starter allowed five hits and just one run while striking out five batters in six innings. His 78 strikeouts to date are the most ever by a Blue Jay in his first 13 career games.
With two outs in the ninth inning, Jake Bauers broke a tie via his two-run single to help the Seattle Mariners rally past the Oakland Athletics 5-3. In 25 of Seattle's 126 games this season, the Mariners earned the lead in their final at-bat to win the game (19.8 per cent). According to Stats Perform, only one team in American League (AL) history has had a higher percentage of their games end in a last at-bat victory – the Washington Senators in 1918 (20.0 per cent).
Royals pounce on Maton
It was a rough outing for the Houston Astros and reliever Phil Maton as the Kansas City Royals cruised to a 7-1 win. In just 0.2 innings of work, Astros pitcher Maton gave up three hits and three runs, one earned.
Shaw slam!
Travis Shaw was the hero as the Boston Red Sox outlasted the Texas Rangers 8-4 after 11 innings. A defensive replacement in the eighth inning, Shaw hit a walk-off grand slam to lift the Red Sox.
Monday's results
Boston Red Sox 8-4 Texas Rangers
Pittsburgh Pirates 6-5 Arizona Diamondbacks
Toronto Blue Jays 2-1 Chicago White Sox
New York Yankees 5-1 Atlanta Braves
Chicago Cubs 6-4 Colorado Rockies
Kansas City Royals 7-1 Houston Astros
Seattle Mariners 5-3 Oakland Athletics
Dodgers at Padres
Tuesday will see a battle between World Series champions the Los Angeles Dodgers and National League (NL) West rivals the San Diego Padres, who are both coming off defeats.