AFGHANISTAN
What happens after the Taliban's August 31 evacuation deadline?
After Biden said US troops might need to extend withdrawal deadline, The Taliban's response setting Aug.31 as a "red line" made the US president back away.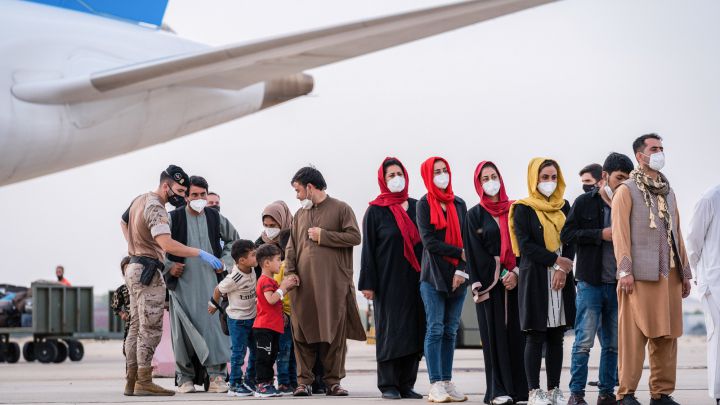 Days after President Joe Biden publicly manifested the need of an extension for US troops to manage to carry out the planned Afghan's evacuation, he backed away and confirmed US will stick to the set date in Aug.31. Why? The Taliban's threatening response.
Several extensions have already been made
A lot has happened since Former president Donald Trump agreed with the Taliban the withdrawal of US military troops by May 1 this year.
When Joe Biden took the office in January he automatically ordered a review of the deadline, which ended in a four month postponement of the original withdrawal date. At the moment, Biden told NATO troops and US military forces they will leave Afghanistan before Sept. 11 20th anniversary.
However, at the beginning of July, Biden specified an earlier and much more exact deadline: troops will be out by Aug. 31.
"Our military mission in Afghanistan will conclude on August 31st," he said.
Nevertheless, this was before the Taliban's regime took over Kabul.
With Afghan forces not willing to fight, the Taliban seized multiple provincial seats during the months of July and early August, ending in an unavoidable march into Kabul on Aug. 15.
Suddenly time was short. Fifteen days where all US forces and other multiple countries had to rescue willing Afghan's from their feared fate.
Taliban will not extend "the red line"
Britain, Germany, France and Spain along with other countries are urging Washington to extend the Aug. 31 evacuation deadline as they are unlikely to complete all the planned evacuations by the set date, according to German Minister Heiko Maas, who said earlier this week they where in talks with the US "about the continued operation of Kabul airport beyond the military evacuation."
Joe Biden who realized time was short for US military too, said Sunday that the military forces might need a date extension, an some of them might need to stay behind after Aug.31 passes.
Taliban said the U.S. should withdraw all troops and contractors before Aug. 31 deadline from Afghanistan and no extension for the ongoing evacuation process would be possible. #GLOBALink pic.twitter.com/2xpRq78QDr

— China Xinhua News (@XHNews) August 25, 2021
A response from The Taliban following Biden's statement made clear that the set date was a "red line" and there was no possibility of extension. Taliban's Spokesman Suhail Shaheen said that if US or any other country attempts to extend the occupation after the deadline, it will provoke a "reaction" which will bring "consequences" as well as creating "mistrust" between both sides.
Biden backs away and sticks to the deadline
Hours after the Taliban's statement was released, Biden backs away from his previous statement regarding a possible extension after Aug.31, now saying the USA will stick to the set date at the risk that some evacuees might be left behind .
Joe Biden confirmed on Tuesday that there will be no extension to the US withdrawal in Afghanistan and that the military was instructed to create contingency plans due to a "growing risk" of security concerns.https://t.co/E4x1tWF4Mn

— Twitter Moments (@TwitterMoments) August 25, 2021
However, Biden administration was still very ambiguous arguing that they will respect the set date as long as The Taliban doesn't interfere on potential evacuees' access to the airport. Statement which still leaves the door open for a possible extension beyond the end of the month.