Paul wins split decision, Woodley rematch depends on tattoo
Showtime on Showtime! It was one of the fights nights of the year, and against all odds it lived up to expectations. From the lead up, to the fight, to the post-fight interview tonights bout from Cleveland, Ohio had a little bit of everything as the hometown kid Jake Paul defeated Tyron Woodley by split decision.
Paul and Woodley deliver a spectacle
How many times have we seen a big ticket card be hyped up for month after month and when it was time to strap on the gloves, you're left asking what you were doing investing your time in a dud of a fight? Well Sunday's Paul vs. Woodley fight fit the ticket as both put on a show for eight rounds, and beyond.
The fight went the distance, and at the end it was the hometown "Problem Child" who came out on top after a split decision, and in typical Jake Paul fashion the show wasn't over once the bell rang.
Paul always one for the limelight
The post-fight interview gave fans just as much entertainment as the bout itself. There was a war of words between the two in attempts to sell the fight before Sunday night, and the war of words didn't end there. After the fight Woodley and Paul continued the banter and it may be enough to sell a rematch in the not so distant future.
While many in the boxing world brush off the vanguard era of their beloved sport, it must be said that the eight rounds in the ring were thoroughly captivating.
The fight in review
It started with Paul opening the first round a bit tentative, but he found his way into the fight as Woodley shied away from the social media star that towered four inches over him.
The 39 year old Woodley came out throwing in the first minute and a half, but soon after the younger Paul brother found himself comfortable in the ring.
The first round was a toss up, but rounds two and three went to Paul, as he started working in some jabs, and combinations. Round three may have been Paul's best, getting a right hook to the ear of the Missouri native, and then landing an uppercut just before the bell.
Woodley almost got a 4th Rd KO
The fourth round looked as though it was going to be a turning point for the MMA legend. Woodley threw a big right hand that staggered Paul into the ropes. Right after stunning the influencer, he went on the attack but the YouTuber showed some real resilience by keeping his feet and carried on fighting.
Paul came back in the fifth and took the round back after looking dazed and confused heading back to his corner in the fourth. Remember, Paul had never been past round two in any of his previous three fights, landing knockouts in the first of second round.
The YouTuber goes the distance
Paul's fatigue started to show after the response in the fifth round. He was flat footed, backing away from Woodley, but it seemed like Woodley didn't want to take his chance.
In the seventh round Woodley looked to make a move, but Jake defended well, and got two big shots in on Woodley. A big right hook was landed by the Cleveland native in the middle of the round and a vicious upper cut was enough to win the seventh despite the tank being on E.
The eighth round may have been the dullest. Paul was gassed but defended himself from a Woodley who looked like he had plenty more in the reserves but he never went for that knock out blow.
At the ring of the eighth round bell, both fighters lifted their hands in triumph as we went to a decision. In the end the decision went to Paul who throughout the fight landed more blows despite taking the biggest shot in the fourth round.
A rematch possible, pending Woodley's tattoo
The antics, however, were not over. After the fight the usual post-fight interviews came, and Paul was relatively humble and subdued after an eight round battle. His responses were respectful of Woodley, although he did throw a jab in at the judge who sided against him.
When is was Woodley's turn to talk, he gave credit to Paul for being a tough competitor even though he felt like he had won. And when he brought up the possibility of a rematch, Paul squared up with a very direct message: "You already got your pay day."
Woodley wisely was looking for another bout considering he is tabbed to make the biggest paycheck of his career from this fight.
Paul didn't seem to enthusiastic about the idea. Woodley squared up Paul as the two met in the middle of the ring, as Woodley continued claiming that he won the fight and deserved a rematch.
Paul suggested that if Woodley gets the tattoo reading "I love Jake Paul" which was a bet discussed pre-fight, then there would be a rematch. Woodley seemed to accept and all of the sudden the possibility of a rematch sprouted out of thin air.
The night that boxing didn't know it needed
It remains to be seen wether this will take place or not, as Paul said he needs some time to himself, and would like to forget about the gym for a little while.
Who knows what the future holds for Paul, Woodley, or the sport of boxing. Tonight though, it must be admitted, was a fantastic night for a sport that is in desperate need of a renaissance.
Paul and Woodley weren't done jabbering after the fight. It was respectful for the most part, until the propostion of a rematch came into the scene.
Here's the offical scorecard of the judges, who Showtime commentators were not shy in saying were very inexperienced.
Ok that's it for a little while, I'm going to make a write up of all that happened over the last four hours here from Cleveland, stay tuned. don't go anywhere.
Paul: You get the tattoo and you'll get the fight.
(Paul and Woodley had a bet if he lost he would get a tatto saying "I love Jake Paul")
Paul: You want the pay day, you had your chance
Woodley: I felt like I won the fight.
Woodley: I'm ready for round two, let's run that back.
Paul on the judge that ruled against him: That's bullshit, and in my own city!
Paul in the post fight interview: I have a lot of respect for him, I apologize for the shit talk
What a moment as Paul and Woodley's mothers meet in the middle of the ring and exchange a big hug.
JAKE PAUL IS STILL UNDEFEATED AFTER WINNING BY SPLIT DECISION!!!
Paul looked like he was on E for the last two rounds but stood strong.
Woodley looked better in that last round. We await word from the judges.
We are going to decision.
IT'S ALL OVER FROM CLEVELAND!!!
Clean right hand from Woodley
Paul with a soft right hand
Woodley has to attack. Paul is standing back
Both exchanging blows in the first 30 seconds.
We are into the last round!!
Paul might have won that round with the rigth hook at the end. In my book Paul is winning this fight going into the last round.
Big right hand from Paul, Woodley took it like a champ.
Nice pop from Paul from the ropes.
Woodley looking calm and with plenty in the tank
LETS GO JAKE rings around the stadium
Both coming out aggressive, watch for fireworks in this round.
This is wide open going into the the last two rounds.
Woodley ends the 6th with a big right, but a better round for Paul.
Paul with a flurry, first two lefts and then a right hook
Paul gets a light left hand in
Paul backing off, looking tired as the crowd starts to boo
Good response from Paul after a tough fourth. Anybodies guess who won that round, it was close.
Left hand from Paul, Woodley replies "lets go!"
Uppercut and then a left hand from Woodley
We are at the halfway mark
Big round for Woodley!! Paul looks a little off balance going to the corner.
This fight is coming to life.
Uppercut from Woodley, countered by Paul
Woodley with a big right staggers Paul
Body shot from Paul. Woodley looking for a one punch winner it seems while Paul continues to work the body.
Paul is leading so far, by connecting on some multiple punch combos.
End of the third. Woodley started strong, but he highlight of that round was the uppercut from Paul.
Uppercut from Paul, Woodley shakes it off, but that got him
Paul with a nice left hand to the ear of Woodley
Woodley starting to get into the flow, with a couple jabs. Answered by Paul with a three punch combo
Rd 3 starting, Woodley has to get a bit more aggressive
Lets see how Paul handles what is now the longest fight of his young career.
The second round ends with out much drama.
Three punch combo from Paul gets the crowd going.
Not much going on thorugh the first two minutes. Just a couple jabs exchanged
Second round has started, remember none of Paul's fights have gone past the second round.
Good start for both fighters as round one comes to a close.
His brother Logan is ring side almost with his head in the ring barking out support for Paul.
Three punch combo from Paul, followed by a right hand lead.
Paul connects on a couple jabs to say hello to Woodley for the first time.
Both fighters are feeling each other out, Paul looks the more tentative of the two.
Here we go! Round 1 of a scheduled 8.
Well there were a few boos before, but a cacauphony of cheers and applause as his name is announced here at the Rocket Mortgage FieldHouse.
Woodley is still wearing the earphones during the ring introductions. I hope he takes them off before the fight starts.
Paul is wearing a collage of Indians, Browns, and Cavs shirt. Pretty nice, trying to play to the home fans who aren't all on his side tonight.
Here he comes. Jake Paul making his entrance. The Cleveland kid "The Problem Child" coming out to the soundtrack of Machine Gun Kelly's Till I Die
Woodley the first to make his entrance, to a song with a chorus called Let's Go Big. No idea who sings it, but whoever did accompanied Woodley to the ring. On a side note, Woodley came out with earphones on, not sure what the point of an intro song was.
Its time!!! Introductions are moments away.
You have to give it to the Paul brothers, they have injected a shot of life into a fading sport. And the commentators are actually giving credit to them for that.
It's entertaining listening to the commentators, who are life longers in the sport. They are marvelled at the fact the main event on a Showtime Pay Per View is a boxer with three career fights fighting someone who is making their professional debut. A tone of reluctant resignation from the the boxing world they once knew.
Paul is four inches taller and has a 2 inch reach on Woodley.
Paul is undefeated in his brief boxing career. He has shown in his first three pro fights get goes for gold early. He has registered 3 KOs, two in the first round and one in the second.
Woodley is making his boixng debute after a decorated MMA career in the UCF.
NEXT UP: THE MAIN EVENT.
THE MOMENT YOU HAVE ALL BEEN WAITING FOR.
PAUL VS. WOODLEY..
As Sam Jackson says in Jurassic Park, Hold on to your butts.
Clinical performance from Amanda Serrano who keep her belt. She has now won 27 in a row, that's over 10 years with out a loss.
SERRANO WINS BY UNANIMOUS DECISION!!!
That's the end!!! Serrano dominated in each and every round and finished with her best round of the night in the 10th.
Left rigtht combo for Serrano
Big right from Serrano which hurt Mercado. Serrano attacks
Last round underway and its all Serrano so far.
Body shots all around for Serrano, who is abusing Mercado. Mercado also has a cut under her eye.
Mercado looking tired and Serrano looking like she could do this all night.
Three more rounds remaining, and Mercado needs a knock out, she's got to start taking chances.
Serrano ends the 7th with a flurry of punches.
A couple nice counters from Serrano the only thing that was really going on in the seventh.
Round 7 starts, and Mercado might be feeling those body shots by now.
Serrano on the front foot and Mercado scurrying away. Another big round for Serrano
Sixth round is upon us now. Let's see if this fight turns up a little here in the next round or two.
Mercado connected on a big hook that barley affected Serrano, Serrano countered with a big one of her own on top of the body work she continues to barrage Mercando with.
Mercado is going to have to start looking for a knock out if she continues to trail Serrano. She only has 5 KOs in her career though, so it could be tough to catch Serrano out.
End of round 4 and Mercado is struggling
Serrano continutes to work the body, using the combos
Serrano in control as we start the fourth
Another round for Serrano, who has had her reigns on Serrano all night long
Both exchanging blows in the corner.
Round two comes to a close with not much to report.
Both women keeping their distance in the second round. Not much happening
The bell rings for round 2.
So a slower start to this fight than our last two. Good start for Serrano who most likely won that round.
Mercado lands a nice right hand to Serrano's face. After Serrano connects on a few jabs
Here we go!! Round 1 of a scheduled 10
Mercado started fighting professionally at the age of 16 years old.
Serrano is 40-1-1 with 30 KOs while Mercado is 18-2 with 5 KOs
This don't forget, is the co-main event.
Puerto Rican Amanda "The Real Deal" Serrano is making her introduction, walking down the ramp to Pepas by Farruko
Mercado the first to be introduced on her US debut. The Mexican coming out to a song from her native country, and if my Shazzam quits acting up I'll tell you what song and who it's by.
Amanda Serrano averages over 80 punches a round, considering the rounds are 2 minutes long that's even more astounding.
This is the WBC/WBO Featherweigth World Championship
Mercado was trainng teammates with Jake Paul. They share the same boxing coach, BJ Flores.
Next up as a unifying title fight between the WBC and the WBO between Amanda Serrano and Yamileth Mercado.
So two TKO's in the first three fights. It has been a fun night from Cleveland so far, and we still have plent more to come.
Cusumano must be dissapointed. So much training so much prep, and he doen't make it past the first round.
What a showing from DuBois.
That first punch left Cusumano staggered, it took him all 10 seconds to get up in the first two knock downs and the ref didn't give him an option on the third one.
DuBois wins it in the first round with 50 seconds left to go before the bell.
Cusumano dropped again and IT'S ALL OVER!!!
Another big combo from DuBois drop Cusumano again.
DuBois drops Cusumano with a right hook
Cusumano comes right back with a right hand
Big right hand out of the gate by DuBois
We are underway in tonight's heavyweight bout
DuBois will enter the ring next, and again another no nonsense intro as Astronaut in the Ocean by Masked Wolf comes on the loud speaker. Big fight for the British Boxer who is coming off his first loss of his pro career.
Cusumano the first to be introduced, with Thunderstruck by ACDC playing in the back ground. Not too much flash or flare from the Italian-American.
We may have our first first knock out of the night in store. These two heavy hitters have fought 39 fights combined, and 32 of them ended in in KO's
DuBois is 16-1 with 15 KOs, while Cusumano is 19-3 with 17 KO's
Next up is the heavyweight bout between Daniel Dubois and Joe Cusumano
It was a round that Love did nothing wrong, and with the last blow ended the fight with a big upper cut after ducking a jab.
I'm pretty sure I'm not the only one who is hopping on the Montana Love bandwagon after watching that fight.
And the fight has been stopped!!! LOVE PUT ON A SHOW WITH A CONVINCING WIN!!!
Baranchyk goes down in the last 5 seconds of the 7th. The Russian was saved by the bell as he got up wobbly.
5 straight punches from Love. The Russian is reeling
Baranchyk on his heels, Love is locked in
Two one twos for Love right after the bell sounds.
Both fighters looking gased in the corners, but four more rounds remain.
One of the calmer rounds of this exciting match. Another effective round for Love, Baranchyk is running out of time which might mean the haymakers are coming for the Russian.
Love is getting combos that aren't doing as much damage as Baranchyk's few punches that have dished out more damage to Love
What's going to happen next, still anyone's fight
In the last ten second Baranchyk lands a big blow that had Love wobbling. Wasn't enough to take the round, but after 5 rounds this has been fantasic.
A couple one two from Love, and a big right hand, but again Love doesn't attack
Love on another one of those left hands that catches Baranchyk off guard with his quick feet.
Round five underway in this very entertaining match
Baranchyk was stunned as he took a few steps back from the left, instead of following up he lifted his hands looking for love from the crowd
Baranchyk counters after regathering from a big left from Love. End of the fourth.
Love stunned Baranchyk with a left
USA USA USA chants the crowd
Beautiful one-two from Love and he continues the barrage on the Russion
Baranchyk coming out strong to start the fourth. A couple nice hooks to keep Love on his toes.
This fight has picked up in intensity. USA Chants all around from the home crowd.
What an end to the third round. Love almost fell out of the ring after losing his balance, the Russian connected a few times as the ref was slow to break the fight up. Love got up and caught Baranchyk as the ref was trying to break it up.
Baranchyk popped Love in the corner, and Love looked in deep trouble, the Russian had him against the ropes, but Love survives. Match changing combo for Baranchyk
Barachyk with a nice left hand after coming out of a tangle.
Rd 3 starts with plenty of momentum for Love
Staight left hand right to the forehead of the Russian to end the round. Rd 1 may have been in question, Rd 2 was not.
Quick jab connects for Love as Baranchyk looked for a big right hand
Love's footwork has been fantastic, quick moves to open up angels for punches.
Love on the attack again.
Love coming out working the body in the second
Big blow from the Russian who had Love on the ropes. And that ends Rd. 1.
Big blow from the Russian, who is taking a lot of shots earlier on, but not landing many
The crowd chantting USA to start the fight, no secret who this Rocket Mortgage crowd is behind.
We are underway here from Cleveland!!!
Baranchyk, with no robe, no glasses, no nonsense in his introduction. The Russian is all about his buisness.
Love is the first to be introduced to the crowd here in Cleveland. He is entering with a rapper by his side, I have no clue who it is or what he is singing, but Love is coming out with plenty of swag. pink studded white fur trimmed over coat and the shades on.
I must be honest, coming into tonight and looking at the undercards, (keep in mind I'm not a boxing expert) I thought Montana Love was a reality star or a YouTuber. His name fits the bill, but this guy is a legit boxer.
Jake Paul and Tyron Woodley were just shown on the big screen, and suprsingly enough Woodley got the bigger roar when shown on the screen.
Baranchyk (20-2, 13 KOs) is a former world champion but has lost two of his last three. Montana Love is undefeated in in 16 fights (15-0-1, 7 KOs)
Next up is the maybe the fight of the night. The superlight weight division bout between Ivan Baranchyk vs Montana Love is next ujp.
Interestingly enough, when asked about his dad, his girl and his half brother who weren't in attendance, he gave a shout out to his dad and his girl, but didn't mention Tyson Fury.
Taylor didn't win any fans tonight, Fury on the onther hand showed plenty of skill but in the post fight interview assured this is just the beginning, and he's got a lot of work ahead of him.
Tommy TNT Fury is still undefeated after winning by unanimous decision.
IT'S ALL OVER!! This fight will go to decision, but it's no secret who won this fight.
Taylor is showing he can take a punch or two though
Not for the first time the crowd lets the boos out
End of the third round, and for some reason Taylor heads to his corner with his hands up like he won that round. I'm no judge... but let me assure you he didn't. Fury landed a few blows, but Taylor spent most of the round running.
Taylor keeping his distance, but he's running out of time. He's got to start taking some chances.
Round 3 underway. and let's see how Fury comes out.
Taylor is in trouble. He'll be lucky to make it to the end of the fight. End of round 2.
Big uppercut from Fury who follwed with a few more blows that Taylor absorbed.
The first boos from the crowd ring out in Cleveland as Taylor continues to hug Fury.
Fury is starting to work the jab now.
The bell rings for Round 2.
Round 1 is done, and Fury looking good. Connected on a few big blows, Taylor looks a little lost against the much taller opponent.
Fury showing some excellent footwork, and while they may not be connecting his right hook looks ferocious.
Taylor looks as though the only way he can get close is to launch himself at Fury, which is leaving him exposed .
Fury conecting on a one-two.
Fury's reach is evident in the first seconds of the fight. Neither have made contact yet just a minute in
Round 1 is underway in the Fury Taylor fight!!!!
Fury got the louder applause from the audience when he was introduced.
Round 1 of 4 is about to begin. With a shortened fight, look for both fighters to be swinging for the fences looking for the one hitter quitter.
Taylor is more known for his MMA career in which he is 7-5, he lost his only boxing match which came over two years age.
Fury has an 8 inch height advantage and an 11 inch reach advantage over Taylor.
Tommy "TNT" Fury, fighting out of Manchester, England is entering the ring now. Jesus Walks by Kanye is playing over the loud speaker
This fight was originally scheduled for 8 rounds but it was slashed to 4 rounds, and no one really knows why.
Taylor is the first to be introduced, coming down the ramp with as Lord Give Me A Sign by DMX.
The Rocket Mortgage Fieldhouse is pumping. Fans are still filtering in, but it is packed in the stadium even before the first undercard fight.
Famous Fury
Tommy Fury and Anthony Taylor are getting set to make their entrances at the Rocket Mortgage FieldHouse. Fury has a famous name, not just from his time spent on British reality show Love Island, but he does have big boxing pedigree with his half-brother two time heavyweight champion Tyson Fury
We are underway
Showtime's coverage has started from the Rocket Mortgage Fieldhouse in Cleveland, Ohio. Tommy Fury and Anthony Taylor will get us started tonight.
Paul the heavy favorite
The Youtuber is (-210) is the oddsmakers favorite coming into tonight's contest, while Woodley is paying -175.
Leave the momma's out of it
Tension's before a fight are always going to be high, but fuel was added to the flame this week when a member of Paul's camp got into a spat with Woodley's mom. Woodley saw it from the stage and had to get held back by half of the room. Here's the full artilce and video
The undercard
After Tommy Fury vs. Anthony Taylor fight, Montana Love and Ivan Baranchyk will sqaure off. Then Daniel Dubois vs Joe Cusuman will battle in a heavyweight showdown, and the co-main event will be World Champion Amanda Serrano vs and former World Champion Yamileth Mercado.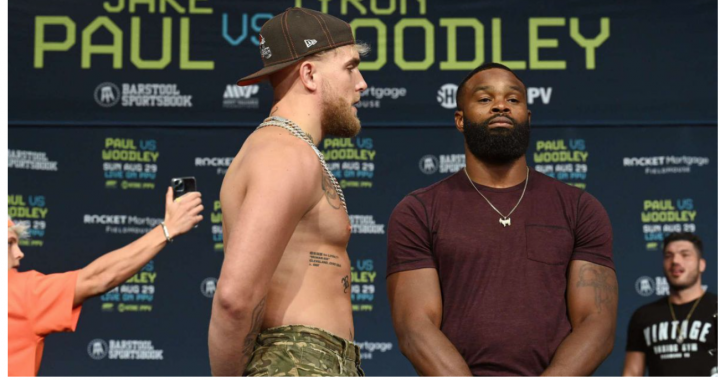 Some around the fighting world have made predictions about tonight's fight
Teddy Atlas:
"Paul's the bigger guy. He's strong. [He] has that advantage and he has the opportunity to throw, which is a decent right hand that he possesses. He's got the opportunity to throw it and land it because of the style of Woodley and the mistakes of Woodley.
"[Woodley] stands straight up." Atlas continuted saying, "He's predicable. He throws that slow jab. He throws it halfway out. He lets you get close. Paul's got a good right hand. He's going to land the right hand. So bad news is, Paul is going to knock him out."
UFC's Jose Masvidal:
"I know Jake's never been in there with a guy like that, that's explosive, that's a good athlete, and has a ton of experience over him. If Jake wins, f---ing wow. My hat's off to him. I was wrong. I don't know shit about fighting, right? But chances are Woodley's going to knock him the f--- out."
Undercard #1
Showtime's coverage begins in just under 30 minutes as we get ready for the first under card fight between British reality TV star Tommy Fury and Bellator fighter Anthony Taylor.
Paul: He got a big booty. He thicc
Tyron Woodley has gained at least one fan through the whole lead up to this fight: Jake Paul. Paul may not be a fan of his as a fighter, but he has been very vocal of his admiration for Woodley's butt cheeks
Woodley: the Anti-Paul bros greatest hope
And if you're tuning in looking, hoping and praying that someone knocks the snot out of Jake Paul, then Tyron Woodley would be your best bet of any of the fighters the social media star has fought. Tonight may well be your night.
Paul's toughest test to date
If you're one of Paul's millions and millions of fans or subscribers that are hoping to see the YouTuber grow in reputation and prestige in the sport, a win tonight against Woodley will go a long way in raising a few eye brows around the world of boxing.
Purists still have to be sold on Paul bros
If you're a boxing purist, and are looking for a good, crisp, clean fight tonight's fight may not be excatly what you're chasing. But this will do doubt be Paul's toughest test of his career
Paul vs Woodley I.. And here we go
The night has finally arrived! Here we are live, from Cleveland, Ohio for the fight of the night, the week, the year, hell.. the fight of the century! Jake Paul and Tyron Woodley will square off in the ring in a much anticipated cruiserwight division fight.
It's fight night from Cleveland!!! Hello everyone and welcome to the Rocket Mortgage FieldHouse. After all the talk, after all the hype, after all the build up it's finally here. Jake Paul and Tyron Woodley will square up for a scheduled eight rounds in the cruiserweight division. AS English will be with you for every step as we will be providing live coverage, stories, stats and updates of the main event as well as the undercards.
For the first time in his brief career, Paul will be fighting in his hometown of Cleveland, Ohio. He will have the advantage of most of the crowd being behind the social media star. He will also have the age advantage, as he is 15 years younger than the former UFC champion.
Paul is undefeated in his short career in the ring. At 3-0 the competition has been steadily increasing in each of his bouts. He defeated AnEsonGib in his first pro fight back in December of 2019.
Then came former NBA star Nate Robinson, who Paul made light work of. After Robinson came the first actual fighter that he faced. Ben Askren may have been retired, but he had the resume that would make you expect a more balanced fight. Paul KOed the former Bellator fighter in the first round.
All of his fights have been short lived and they have been spectacular. Paul has registered first or second round KO's in all three of his professional bouts.
Woodley will no doubt be the toughest test that the younger Paul brother has faced in his blossoming boxing career. Woodley was a part of the UFC up until March when Kamaru Usman handed the Missouri resident his fourth straight loss, and lost his right to fight in the UFC.
Woodley was once a four time welterweight title holder in mixed martial arts' biggest association. At welterweight Woodley fought at 170 pounds his entire career, but he weighed in at 189.5 this week in the days leading up to the Sunday night fight.
The seed for the fight was planted after Paul's knock out of Askren, who was a teammate of Woodley before retiring. Paul and Woodley had a heated exchange after the fight, and shortly after talks of a square off between the two sprouted.
The main event is one of five fights from Cleveland tonight. Tommy Fury vs. Anthony Taylor will be the first, followed by Montana Love vs. Ivan Baranchyk, then Daniel Dubois vs. Joe Cusumano will go toe to toe, and the co-main even is Amanda Serrano vs. Yamileth Mercado.
The first undercard fight will begin around 8 p.m. ET, and the main event round one bell is expected to ring around 10:45 p.m. ET from Rocket Mortgage FieldHouse. Showtime will broadcasting the Pay Per View event, which you can but for $59.99.