Defiant Biden addresses Afghanistan withdrawal: "I was not going to extend this forever war"
The president defended his decision to pull out of Afghanistan in a White House speech on Tuesday, concluding the 20-year conflict.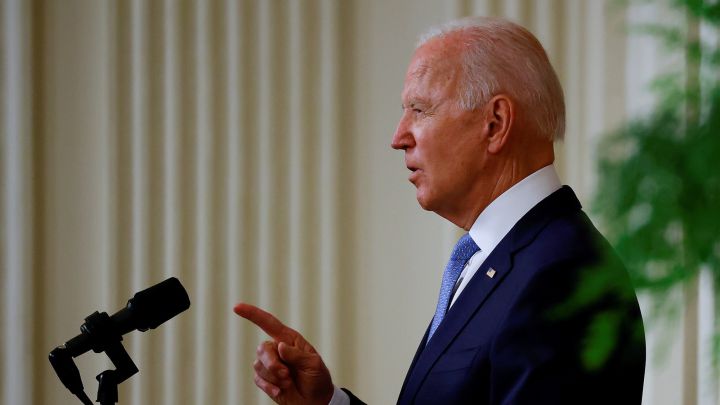 A day after the last US evacuation plane left Hamid Karzai airport, President Biden addressed the nation. Despite regular public speeches concerning Afghanistan, this marks the first since the end of the conflict. Remarkably, it is the first speech by a US President whilst not fighting in Afghanistan since George Bush in 2001.
The speech itself
"My fellow Americans, the war in Afghanistan is now over," Biden said at the White House.
"I'm the fourth president who has faced the issue of whether and when to end this war. When I was running for president, I made a commitment to the American people that I would end this war. Today I've honored that commitment."
"That was the choice, the real choice between leaving or escalating," he said. "I was not going to extend this forever war."
He also described the evacuation of over 120,000 people as an "extraordinary success." The president had been attacked for the supposed lack of planning which caused all the chaos in Kabul airport. Not everyone eligible to leave has been able to, and there have been reports of Taliban fighters hunting for people with links to the old government.
Intriguingly, Biden spoke and tweeted about a reframing of US foreign policy that could have ramifications for a long time. He said that the withdrawal marked "ending an era of major military operations to remake other countries." Experiences in Iraq and Afghanistan have soured US tastes for regime change, regardless if it has been said that was never the objective.
We must stay clearly focused on the fundamental national security interests of the United States.

This decision about Afghanistan is not just about Afghanistan.

It is about ending an era of major military operations to remake other countries.

— President Biden (@POTUS) August 31, 2021
The question from this speech now is how the US will deal with future potential conflicts in which it feels it needs to send troops. The bombing forays into Libya and Syria achieved little except the killing of civilians and further fractured societies. In Libya's case, the country is still not reunited.
The path of the evacuation since the suicide bombing
After the suicide bombing at the gates of Kabul airport on August 26, the speed of the evacuation slowed. Since the attack, 25,000 people were evacuated. It is estimated there is upwards from 100,000 more Afghans who collaborated with the US who are now at risk from the Taliban.
He helped rescue Sen. Joe Biden from a snowy Afghan valley in 2008. Now he's asking President Biden to save him. Back then, M. was an Army interpreter. Now he's in hiding from the Taliban after being left behind when US withdrew. "Don't forget me here."https://t.co/hpNZGF0S0H

— Dion Nissenbaum (@DionNissenbaum) August 31, 2021
US Central Command Commander Gen. Kenneth "Frank" McKenzie acknowledged that the US military "did not get everybody out that we wanted to get out."
There were more threats to the evacuation that the US was quick to shut down. In a preemptive strike on a suspected suicide bomber, a US airstrike killed ten civilians, including nine from one family. Six of them were children.
The Afghanistan war in numbers
Afghan civilians killed, through April: 47,245
American service members killed in Afghanistan: 2,461
US contractors, through April: 3,846
Afghan national military and police, through April: 66,000
Other allied service members, including from other NATO member states, through April: 1,144
Taliban and other opposition fighters, through April: 51,191
Aid workers, through April: 444
Journalists, through April: 72
Data sourced from Linda Bilmes of Harvard University's Kennedy School and from the Brown University Costs of War project.