Lakers' Rondo: 'experience key to another NBA championship run'
Rajon Rondo discussed the age of the Los Angeles Lakers after returning to the storied NBA franchise.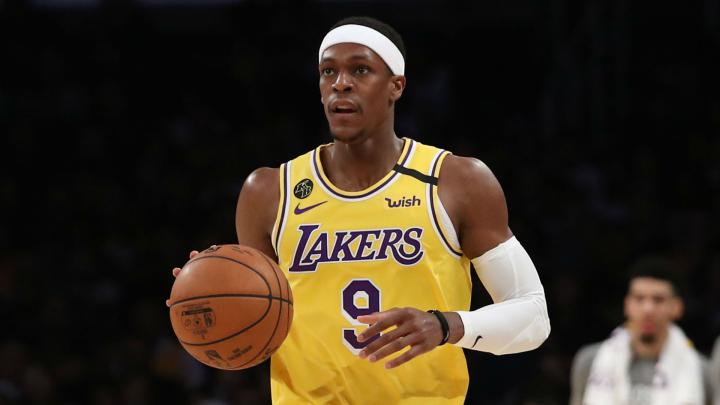 Rajon Rondo said "wisdom" is key to winning an NBA championship after he joined a growing list of veterans on the Los Angeles Lakers' roster.
Rondo is back with the Lakers after spending last season split between the Atlanta Hawks and city rivals the Los Angeles Clippers.
A championship winner with the Lakers in 2019-20, Rondo was traded to the Memphis Grizzlies by the Clippers at the end of the 2020-21 campaign before agreeing a contract buyout and clearing waivers.
With Rondo (35) back at the Staples Center alongside Carmelo Anthony (37), LeBron James (36), Marc Gasol (36), Trevor Ariza (36) and Dwight Howard (35), the Lakers have the oldest team in the NBA this season.
The Lakers also boast former MVP Russell Westbrook (32) following his arrival from the Washington Wizards.
Amid criticism over the age of the team, Rondo told reporters on Tuesday: "Wisdom is definitely key to winning a championship.
"We have a lot of that, obviously, with the age and experience on the court. I'm most excited about not being the oldest guy on the team anymore.
"I'm actually about [fifth oldest] now, so that's a big step for me going from two months ago I was the oldest guy on the team and now I'm one of the young guys."
After ending their 10-year title drought in 2020, the Lakers struggled last season as James and Anthony Davis endured injury problems.
The Lakers finished with a 42-30 win-loss record and stumbled into the play-in tournament before losing to the Phoenix Suns in the first round of the playoffs.
Rondo added: "I'm looking forward to it, looking forward to the naysayers saying our age being a problem, but you don't have longevity in this league without discipline.
"We have guys that have the mileage, but there's a reason they're still playing in this league at this level for so many years. So I'm not worried about anything or the spectators saying age makes a difference.
"I think the mind is going to be a big key in why we win this year."