Coronavirus US: in which states has the hospitalization of children increased and why?
Children are increasingly likely to require hospital treatment due to covid-19 and a new report has found that risk is highest in low-vaccinated states.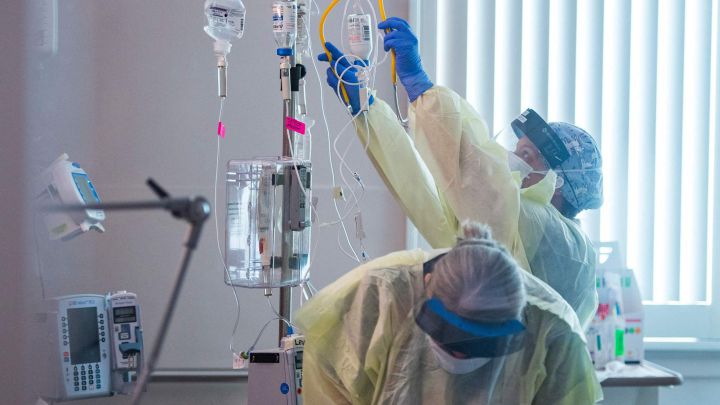 A new study into the rising covid-19 hospitalization rates amongst children has found that kids in states with low child vaccination rates are far more likely to require medical treatment.
Currently anyone aged 12 and over can get a covid-19 vaccine but the report cites the influence of unvaccinated adults as another key contributor, increasing the likelihood that children will come into contact with the virus.
The increase has also been linked to the pervasiveness of the Delta variant, with the report from the Centers for Disease Control and Prevention stating: "Since July 2021, after Delta had become the predominant circulating variant, the rate of new covid-19 cases and covid-19–related ED visits increased for persons aged 0–4, 5–11, and 12–17 years."
Which states are seeing the biggest rise in child hospitalizations?
The study was published in Morbidity and Mortality Weekly Report (MMWR) by researchers from the CDC on 3 September and it showed the stark differences between different states. Across all age groups in August, they found that hospitalizations in "the quartile of states with the lowest vaccination coverage was 3.7 times that in the quartile of states with the highest vaccination coverage."
The CDC reports 7,113 child hospitalizations between August 5 and August 30, a record high & rise. The start of school may accelerate this trend

Child deaths reached record highs the last week of August and will likely continue to climb based on child hospitalization trends https://t.co/xYkWVYTOSt pic.twitter.com/ON46xhb017

— Julia Raifman (@JuliaRaifman) September 1, 2021
Worryingly, this also correlated with a far higher risk of children requiring hospital treatment in states with low vaccine uptake. The report states this contains the "lowest vaccination coverage among persons aged ≥12 years (49.9%), highest percentage of covid-19–associated ED visits (8.32), and highest covid-19 hospital admission rates (0.84)"
States with low child vaccination rates are seeing far more children hospitalized due to covid-19. The states with the lowest vaccination rates are Alabama, Florida, Georgia, Kentucky, Mississippi, North Carolina, South Carolina, and Tennessee.
Fauci calls for greater adult vaccination to protect children
While some of the children hospitalized due to covid-19 did have the option of getting a jab, some are also too young to receive the vaccine. To protect children younger than 12, White House chief medical advisor Dr Anthony Fauci advises that American adults should get vaccinated to reduce the risk of infection for children around them.
He told CNN on Sunday: "The way you protect children who, because of their age, cannot get vaccinated yet is to surround the children -- be it friends, family, school teachers, personnel in the school -- surround the children with vaccinated people."
He added that if hospitalizations are allowed to continue to rise, health officials may soon be forced to choose which patients are prioritised for ICU beds. Approaching the winter months, Fauci said that now is the time to "pull out all the stops on everything we can do to prevent new infections."