Cowboys RG Zack Martin to miss season opener due to Covid
The Dallas Cowboys will miss a big part of their offense on Thursday's season opener against the Tampa Bay Buccaneers after Zack Martin tested positive for Covid-19.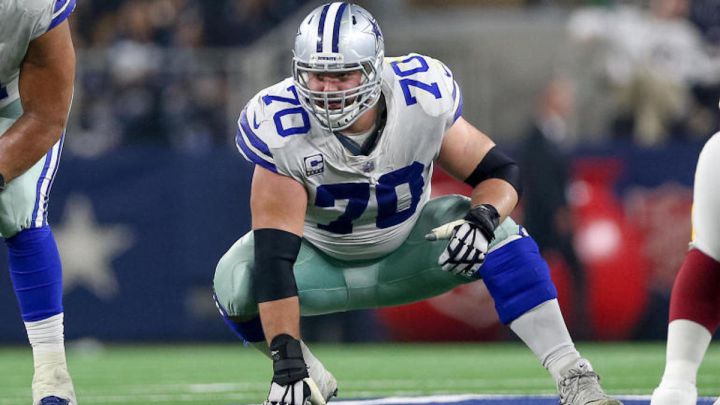 Cowboys Head Coach Mike McCarthy said the right guard was placed on the reserve/Covid-19 list. Martin had experienced mild flu-like symptoms and taste loss.
Return-to-play protocols dictate that he cannot be cleared in time to play although he is vaccinated. It is yet to be determined how much playing time Martin will miss.
A fully vaccinated player can return to the team five days after testing negative on two occasions separated by 24 hours. An unvaccinated player would miss at least ten days due to quarantine, and possibly more following subsequent positive results.
Martin's delayed comeback
The Cowboys are bound to feel the six-time Pro Bowler's loss. Martin had been looking to get back on track after a calf injury sidelined him for six games last season. He had started 104 out of 112 games since the Cowboys drafted him in 2014.
McCarthy said Martin is frustrated with the situation, but added that this is the world we now live in. Second-year guard Connor McGovern will be starting in place of Martin in the game against the defending Super Bowl champions. McGovern started eight games last season, six of them the ones that Martin had missed.
Connor McGovern made eight starts at right guard last season, and he's preparing to do the same Thursday now that Zack Martin is in COVID-19 protocol.

— Dallas Cowboys (@dallascowboys) September 5, 2021
Cowboys hounded by Covid-19 list
Backup offensive lineman Brandon Knight has also been placed on the reserve/Covid-19 list as he was determined to have been in close contact with Martin. Knight has not tested positive.
The team did receive some positive news- right tackle La'el Collins has been cleared to return to practice after suffering a neck injury, while left guard Connor Williams has been removed from the Covid list.
So far, the Cowboys has had nine players placed on the reserve/Covid-19 list.