MLB round-up: Rays top Red Sox in wild clash, Dodgers' Scherzer boosts Cy Young chances
The Tampa Bay Rays posted their MLB-leading 43rd come-from-behind win of the season as Max Scherzer struck out 13 batters in Dodgers win.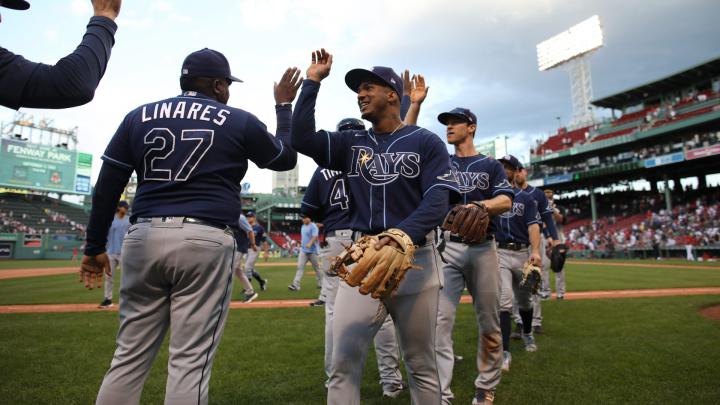 The Tampa Bay Rays rallied from six runs down to beat American League (AL) East rivals the Boston Red Sox 11-10.
In a wild showdown on Monday, Austin Meadows hit a game-tying inside-the-park homer in the ninth inning before Nelson Cruz's go-ahead single in the 10th completed the comeback.
Despite Chris Sale starting for the Red Sox, AL East leaders the Rays recorded their MLB-leading 43rd come-from-behind victory of the season, having trailed 7-1.
The highest scoring team in the majors in 2021, Tampa Bay had been 0-70 all-time when trailing by six runs or more against the Red Sox.
"That's the biggest win of the year, for sure," Meadows said afterwards. "All year we just find a way."
Tampa Bay's Wander Franco finished with four hits as the 20-year-old rookie extended his historic on-base streak to 36 games, tying Mickey Mantle's AL record set in 1951-52 for the most consecutive times by a player under 21. Frank Robinson set the MLB-league mark of 43 in 1956.
The Rays (87-51) are eight and a half games clear of the New York Yankees (78-59) atop the AL East, while the Red Sox (79-61) are nine games behind following consecutive defeats.
Scherzer stars, Guerrero and Semien make history

Max Scherzer struck out 13 in his hometown and Chris Taylor hit a two-run homer, leading the Los Angeles Dodgers to a 5-1 victory over the St. Louis Cardinals on Monday. https://t.co/VKKApSgSvV

— NBC Los Angeles (@NBCLA) September 7, 2021
Max Scherzer struck out 13 batters to lead World Series champions the Los Angeles Dodgers past the St Louis Cardinals 5-1. In a dominant eight-inning start, Dodgers ace Scherzer allowed one unearned run with no walks. The Cy Young candidate is 5-0 with a 1.05 ERA and 63 strikeouts in seven starts since his trade to the Dodgers.
Vladimir Guerrero Jr. hit his 40th home run of the season as the in-form Toronto Blue Jays routed the Yankees 8-0. The 22-year-old All-Star became the youngest Blue Jays hitter to reach 40 homers in a season and one of just 10 in franchise history, while he and his Hall of Fame father Vladimir Guerrero are one of only two father-son duos to hit 40 home runs, along with Price Fielder and Cecil Fielder. Meanwhile, Marcus Semien delivered a grand slam in the ninth inning as he set the franchise record for most home runs (37) by a middle infielder in a single season.
The Texas Rangers blanked the Los Angeles Angels 4-0 behind A.J. Alexy. He pitched six innings and allowed one hit after going five innings, while allowing one hit in his first career start. According to Stats Perform, Alexy is the first rookie in the modern era to go five-plus innings and allow one or fewer hits in each of his first two career starts.
Astros get on top of Kikuchi
Yusei Kikuchi had a rough outing in the Seattle Mariners' 11-2 demolition at the hands of the Houston Astros. He allowed 3 three hits, six runs – four earned, four walks and a homer in just 1.2 innings of work.
The Blue Jays roughed up Yankees starter Jameson Taillon, who finished with three hits, three runs, two walks and a pair of homers in 7.0 innings pitched.
Segura hits memorable slam
Jean Segura launched the first grand slam of his career as the Philadelphia Phillies trounced the Milwaukee Brewers 12-0. Bryce Harper also homered as part of a six-homer display by the Phillies.
Monday's results
Tampa Bay Rays 11-10 Boston Red Sox
Kansas City Royals 3-2 Baltimore Orioles
Washington Nationals 4-3 New York Mets
Toronto Blue Jays 8-0 New York Yankees
Pittsburgh Pirates 6-3 Detroit Tigers
Philadelphia Phillies 12-0 Milwaukee Brewers
Chicago Cubs 4-3 Cincinnati Reds
San Francisco Giants 10-5 Colorado Rockies
Los Angeles Dodgers 5-1 St Louis Cardinals
Minnesota Twins 5-2 Cleveland Indians
Houston Astros 11-2 Seattle Mariners
Texas Rangers 4-0 Los Angeles Angels
Rays at Red Sox
The Rays (87-51) will look to claim back-to-back wins when they visit the Red Sox (79-61) on Tuesday. Rays ace Drew Rasmussen will take to the mound, while Eduardo Rodriguez starts for the Red Sox.