NFL
NFL week 1 schedule: Dolphins vs Patriots, dates, games, times
With the 2021 NFL regular season kicking off in spectacular style, we have the full schedule for week 1 that began with the Cowboys against the Buccaneers.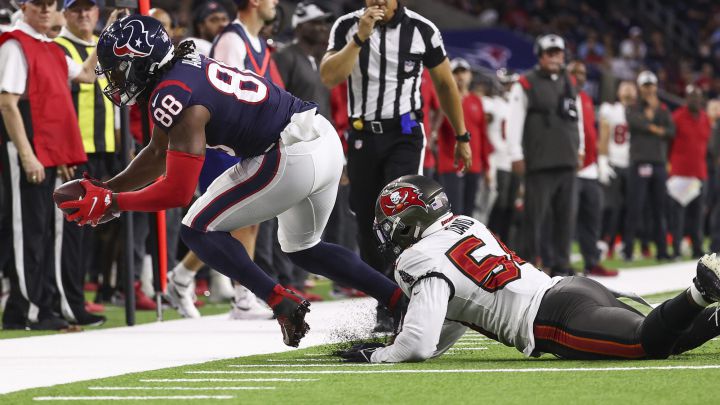 On the back of the huge disruption caused by the coronavirus pandemic - and related protocols remain in place - the 2021 NFL season is now upon us. All eyes were glued to the opening fixture as the Dallas Cowboys were pipped at the death by reigning Super Bowl champions, the Tampa Bay Buccaneers, on Thursday evening in Florida. This season features a new 17-game schedule, with every team playing once a week and the Super Bowl taking place in Los Angeles a week later than usual, on 13 February 2022.
"This is a monumental moment in NFL history," NFL Commissioner Roger Goodell began his statement ahead of the new campaign.
"The CBA with the players and the recently completed media agreements provide the foundation for us to enhance the quality of the NFL experience for our fans. And one of the benefits of each team playing 17 regular-season games is the ability for us to continue to grow our game around the world."
And our very own Dane Arlauckas brought you the first of many live games this season from AS English.
"The NFL regular season started off with a bang, and plenty of fireworks Thursday night in Raymond James Stadium," Dane began in his match report. "Tampa Bay outlasted Dallas to pull off a last second victory courtesy of a late field goal from Ryan Succop. Tom Brady had another night to remember, passing for four touchdowns in the Bucs 31-29 win."
2021 NFL: Schedule for week 1 and where to watch
(All times Eastern)
Thursday 9 September
Dallas Cowboys 29-31 Tampa Bay Buccaneers at 8:20 p.m. (NBC)
Sunday 12 September
- Philadelphia Eagles vs. Atlanta Falcons at 1 p.m. (FOX)
- San Francisco 49ers vs. Detroit Lions at 1 p.m. (FOX)
- Seattle Seahawks vs. Indianapolis Colts at 1 p.m. (FOX)
- Pittsburgh Steelers vs. Buffalo Bills at 1 p.m. (CBS)
- New York Jets vs. Carolina Panthers at 1 p.m. (CBS)
- Minnesota Vikings vs. Cincinnati Bengals at 1 p.m. (CBS)
- Jacksonville Jaguars vs. Houston Texans at 1 p.m. (CBS)
- Arizona Cardinals vs. Tennessee Titans at 1 p.m. (CBS)
- Los Angeles Chargers vs. Washington Football Team at 1 p.m. (CBS)
- Green Bay Packers vs. New Orleans Saints at 4:25 p.m. (FOX)
- Denver Broncos vs. New York Giants at 4:25 p.m. (FOX)
- Cleveland Browns vs. Kansas City Chiefs at 4:25 p.m. (CBS)
- Miami Dolphins vs. New England Patriots at 4:25 p.m. (CBS)
- Chicago Bears vs. Los Angeles Rahms at 8:20 p.m. (NBC)
Monday 13 September
- Baltimore Ravens vs. Las Vegas Raiders at 8:15 p.m. (ESPN/ABC)